Journeys to China's winter wonderlands
Share - WeChat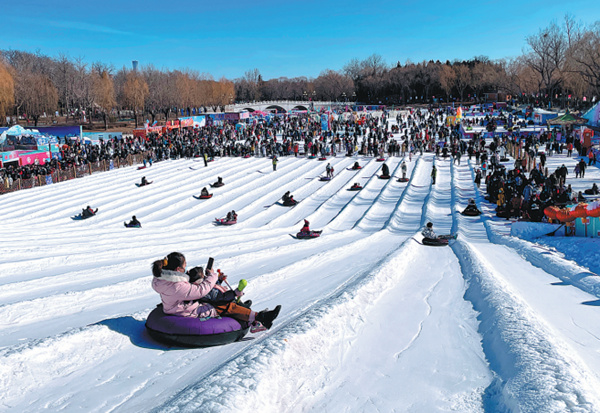 Ten new routes conceived to tap into the country's passion for the great outdoors have been launched by the Ministry of Culture and Tourism, Yang Feiyue reports.
The Ministry of Culture and Tourism has recently launched 10 winter routes to tap into the delights hidden in the snow and ice and encourage public participation in winter sports and tourism.
The routes cover seven northern provinces and regions, including Beijing, Hebei and Heilongjiang, and Xinjiang Uygur and Inner Mongolia autonomous regions, as well as provinces that have seen rapid winter tourism development, like Gansu, Sichuan and Hubei.
The ministry has asked cultural and tourism departments at all levels that are involved in the routes to strengthen cooperation with other relevant departments and increase support for tourist attractions and services based on the premise of regular pandemic prevention and control.
Winter Olympic cities
Connecting winter tourism highlights in Beijing and Hebei, this route also provides travelers with winter carnivals, hot springs and ice lanterns.
The National Speed Skating Oval, also known as the "ice ribbon", is a new venue built for ice competitions in Beijing. It will hold speed skating events and award 14 gold medals. The design facilitates an intense arena atmosphere, where every move and every sound from the skates on ice will be seen and heard by all at the oval. Twenty-two separate light strands flow up around the oval. It is an exciting spectacle at night, with each of the strands becoming dynamic ribbons of light.
The Big Air Shougang in Beijing's Shijingshan district is part of an urban rejuvenation project in which the 100-year-old Shougang steel plant is located. It sits in the Shougang Industrial Park, which underwent a symbolic transformation to house the headquarters of the Beijing Organizing Committee for the 2022 Winter Olympic and Paralympic Games. It will serve the snowboard and freestyle skiing events. After the Games, the venue will offer fitness-for-all experiences for the public and stage winter sports carnivals.
Beijing's Yanqing district is home to the Shijinglong and Badaling ski resorts. Visitors can also tour the Great Wall, the Wild Duck Lake National Wetland Park, and attend the nearby Longqing Gorge Ice Lantern Festival.
Top-notch ski resorts can also be found in Zhangjiakou of Hebei province, including the Genting Resort Secret Garden (Yunding Ski Field), the National Ski Jumping Center. Other highlights in Zhangjiakou include the Chongli winter culture museum and the Jimingyi ancient town, once a fortified courier station during the Ming Dynasty (1368-1644).