Challenge to Johnson more likely by the day
Share - WeChat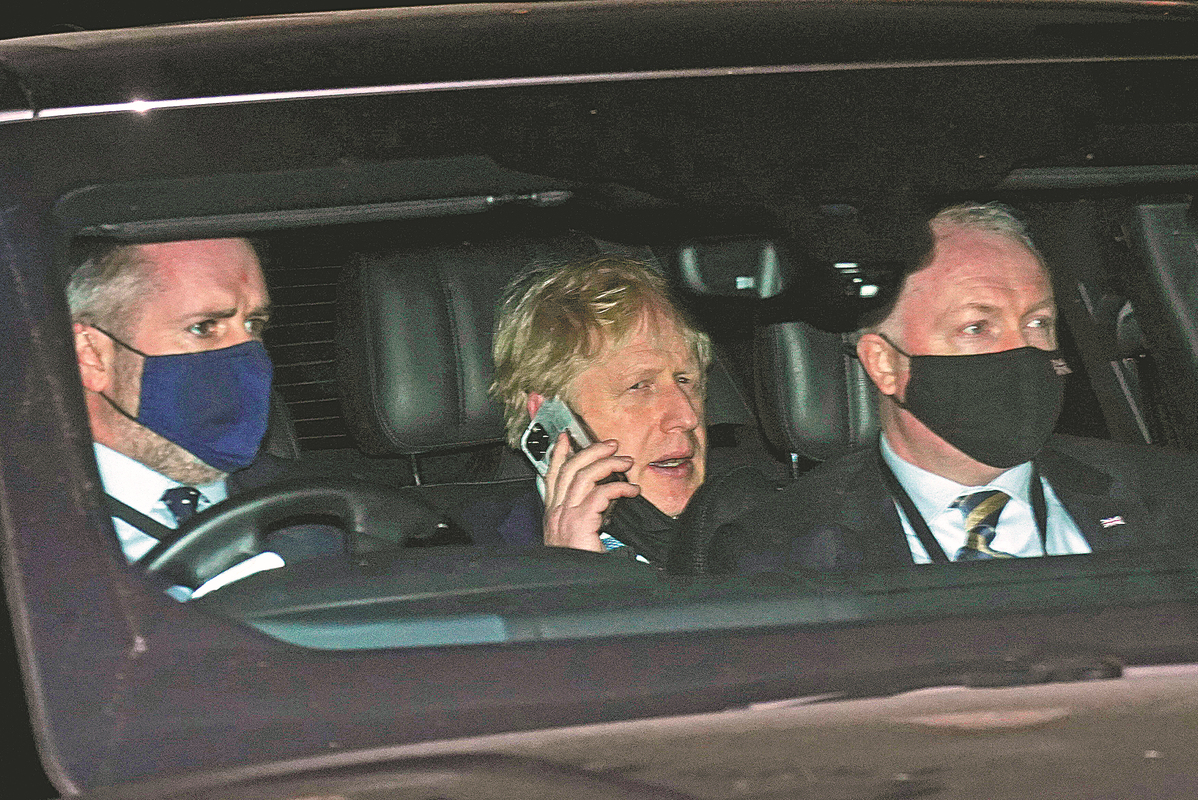 The United Kingdom's prime minister will face a leadership challenge in the coming days, triggered by lawmakers' anger about the "Partygate" scandal, senior figures in the ruling Conservative Party have predicted.
The challenge will take the form of a "new raft" of so-called letters of no confidence in Boris Johnson's leadership that Conservative Party members of Parliament will send to officials, reported The Guardian on Thursday.
If the party receives 54 of such letters from its 359 MPs, a leadership election would be sparked.
The Guardian said it understands that senior backbench MPs-veteran Conservative Party lawmakers who are not current members of the Cabinet-will "move as a collective "to try to unseat Johnson, who has been the subject of a probe by senior bureaucrat Sue Gray into alleged breaches of the nation's coronavirus lockdown rules-a scandal that has become known as Partygate.
Claims of partying when social gatherings were prohibited are also being investigated by the Metropolitan Police.
"It's the white, middle-aged backbencher he has to watch. People who feel strongly about their morals and to whom this prime minister can't offer anything personally," one unnamed MP was quoted by The Guardian as saying.
The paper claimed that more than two dozen former ministers are among lawmakers seeking to unseat Johnson.
The left-leaning Mirror newspaper said on Thursday it understands that Johnson will try to defuse the anger by acknowledging that he made "serious mistakes" when he attended activities that now appear to have contravened the nation's lockdown rules.
Lax enforcement
It also reported that he told supporters within the Conservative Party that he regretted the lax enforcement of lockdown rules within Downing Street.
The BBC said Johnson also plans to attend the House of Commons to present his side of the story, once Gray's report has been published, and after it has been digested by lawmakers from all political parties.
The Financial Times said he is also widely expected to issue an apology at that time.
"He knows he has made serious mistakes, but he believes he is still the right man to lead this country," an unnamed lawmaker, who is backing Johnson to continue as prime minister, was quoted by The Daily Mail as saying.
The Guardian said Johnson has also been urging disgruntled lawmakers within his party to give him another chance and had at least 15 one-on-one conversations on Wednesday.
As Johnson anxiously awaited the publication of Gray's report on Thursday morning, Therese Coffey, the UK's work and pensions minister, told Sky News: "I know the government has committed to publishing the full findings of the report, but the timing I have absolutely no idea about."