Xi stresses nation's climate commitments
Share - WeChat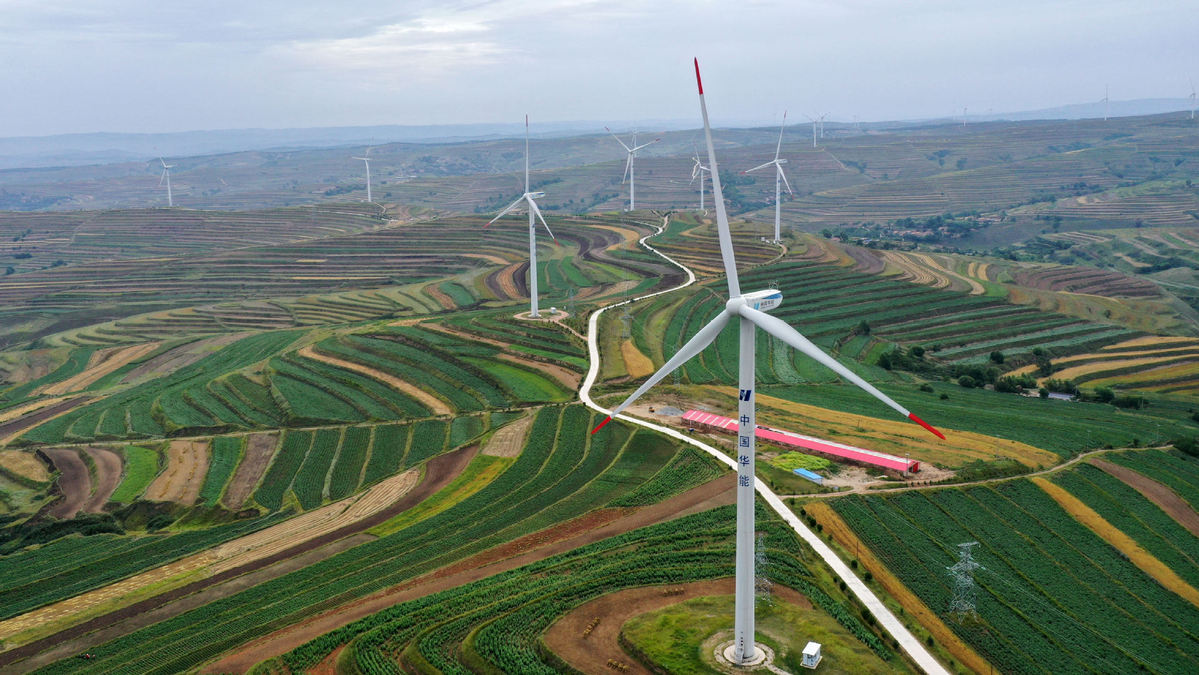 Wide-ranging, profound transformation required for China to attain green transition
President Xi Jinping has rallied the nation in the drive to fully honor its climate commitments and set out a detailed road map the nation must follow in the green transition process, a move analysts said has again indicated China's strong political commitment in fighting climate change.
Xi, who is also general secretary of the Communist Party of China Central Committee, called on the nation to fully understand the urgency and difficulty of achieving its climate targets at a key Party meeting on Monday.
China must give greater priority to the development of new energy and clean energy and resolutely curb its consumption of fossil fuels, Xi said at the group study session of the Political Bureau of the CPC Central Committee-the Party's core leadership.
The Monday session was the latest meeting chaired by Xi to lay out a policy framework for the climate response actions in the follow-up to his announcement in 2020 that China will peak carbon emissions before 2030 and attain carbon neutrality before 2060.
China has already rolled out a host of policy documents for the nation to honor its climate commitments, which would form a policy system that lays out a road map the country needs to follow, including tasks for key sectors.
At the Monday meeting, Xi stressed that taking the climate actions is something China must do, instead of being pushed by others.
He explained that work related to attaining the carbon peak and neutrality goals is instrumental in freeing China from resource and environmental constraints, achieving sustainable development, promoting the transformation and upgrading of the nation's economic structure, and meeting the public's growing demand for a better environment.
He also warned that it would require a wide-ranging and profound transformation, and it would be no easy task, for China to attain the green transition.
The need to ensure China's energy security was further highlighted after wide spread power shortages in September and October, which resulted in outages in residential communities and hospitals in parts of Northeast China and forced some factories in East and South China-the nation's export powerhouses-to halt production or operate at reduced capacity.
According to the National Energy Administration, renewable energy accounted for 43.5 percent of China's total power generation capacity as of October 2021, and non-fossil energy accounted for 15.9 percent of the country's energy consumption in 2020.
Zhang Yuquan, an associate professor at the China-UK Low-Carbon College at Shanghai Jiaotong University, said: "China is not fulfilling its climate pledges from a blank sheet, but from an economic structure that is relying heavily on coal and other fossil fuels. Thus it will require much more arduous efforts from China during the green transition process than some developed nations."
He said Xi reiterated China's pledge and laid out a solid policy framework at the Monday meeting, which displayed long-term vision, strategic orientation and a true commitment to building a community with a shared future for mankind.
Xi stressed at the meeting that cutting emissions means neither the slashing of productivity nor the elimination of emissions. Instead, he said, the country must take a path of growth that prioritizes ecological protection and green, low-carbon development, and it must promote green transition in its economic growth.
The nation must avoid sweeping approaches in its climate actions and refrain from rushing for success or seeking instant results, he said, adding that China can only phase out traditional energy in a gradual manner after it has achieved safe and reliable replacements from new energy.
Dimitri De Boer, chief representative for China of environmental law organization ClientEarth, and team leader of the EU-China Environment Project, said Xi's remarks on Monday put strong emphasis on a smooth climate transition, and ways to achieve it.
"It is heartening to see this top-level political commitment to climate action in China," he said.
With the recent power shortages in China and global high energy prices, the nation should focus on a rapid rollout of ample and reliable renewable energy systems, he said.
China's climate ambitions were fully demonstrated in its 14th Five-Year Plan (2021-25), which stipulated that the nation must cut energy consumption per unit of GDP by 13.5 percent, and carbon dioxide emissions per unit of GDP by 18 percent, in the next five years.
China has pledged to strictly limit the increase in coal consumption over the 14th Five-Year Plan period before phasing it down in the 15th Five-Year Plan (2026-30) period.
Xi called on Monday for stricter assessment of the carbon footprint of new projects and more resolute measures to curb the blind development of low-level projects with high energy consumption and emissions.
The upgrading of the steel, nonferrous metal, chemical engineering and construction materials sectors must be given greater priority, and innovation in the low-carbon techniques and digital transformation of industries must be accelerated, he said.
Wang Jinnan, head of the Chinese Academy of Environmental Planning and an academician at the Chinese Academy of Engineering, said Xi's latest remarks are important for the nation to coordinate its emission cuts with economic growth, long-term and short-term targets and the government and the market in its low-carbon push.
Going forward, it is important for the government to further specify the timetable and road map for different areas and sectors to peak emissions, which could stabilize expectations and prevent campaign-style approaches, he said.
"It is imperative that Chinese businesses take the initiative in planning the technological pathways for carbon peak and neutrality, and especially upgrade their industries during this process, to seize opportunities in future growth," he said.
He highlighted the need for the nation to coordinate its climate actions, promote an energy revolution, fight pollution and build a beautiful China, with steps to prioritize capping total carbon emissions during the 14th Five-Year Plan period, a key step in the peaking of emissions before 2030.
De Boer said an insufficient understanding among many players in this process in China about the urgency of the climate transition, why it is important, and how to do it is one of the challenges China must tackle.
"China's actions matter so much, not only because it is the largest emitting country, but also because China can show that smooth, strong, climate-friendly development is possible," he said. "Success in China would boost the climate transition in other countries," he said.