Dialects and the city
Share - WeChat Featuring region-specific linguistic practices, box-office dark horse B for Busy is putting neighborhood life in Shanghai in the frame, Xu Fan reports.
With its distinctive pronunciation, Shanghai dialect is perhaps one of the most difficult regional linguistic practices, and one that often discourages outsiders. In that sense, Shao Yihui-a 1990s-born native of North China's Shanxi province-has seemingly created a "miracle" with her directorial debut, B for Busy.
The movie, a Shanghai-set tale with a strong cast, mainly consisting of local stars that speak their lines in the city's dialect, has soared at the box office as we near the end of the Year of the Ox, making it one of the industry's dark horses with ticket sales currently sitting around 250 million yuan ($39.5 million)-quite a good performance for a film of such a modest scale.
Earning 8.3 points out of 10 on the popular review aggregator Douban, the highest score of all domestic live-action movies on the site last year, many people online say it's a feel-good movie, with its catchy dialogue, delicate examination of middle age and the glittering light it casts on Shanghai's distinctive reputation as a cosmopolitan metropolis being the production's big draws.
Set in downtown Shanghai, the film unfolds as Lao Bai-an idle artist who makes a living by teaching drawing at home-starts to develop feelings for Ms Li, an advertising industry veteran who lives alone with her young daughter after divorcing her British ex-husband. But the protagonist's plan to spend a romantic night with Ms Li is disturbed by several unexpected visitors, resulting in a series of amusing situations.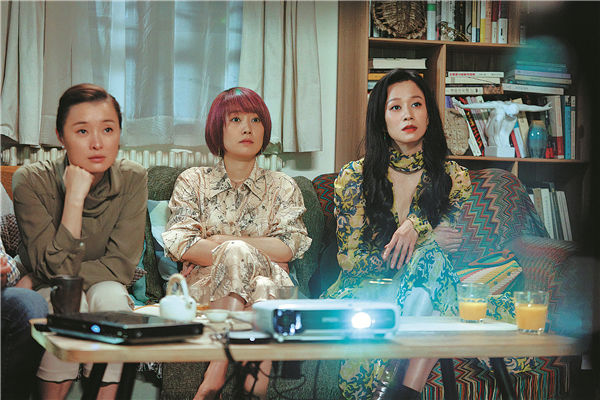 A graduate majoring in literature from Beijing Film Academy, Shao recalls that she wrote the script in 2019, five years after moving from the Chinese capital to Shanghai, having led a life as a freelancer.
In 2020, Shao sent the script to a project selecting potential works for the 14th FIRST International Film Festival, one of the country's most influential events to help young talent pursue their movie dreams.
Luckily, the tale hooked Chen Lizhi, founder of Beijing-based movie company Max Times, who managed to persuade Xu Zheng, one of China's most commercially successful filmmakers, to play the protagonist and also serve as the movie's executive producer.
"When receiving the call, I was so surprised. I even thought for a moment it might be a joke," recalls Shao with a giggle, explaining that she couldn't believe she could be so lucky to get to cooperate with such a famous actor on her directorial debut.
Her suspicions were soon dispelled. A week later, she arranged to meet Xu. A Shanghai native, some of his best known blockbusters-Lost in Russia and My People, My Parents-feature the city as their backdrop.
Most Popular