Putin highlights joint stance with China against politicization of sport
Share - WeChat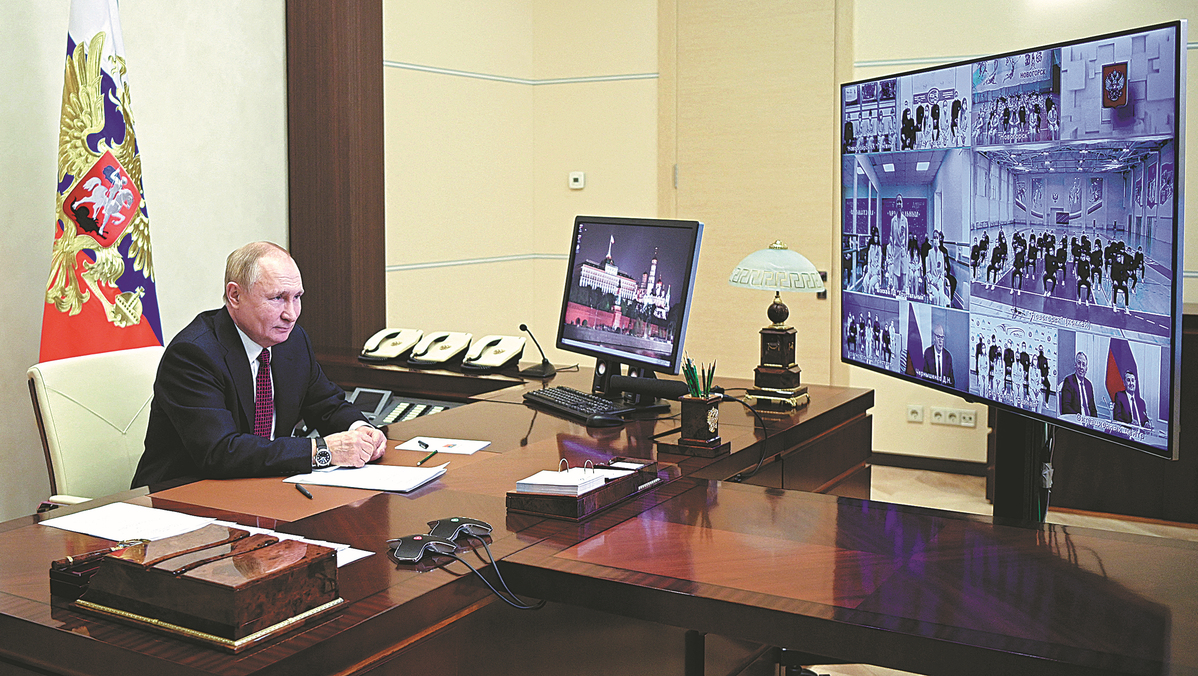 Russia and China share a joint stance against the politicization of sport and demonstrative boycotts by some Western countries and support Olympic values, said Russian President Vladimir Putin on Tuesday.
"We are standing together with China against the politicization of sport and demonstrative boycotts," said Putin in a video meeting with athletes of Russia's Winter Olympic team heading for Beijing.
"We are supporting traditional Olympic values, first of all, equality and justice."
Chinese Foreign Ministry spokesman Zhao Lijian said on Wednesday that Beijing speaks highly of Putin's active support for the Winter Olympic Games next month.
Like most countries in the world, China and Russia firmly oppose the politicization of sport and adhere to the Olympic spirit of solidarity, fraternity, fair competition and mutual understanding, Zhao told a news conference in Beijing.
Putin said he wished Russian athletes "good luck, health and triumphant performances" at the Games. Russia will send its Olympic delegation of 461 people, including 212 athletes.
Russian athletes are allowed to compete as neutrals, without the Russian flag or anthem, due to the accusation of a "state-backed doping program" at the 2014 Winter Games in Sochi, a claim that has been repeatedly denied by Moscow.
"We at home will be there to support you, to be proud of your successes," Putin said.
Plans of more cooperation
Andrey Denisov, Russia's ambassador to China, said Putin will participate in the opening ceremony at the invitation of Chinese President Xi Jinping.
Putin told Russian athletes during the video meeting that he would have a meeting with Xi before the opening ceremony of the Games.
"We will certainly outline new plans for cooperation, take into account our previous agreements on the organization of the Year of Russian-Chinese cooperation in the sphere of physical culture and sports," Putin said.
He also said one of the most well-known methods for the mass popularization of sports is the organization of large-scale international sports tournaments.
"I believe them to be the most important in terms of the involvement of people in sports and the strengthening of friendship between the peoples," Putin said.
The United States and some Western countries said they would not send officials to attend the Games.
In response, China has slammed the West's move as a political ploy that runs counter to the Olympic Charter.
In a news conference last week, Zhao said China had granted visas to the US team, which comprises both athletes and administration officials.
The US delegation for the Beijing Winter Olympics comprises a large number of government officials, including those from the Department of State, and many hold diplomatic or service passports, he added.