Trash piles up as virus hits workers
Share - WeChat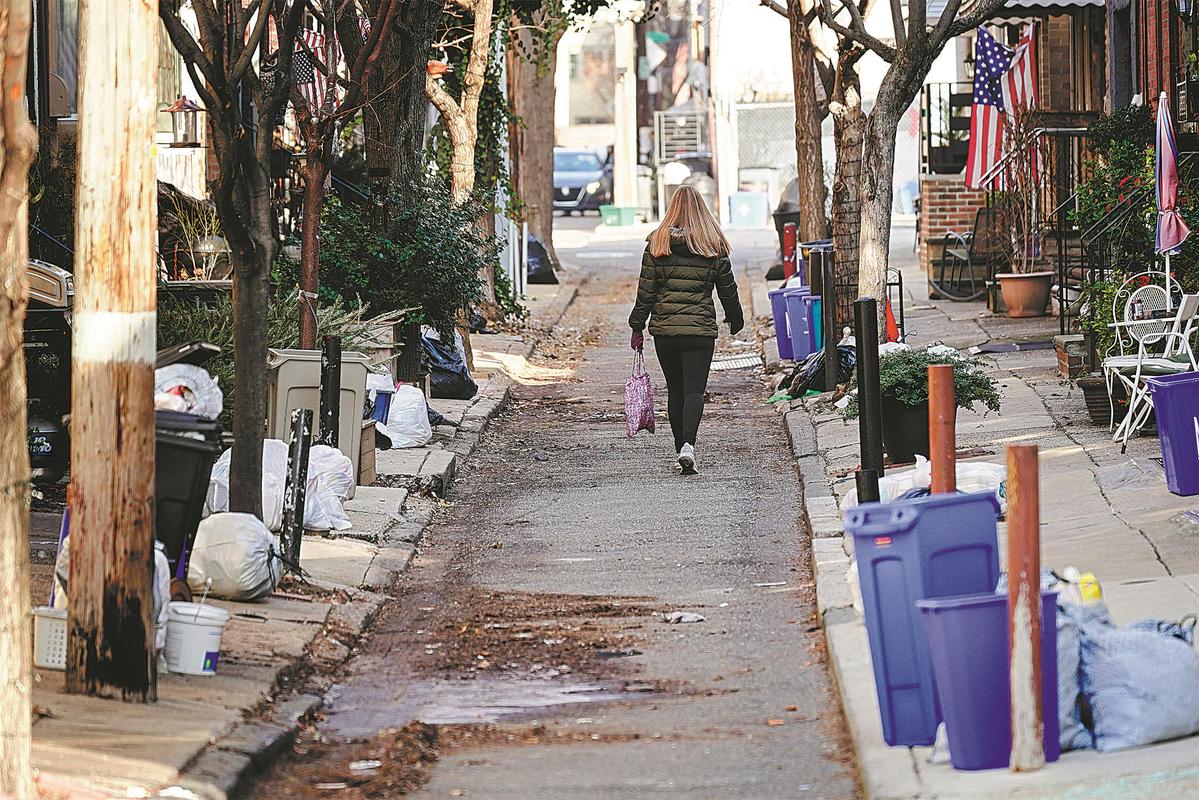 Cities across the United States are struggling to keep up with garbage collections as COVID-19 sidelines many sanitation workers.
The situation-driven by the spread of the Omicron variant-has left recycling bins full of Christmas gift boxes and wrapping paper to languish on curbs in Nashville, Tennessee, trash bags to pile up on Philadelphia streets and uncollected yard waste to block sidewalks in Atlanta, The Associated Press reported.
Those cities and others are so short-handed that they have temporarily stopped collecting items like recyclable bottles, cans, paper and plastic, yard waste or oversized junk to focus on the smellier garbage, according to the news agency.
Sanitation workers in Louisville, Kentucky, were told to stop picking up yard waste in early January until further notice.
Around 10 to 15 percent of Philadelphia's 900-member sanitation workforce is out on any given day, contributing to delays in waste collection.
The city of Chattanooga in Tennessee increased the starting salary for drivers of trash trucks by more than 40 percent from just over $31,500 to $45,000, to keep trash volumes down.
New York City has yet to suspend any services, but around 2,000 of its 7,000 sanitation workers are out because of the latest round of COVID-19 infections and the rest of the workforce is working long hours to catch up with the backlog of trash pickup.
Residents in several neighborhoods of Los Angeles are experiencing service delays for recyclables due to temporary staffing shortages. Officials expect the delays to continue through the month.
Elena Stern, senior public information director with the Los Angeles Public Works Department, told China Daily that 3 percent of its sanitation workforce is out due to COVID-19. It is also experiencing a high number of vacancies created by a hiring freeze over the first two years of the pandemic.
"The availability of trucks has been limited as mechanics and other support service providers also face their own COVID surges," Stern said.
To alleviate the slowdowns, the city has requested that some drivers of vehicles for recycling collection and bulky items also pick up the trash. Some drivers were also asked to work on weekends and into the evenings, but it is unclear how long this contingency plan will be in effect, Stern said.
The most recent garbage crisis is the third of its kind to hit the US since the beginning of the pandemic. The first one took place in the spring of 2020, as the virus first landed in the country. Trash started to overwhelm residential neighborhoods again in the summer when the Delta variant surged.
'Perfect storm'
In a letter in late December, David Biderman, executive director and chief executive of the Solid Waste Association of North America, warned officials about the "perfect storm" of delayed collection fueled by the highly contagious Omicron variant, a relatively low vaccination rate among front-line sanitation workers, and the increased amount of residential waste and recyclables generated during the Christmas holiday.
"The extent of the current staff shortage for sanitation workers in the United States varies, but in many locations, 20 percent of the staff is out either because they have COVID or have been exposed to someone with COVID. This is causing delays in collection of solid waste, recycling, and yard waste,"Biderman told China Daily.
He urged elected officials to provide more funding to their sanitation departments to attract additional drivers and helpers. Many communities have taken steps to address the problem. Atlanta has hired temporary workers, while Baltimore has made changes to the recycling collection frequency and Louisville has suspended temporarily yard waste collections, he said.
According to the John Hopkins Coronavirus Resource Center, 1,060,747 new cases and 1,896 deaths were reported in the country on Tuesday. More than 750,000 new cases were reported every day in the past week.