Art and science give exhibition a successful formula
Share - WeChat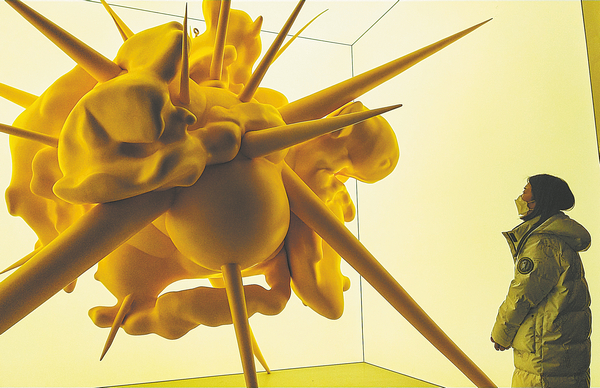 Albert Einstein's admirers and Andy Warhol aficionados were able to find a common interest at a crossover art show held in Beijing, as Chinese scientists and artists joined hands to translate scientific ideas into perceptible artworks.
A dozen installations were constructed in a white-walled gallery with a glass sloping roof, allowing more sunshine to pour in, rendering a futuristic feel.
The showroom, located in 798 Art Zone in Chaoyang district, was once an abandoned factory complex, with an old red-brick facade that is reminiscent of its industrial past. The area is now renowned for its museums and galleries of contemporary art.
The exhibition which ended on Sunday, titled Beyond the Anthropocene, had been made possible thanks to the collaborations between China's top-notch scientists and avant-garde artists.
They managed to make use of scientific concepts to create exhibits with visual novelty and the ability to astonish, involving the conceptual art initiated by French artist Marcel Duchamp.
Gu Zhenqing, the exhibition's curator, says both scientists and artists explore unknown things that are unique to human beings, as scientists look outward and artists reflect inward.
Most Popular