Orchestral maneuvers
Share - WeChat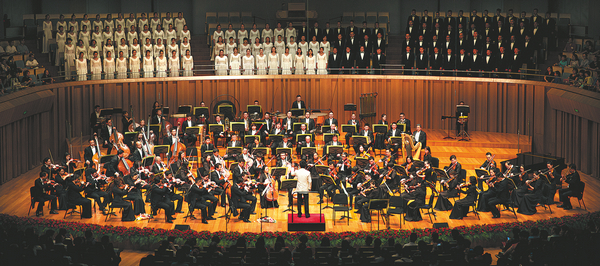 China National Symphony Orchestra will kick off its new performance season on Saturday, with a concert under the baton of conductor Li Xincao.
The performance will include Violin Concerto No 1 in G Minor, Op 26, by German composer Max Bruch and Beethoven's Symphony No 9 in D Minor, Op 125, also known as the Choral Symphony.
Soprano Song Yuanming, mezzo-soprano Zhang Yuan, tenor Xue Haoyin and baritone Liu Songhu will perform with the chorus of the China National Symphony Orchestra, bringing the anthem of Ode to Joy.
"Each new performance season shows a professional orchestra's diversity in programming, which is very exciting. This year, we broke the traditional performance season, which usually stretches across two years. From this year, we will make the season an annual program," says conductor Li, who took up the position of president of the China National Symphony Orchestra in August.
Li adds that the change is based on Chinese holidays and the concertgoing habits of Chinese audiences.
"Chinese holidays are different from those in Western countries and Chinese audiences love to bring their children to concerts during winter and summer vacations, so we made some changes to our program to appeal to the schedules of the audiences throughout the year," Li says.
During the new season, the China National Symphony Orchestra will perform with veteran conductors, such as Chen Xieyang, Tan Lihua, Zhang Guoyong and Zhang Yi.
Conductor Zhang Guoyong, who was described as "a great Shostakovich interpreter" by Li, will lead the orchestra to perform two of the Russian composer's pieces during a concert at the National Center for the Performing Arts on April 16: Chamber Symphony in C Minor, Op 110a, an arrangement for string orchestra of his String Quartet No 8 in C Minor, Op 110-which was the first of five orchestral transcriptions of his string quartets by his friend, the violist and conductor Rudolf Barshai-and The Gadfly Suite, which Shostakovich composed for the 1955 film The Gadfly.
Violinist Lyu Siqing is invited to perform with the China National Symphony Orchestra as its resident artist this year. Besides the opening concert, he will perform with the chamber orchestra of the China National Symphony Orchestra in a concert titled Unlimited Challenge-Eight Seasons, on Feb 25 and 26 at Beijing Concert Hall, featuring Vivaldi's The Four Seasons and Piazzolla's The Four Seasons of Buenos Aires.
Most Popular