Showing the real China
Share - WeChat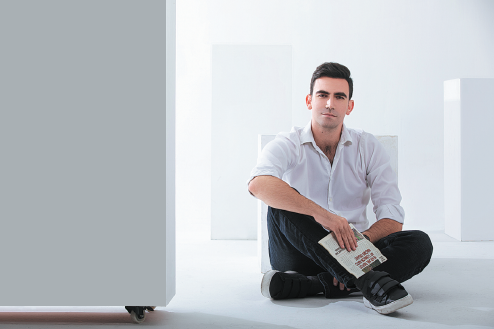 Israeli internet celebrity's short video clips give the world a better understanding of the country, He Qi reports in Shanghai.
As the country attracts increasing numbers of expats to study or work, local people are interacting more with them. Consequently, there is a unique group of foreigners living in China who are trying to show the world their understanding of the country in an innovative way. Raz Galor, 27, an Israeli internet celebrity, is one of them. Galor co-founded a new media company called YChina with three Chinese partners in 2017, to highlight expat life.
He and his friends are showing a vibrant nation to the world through short videos, in which expats chat about Chinese culture and the latest trends they've experienced or witnessed in the country. Apart from providing the short videos on 20 different platforms globally, YChina's prime video account now has more than 4 million followers on Bilibili, a leading video platform popular among China's younger generation, and in excess of 254,000 subscribers on global platform YouTube.
Galor moved to Beijing with his family in 2012, and studied at Peking University where he graduated. His entrepreneurial spirit was sparked, at first, by a simple idea. He just wanted to make a video of street interviews in 2016.
There were initially only six people involved in the project, including a video editor, a planner and a producer, and they didn't expect to draw much attention from internet users. "We just wanted to express our thoughts about China, foreign countries, and the expat life in China through street interviews," says Galor, better known as Gao Yousi.
However, they had a bold goal-to develop YChina to become a window for the youth across the world to understand the country more.
"We find there is an information gap between Chinese and foreigners, especially among young people. They have language and cultural communication barriers," he says. "Moreover, some foreigners' understanding of China is incomplete and biased, while some foreign media have prejudices against China."
As a short-video program, YChina began to upload videos of foreigners who live and study in China being interviewed to Bilibili every Thursday at 8 pm, each time focusing on a different theme.
To the team's delight, some of the interviewees even joined their team. One of them is an American woman named Lila, whose Chinese name is Li Xingyue, a graduate from the School of Arts at Peking University. She spoke fluent Chinese when she was first interviewed on the street by the team. In the video, her knowledge about China and ability to use internet language and online terms impressed many viewers, resulting in a single day rise of 100,000 followers for YChina on social media platform Sina Weibo. Lila is now a content creator with the company.
Galor points out that the group currently has about 50 content creators from more than 30 countries and regions. "What they have in common is that they like to convey cross-cultural related content, and all of them want to help China and the rest of the world understand each other better," he says.
Most Popular