Nation moves ahead with ambitious climate goals
Share - WeChat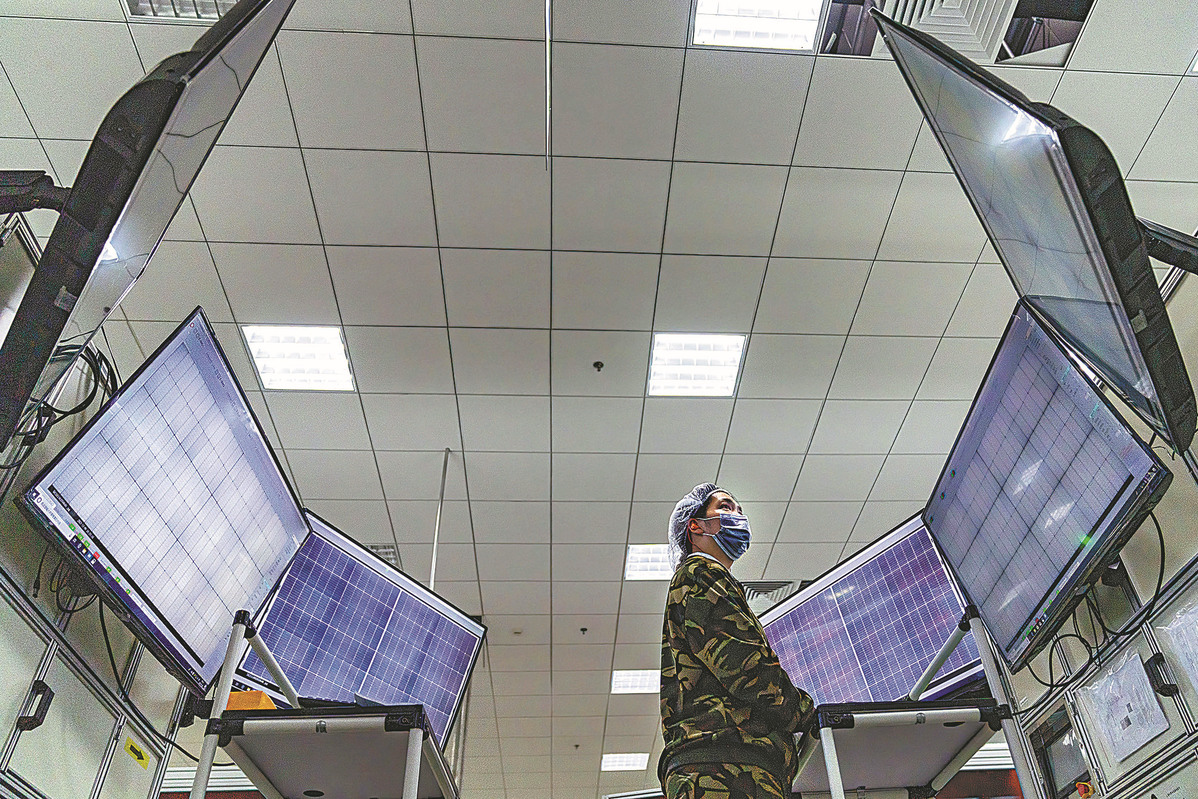 Long list of mitigation efforts announced in the past year
On Nov 9, a nuclear power project was launched in Haiyang, Shandong province, making it the first city in China to provide carbon-free winter heating capable of preventing 180,000 metric tons of carbon dioxide emissions a year.
Just over two weeks later, the first alkaline water electrolyzer jointly developed by China Huaneng Group and Cockerill Jingli Hydrogen rolled off the production line in Suzhou, Jiangsu province. The electrolyzer boasts the highest single-unit hydrogen production capacity of its kind in the world.
On Nov 30, China Petroleum and Chemical Corp, or Sinopec, the world's largest refiner by volume, started work in Kuqa, Xinjiang Uygur autonomous region, on the world's largest green hydrogen plant, which will be powered entirely by solar energy. The project is expected to reduce carbon dioxide emissions by 485,000 tons annually after it becomes operational next year.
These are just three examples from a long list of climate mitigation measures that hit the headlines throughout the past year.
Addressing the Climate Ambition Summit in December, President Xi Jinping said, "China always honors its commitments" and will "take solid steps" to implement its climate targets. Last year witnessed numerous actions in this respect from the government and enterprises.
The global climate crisis loomed larger as extreme weather events wreaked havoc worldwide. In July, for example, devastating floods left hundreds dead and missing in China and many nations in Europe.
At about the same time, a vast area of the western United States and Canada experienced a heat wave on a scale thought to occur only once in 1,000 years.
As delegates from nearly 200 countries gathered in Glasgow, Scotland, for the COP26 UN Climate Change Conference in November, many dubbed the gathering "the last chance for humanity". It was also an opportunity to assess how nations had followed up their climate pledges with concrete policies and action.
The summit took place more than a year after China announced its ambitious targets to peak carbon dioxide emissions before 2030 and achieve carbon neutrality before 2060, and the nation drafted supporting policies and set timelines for these goals. Such action was stressed by the nation's special climate envoy Xie Zhenhua on Nov 6 when he met the media in Glasgow.
On Oct 24, the Communist Party of China Central Committee and the State Council, the nation's Cabinet, unveiled a master guideline for the work needed to achieve these targets, laying out specific goals and measures for the coming decades.
China aims to gradually increase its share of non-fossil energy consumption to about 20 percent by 2025, around 25 percent by 2030, and more than 80 percent by 2060. The guideline states, "We are firmly committed to a green, low-carbon and high-quality development path that gives primacy to ecological civilization."
Ecological civilization is a concept promoted by President Xi for balanced and sustainable development featuring the harmonious coexistence of mankind and nature.