A sisterly bond
Share - WeChat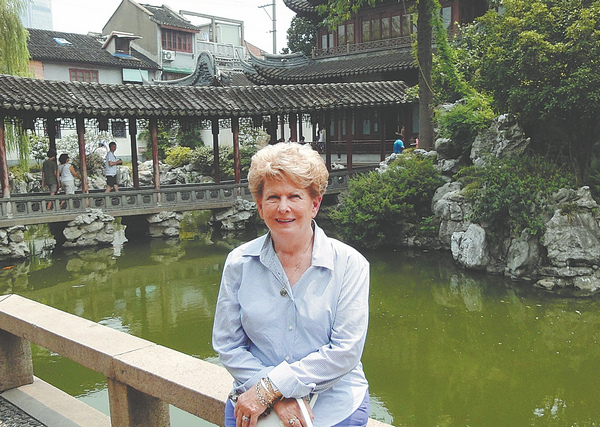 Katherine Whitman had just started her teaching career at Mount Saint Mary's University in Los Angeles when an offer from the school's president caught her attention.
It was a proposal from Guangzhou's incumbent vice-mayor to send professors to the city to teach Chinese business professionals and government officials about the business system in the United States. As part of the program, Whitman lectured for three weeks at a science and technology institute in Guangzhou.
A fledgling professor at the time, Whitman was "very honored to be chosen", she says.
The year was 1987, eight years after the US and China normalized relations and the two countries had resumed student exchanges after a 30-year hiatus. It was also a time when US-China teacher-exchange programs were few and far between.
Little did Whitman know that she would embark on more than 100 trips to China in the more than three decades following that first journey, making her, an economics and international business professor, a witness to one of the most important bilateral relationships in the world.
Whitman recalls how she was concerned that communication was going to be difficult after landing in China for the first time, but that issue was quickly solved.
"I knew that I had a very difficult problem, because I did not speak Chinese, but we had two interpreters with us. We found that the people we would meet, especially those at the Foreign Affairs Office and other colleagues, were very friendly and very eager for us to learn about them. We in turn were glad to share with them things about our home, our businesses and our universities," she says.
After her teaching in Guangzhou concluded, officials from the Foreign Affairs Office took Whitman and two other professors from the US on a trip to Guilin, a city in South China's Guangxi Zhuang autonomous region.
Fascinated by the country, Whitman then traveled by herself to Beijing and Shanghai, "to see China".She fell in love with Chinese food during that trip, and the many that followed.
Whitman counts Peking duck, hotpot, dim sum and the fresh shrimp in Guangzhou, which "is the combination of freshwater and seawater", among her most beloved Chinese dishes.
"To this day, they are among my favorite things to eat," she says.
Shortly after her trip, Whitman joined the Los Angeles-Guangzhou Sister City Association, an organization established in 1981 as part of Sister Cities International. For her efforts in promoting the economic development of Guangzhou, she was given the status of "honorary resident" in November 2019.
As an educator, Whitman was responsible for conducting training programs for a delegation of Chinese government officials, who came to the US and studied at Mount Saint Mary's University for a month or two, before receiving a certificate from the university. That initiative continued for almost 10 years.
As part of the MBA program requirement at Mount Saint Mary's, all students were required to travel to China for a nine-day trip. During the visit, they would meet government officials and entrepreneurs and have lectures in universities. They also got to see cities such as Beijing, Shanghai, Guangzhou, Shenzhen and Xi'an.
Thanks to those programs, Whitman still travels to China frequently. She says before the COVID-19 pandemic, she took students to China, on average, about three times a year.
"I found it a wonderful opportunity to actually see a country growing rapidly and changing quickly. Every time I go, I see something new and I learn more about China and how it has changed to become a modern, open country. That is what I think is very intriguing and it encourages me to learn more," she says.
Whitman recalls witnessing an encounter that took place between one of her students and a Chinese friend, which is a story that she regularly tells her graduate students.
Her friend, a Chinese teacher, sat next to Whitman's student at a large banquet for around 25 people. At first, the two women didn't know how to strike up a conversation, but as the meal progressed, they began sharing with each other tales about their families. They discussed the difficulties around raising their children, and how each was concerned about their children's education. They even laughed a little bit about the pretty clothes that they had seen.
"By the end of the conversation, you would think that these two women, who came from very different backgrounds, were old friends. To me, that story is very simple, but it shows that it is the human things that bind us together, not big things," she says.
Whitman, who is now the vice-chair of the Los Angeles-Guangzhou Sister City Association, repeated the same message at a recent event celebrating four decades of the sister-city relationship.
"We had times together when we celebrated, when we worked hard and had some fun. The future of our relationship will be built on a commitment to people-to-people cooperation and friendship," Whitman told attendees.
Contact the writer at teresaliu@chinadailyusa.com
Most Popular