Longwan locals join anti-epidemic volunteers
Share - WeChat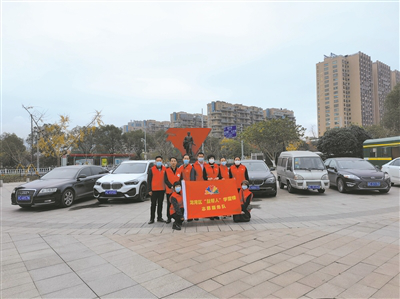 The spiritual civilization construction guidance center in Longwan district – in the prefecture-level port and industrial city of Wenzhou, located in East China's Zhejiang province – on Dec 14 issued a call to recruit anti-epidemic volunteers.
As of Dec 17, some 1,191 volunteers had submitted their applications, either in person or online, to participate in the fight against the COVID-19 pandemic.
"A lot of people showed their willingness to provide volunteer services with their private vehicles and many others are staff from non-profit organizations," said Chen Xuexian, director of the guidance center.
Longwan district – with Wenzhou Longwan International Airport and the Wenzhou east expressway entrance located in its jurisdiction area – is having to handle a great deal of anti-epidemic pressures.
At the entrance, over 100 vehicles on average enter Wenzhou every day. However, a medical service team responsible for checking the vehicles only had two members. They had to check more than 50 vehicles a day, which proved to be a heavy workload.
"We are in urgent need of support," said Chen Jian, deputy director of the Wenzhou Longwan TCM-Integrated Hospital.
"Tasks, such as transferring personnel from high-risk areas to designated isolation sites, need the support of social volunteers," Chen added.
All 1,800 staff members of the Wenzhou airport have dedicated themselves to anti-epidemic work. The district also designated more than 60 special workers to support epidemic prevention and controls at the airport.
With a daily average passenger flow of over 20,000, the frantically busy staff members hope that more volunteers can help explain anti-epidemic policies, guide passengers coming to Wenzhou to scan and show their health codes and digital travel records, as well as provide support for other issues.
In addition to individuals, enterprises and organizations are also taking part in epidemic prevention and control. Some 50 employees from the Blooms Group put their hands up to join the volunteer team. On Dec 16, the company also donated materials worth over 1 million yuan ($156,939) to aid Shangyu district in Shaoxing city, in Zhejiang province.
"With good profits, it is time for us to give back to society and fulfill our social responsibility," a Blooms Group executive said.