Indonesian leaders interact with ethnic Chinese association amid hopes for economic recovery and multiethnic unity
Share - WeChat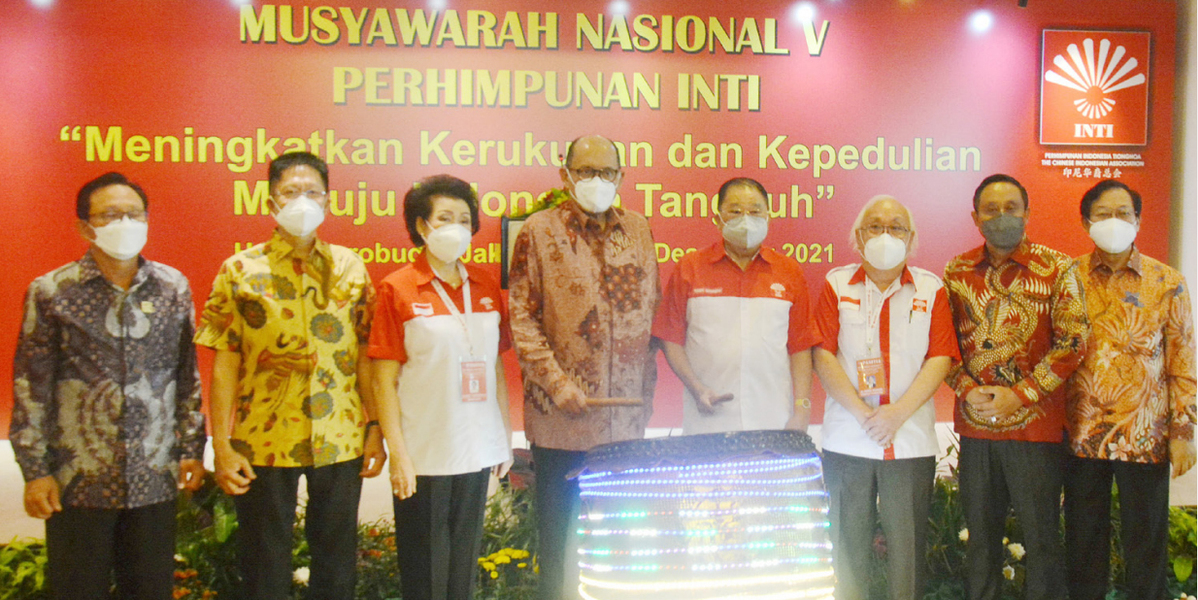 For Professor Dali Santun Naga at Tarumanagara University in the capital of Indonesia, the country has made noteworthy progress toward ethnic unity and common social progress, especially in recent years.
His perceptions are again highlighted on Dec 19, when the country's leaders warmly addressed the annual conference of Perhimpunan Tionghoa Indonesia, or INTI, a leading association of local Chinese Indonesian communities.
While chairing and speaking at the gathering by video link, President Joko Widodo affirmed the contribution of ethnic Chinese Indonesians to national construction, and called them to carry on for a better future of the multiethnic country, citing INTI as one of the pillars of national unity.
While addressing the gathering, the president was wearing a black suit and a necktie instead of the traditional "batik" shirt for such occasions, which is deemed as showing special respect to the 22-year old association and the event itself.
President Widodo called on the association to work further in promoting common prosperity and harmony, and asked INTI to support government programs of economic empowerment and to develop partnership between its members and grass-root, small enterprises. Partnership between large businesses and small undertakings has been one of the government's priority programs under his administration.
Vice-President Ma'ruf Amin and Chief of the Indonesian National Police Listyo Sigit Prabowo are also among video speakers for the meeting in Jakarta. Deputy Minister of Coordinating Political, Legal and Security Janedjri M. Gaffar read out a message from Minister Moh Mahfud MD before the president's video address, assured participants of the government's drive to maintain equal treatment before the law for all citizens.
The officials' remarks reminded the long-lasting issue of discriminatory practices that can still be experienced by some minority groups in the country, including locals of Chinese origin.
INTI Executive Chairman Indra Wahidin noted that the meeting's theme is building harmony and care for a prosperous and strong Indonesia, and that INTI will continue to encourage members to do more for the country and the people. The two-day conference took place in central Jakarta with participants including INTI's representatives from the provinces.
Professor Naga told China Daily that unfriendly sentiment against local Chinese Indonesians is significantly receding and prejudice much reduced in the past decades, especially since the issuing in 2008 of a law on the elimination of discrimination against minorities. Yet such prejudice remains yet to be fully ended.
While making up only about five percent of the country's population of 271 million people, ethnic Chinese Indonesians have been rather successful in business undertakings. And more of them are increasingly contributing to other social sectors, including retired rear admiral John Lie.
By video link Minister Mahfud expressed his appreciation to INTI's decades-long active participation in promoting harmony and social solidarity in the Indonesian community.
It is public knowledge that INTI and other organizations like Paguyuban Sosial Marga Tionghoa Indonesia, or Social Association of Chinese Indonesians, have made remarkable contributions to the welfare of the nation, notably to disadvantaged people, even more remarkably during these times of coronavirus pandemic.
Wahidin from INTI said the association had actively supported the national program of COVID-19 vaccination, distributing at least 1.4 million masks and significant amounts of staple items for families during the pandemic. It also had provided scholarships for young Indonesians to study at universities abroad and had given donations to people in disaster areas.
Through their activities, INTI and the other Chinese Indonesian organizations are winning stronger social acceptance and full recognition in the world's largest Muslim country.
President Widodo in his video remarks said he is keen to address the country's problems of unemployment, poverty and social inequality, and said small and mini businesses play special roles in fighting the pandemic and reviving economy.
While most local Chinese are keen in business, Professor Naga noted "not all Chinese Indonesians are wealthy people". Many ethnic Chinese live a mediocre life in Jakarta's surrounds, and across the country some even live with income below the poverty level.
Ahmad Dahlan, a 50-year old carpenter in Jakarta, said that in his small home town in Kudus, central Java, the majority of people living in relatively special housing complexes are ethnic Chinese. "They strive to obtain good schooling and they work hard," said Dahlan, whose wife and children stay in Kudus.
During the meeting, Teddy Soegianto, president of INTI general assembly, and other members expressed their willingness to build their beloved Indonesia into a better homeland and contribute more to its national interests and harmony.
The writer is a freelance journalist for China Daily.