Silent pursuit of justice
Share - WeChat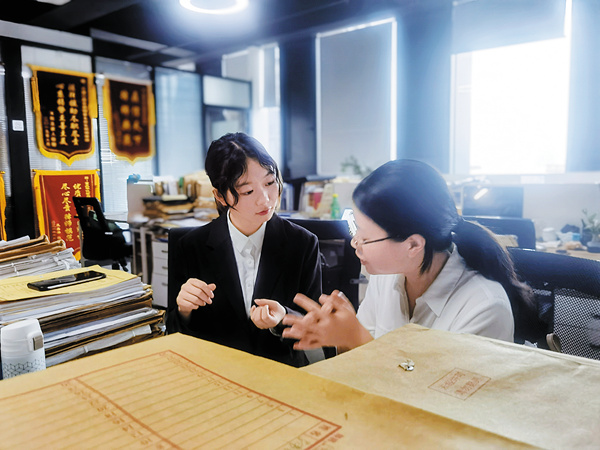 Legal assistant Tan Ting is hoping to provide hearing-impaired people a helping hand to understand the law and fight for their rights, Wang Qian reports.
Pursuing a legal career is challenging enough for most people, let alone for those with hearing difficulties. But, in December 2020, Tan Ting beat all the odds to become the country's first hearing-impaired person to pass the national bar examination, according to Chinese media.
She is a legal assistant at the Chongqing Huadai Law Firm, working with Tang Shuai, who is known in the country's hearing-impaired community as a rare lawyer proficient in sign language. Her daily job includes providing legal consultation and giving law education lectures to people with hearing loss.
On video-sharing app Kuaishou, she has posted dozens of videos in sign language to help raise awareness among hearing-impaired people of their legal rights, together with the confidence and skills to assert them. Most of the videos have narrative subtitles and voice, which make them accessible to all. Her account has attracted 13,000 followers, most of whom have hearing difficulties.
"I hope my hands can bring justice to every voiceless corner," Tan says, adding that the hearing-impaired community should be seen by more people and should not let their hearing impairment hold them back.
Tan has gone viral on micro-blogging platform Sina Weibo after her positive attitude toward life made national headlines, which have been viewed more than 140 million times. Her inspiring story has brought equal access to legal services and justice for the hearing-impaired into the spotlight.
Tan says China needs more people like her to break barriers and join the legal profession, promoting equal access to justice and law for the hearing-impaired community.
Official statistics show that hearing disability affects 27.8 million people in China. But for a long time, their demand for legal help was not met due to lack of professionals who can master both sign language and the law.
Among the first countries to ratify the UN Convention on the Rights of Persons with Disabilities, China has made remarkable progress in promoting the rights and entitlements of the differently abled, including the formulation of related laws and regulations to safeguard disability rights.
Equal Access to Justice for Persons with Disabilities in China, a report published by the Public Interest and Development Law Institute of Wuhan University and United Nations Development Program in 2016, found that sign language interpretation was relatively marginal in China's barrier-free legal service system.
While in practice, written communication is often inefficient for people with impaired hearing, an appropriate sign language interpreter is, without doubt, an essential component of a better solution moving forward, according to the report.
Put to test
Born in 1992 in a rural family in Yanyuan county, Sichuan province, Tan lost her hearing at the age of 8 as a result of medical malpractice. Enduring a silent world, she was forced to drop out of school.
For five years, Tan kept asking her mother when she could go back to school, and in that time, she never stopped studying. As well as helping her parents with household chores and farm work, Tan spent lots of time learning Chinese characters from the Xinhua Dictionary. Her mother cannot read or write and her father only completed primary school.
Thanks to her mother's persistence, the then 13-year-old entered the Xichang Special Education School in Xichang, Sichuan, over 100 kilometers away from her home. She had to start with second-grade students, who were much younger than her. It is a boarding school, and Tan only returned home twice a year. Although not expensive, the school fees were still a burden on her parents' finances.
"I knew how precious the opportunity was for me. I had to work harder at school than the others," Tan says.
Thanks to her outstanding performance, she finished her primary school in three years, and at Leshan Special Education School, she finished her junior and senior high school programs in one and three years, respectively.
In 2013, she passed the national college entrance exam for hearing-impaired students and enrolled in the Special Education College of Chongqing Normal University to earn her bachelor's degree in information resources management.
If she hadn't seen Tang's recruitment information online in 2017, following graduation, Tan's path would have led her to become a teacher at a special education school. Law seemed to be a tough career choice for someone with hearing difficulties, because one of the most obvious qualities of an attorney is vocal eloquence.
Most Popular