Photo display gives glimpse of changing capital
Share - WeChat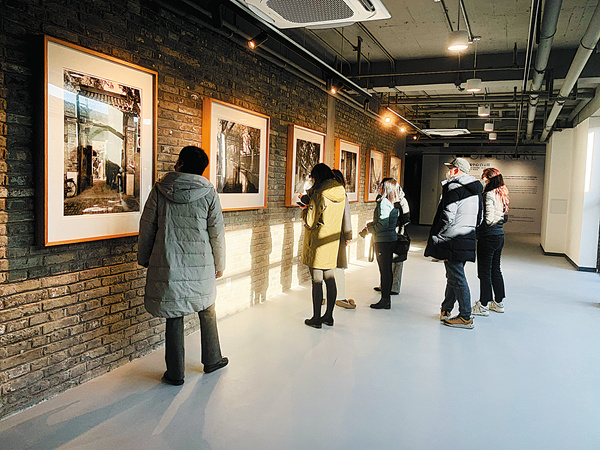 Photographer Feng Jianguo is exhibiting 12 of his works, featuring Beijing's hutong, or alleyways, taken from 2005 to 2008, at a new art center in the city's Chaoyang district since early December.
The photos and the venue's walls, made from old bricks of hutong houses, echo each other in some way.
Feng, also a professor at Tsinghua University's Academy of Arts and Design, specializes in large-format photography.
The works on display, around 90 centimeters long and 65 centimeters tall, were taken when the city was busy with construction and preparations for the 2008 Beijing Olympic Games, and some of the views in Feng's photos no longer exist due to demolition in the alleys later.
The photographer took images of old quadrangles, or siheyuan, and alleys before the gentrification. One of the photos has old-fashioned jeeps and bicycles parked beside an old building and a metal water tank placed on its weathered roof-a vanished tradition. It had just rained, with part of the wall getting wet. The rest of the photo, however, shows a dry patch under a tree, giving the black-and-white image a feel of Chinese ink-wash painting.
Particularly, Feng recalls, taking one of the photos at night that was successively exposed for two hours. The shooting process was like holding a dialogue with the narrow passages and the houses there, watching people pass by, but they don't make an appearance on the photo.
Feng says his work was to portray the city views rather than documenting the people that many other photographers were doing at that time. Using an 8x10 large-format camera, the texture of a single wall brick is clear, even amplified in such large size.
The venue of the exhibition, the Choi Center at Cloud House, is operated by the Jonathan K.S.Choi Foundation whose chairman Jonathan Choi Koon-shum is a veteran Hong Kong entrepreneur and standing committee member of the nation's top political advisory body.
The center will be dedicated to cultural exchange activities, especially with European artists and institutions, and will be officially opened in spring, according to Gilbert Choy, director of the foundation.
Most Popular