S. Korea pans shortsighted Fukushima water disposal
Share - WeChat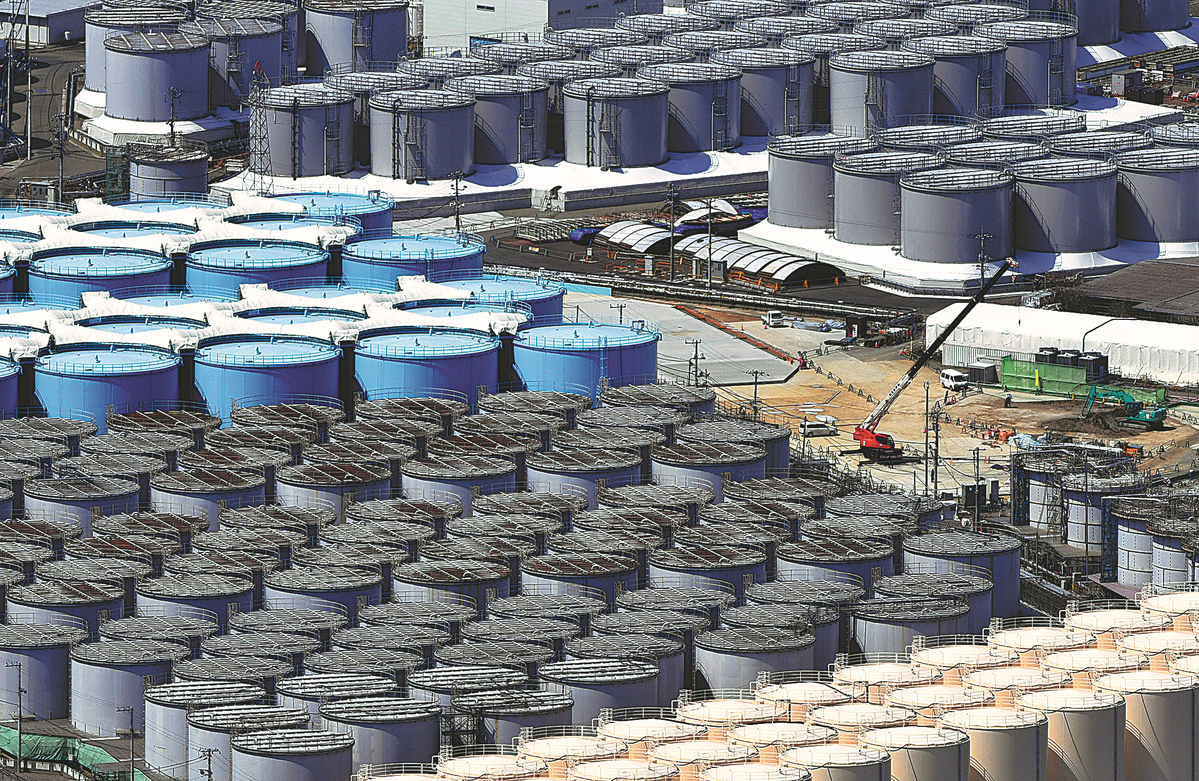 South Korea denounced a report released by the Japanese state-run operator of the stricken Fukushima nuclear power plant on Tuesday, saying it focused only on the short-term impact on the marine environment.
The simulation report, which was published by Tokyo Electric Power Company, or TEPCO, last month, said the discharge of radioactive water into the sea would have "very minimal" impact on the environment.
"South Korean experts raised questions over Japan's simulation that only seemed to focus on the short term, not considering the changes it will have on the land and marine environment in the long term," reported the Korea Herald quoting unidentified government sources.
According to the newspaper, South Korean officials and experts had a meeting with their Japanese counterparts on Friday, during which concerns were raised over TEPCO's assessment report. The government will also submit its questions and concerns to Japan in written form.
Japan's unilateral decision to discharge some 1.25 million metric tons of treated but still radioactive wastewater from the crippled Fukushima nuclear plant into the Pacific Ocean was roundly criticized by local communities, fishing organizations, environmental groups and neighboring countries since Tokyo announced the plan in April.
TEPCO and the Japanese government have insisted that the contaminated water is safe as it will be filtered and diluted to remove most of the radioactive substances, except for tritium, which it claims it is not dangerous in small amounts.
However, experts and Japan's neighbors have questioned Japan's narrative and pushed Tokyo to provide more information to ensure safety of the planned discharge.
On Friday, Chinese Foreign Ministry spokesman Zhao Lijian said China is deeply concerned over Japan's continued preparations for the water discharge, adding that the international community should firmly reject Japan's "selfish beggar-thy-neighbor approach" and urge it to immediately revoke its wrong decision.
"The decision was made without exhausting all safe means of disposal, without making all relevant information public, and without conducting full consultation with neighboring countries and the international community," Zhao said. "It is extremely irresponsible for Japan to keep advancing preparation for the ocean discharge option."
An October report by Greenpeace Germany stated that the Japanese government's narrative has been "created for both financial and political reasons" and "the only acceptable solution is continued long-term storage and processing of the contaminated water".
"Time after time, TEPCO and Japanese government bodies appear to have conspired to make the crisis worse," stated the report.
The report also stated that "additional storage for the contaminated water beyond 2022 was possible both on and off the site".