Sincere friends, good partners
Share - WeChat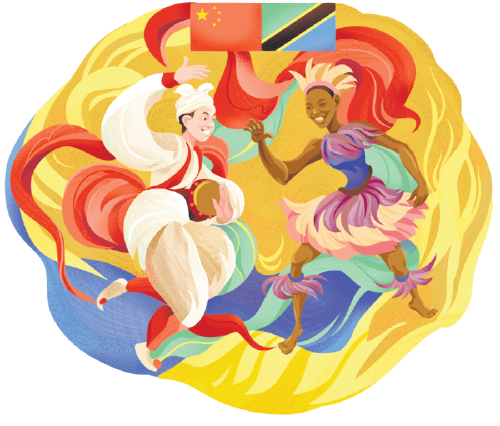 The second phase of the National Defense College of Tanzania, a China-aided construction project, was handed over to the African country on Nov 14. Tanzanian President Samia Suluhu Hassan, who attended the event, highly praised the traditional friendship between China and Tanzania.
"China is Tanzania's closest friend and the most important partner of development," she said. "We always cherish the sincere friendship and important support from Chinese friends."
Since China and Tanzania established diplomatic ties more than half a century ago, the two countries have always trusted and supported each other, creating many firsts in the development of China-Africa ties. The Treaty of Friendship signed between the two countries in 1965 was the first such agreement signed between China and a country in eastern and southern Africa, blazing a trail in the development of China-Africa ties.
The Tanzania-Zambia Railway, which was completed in 1975, is still one of the largest China-aided overseas projects to date. It provided key support for southern Africa's anti-imperialism and national liberation movements, and has boosted local economic and social development.
When President Xi Jinping embarked on his first overseas visit as head of state in 2013, one of his stops was Tanzania, where he proposed that China's Africa policy would follow the principles of "sincerity, real results, amity and good faith", which have been established as China's guiding principles in forging relations with other developing countries. It is fair to say that China-Tanzania friendship has always taken the lead in the development of China-Africa relations and South-South cooperation.
After Hassan became Tanzania's sixth president in March, President Xi had a phone conversation with her in June, making him the first leader from outside Africa to have a conversation with her. The two leaders reached consensus on comprehensively developing their cooperative partnership.
When the COVID-19 pandemic hit China, former Tanzanian president John Magufuli expressed condolences to China, and both the Tanzanian government and society voiced their support for China's efforts to combat the virus, while opposing the politicization and stigmatization of the pandemic. China has protected Tanzanian students in China like its own, ensuring that none of the 5,000 students have been infected with the virus.
When the pandemic spread to Tanzania, China was the first nation to provide it with anti-pandemic supplies. China has also shared therapies and its experience in countering the virus with Tanzanian health officials and experts through a dozen video-linked conferences. To support Tanzania's endeavor to combat the disease, China has delivered on its promise to make its vaccines a global public good, by providing COVID-19 vaccines to Tanzania. It is providing the country with over 4.6 million doses, which is the most provided by any country.
Despite the pandemic having a negative effect on the global economy, China-Tanzania economic and trade cooperation has maintained a good momentum. In the first three quarters of this year, the bilateral trade volume has increased by 49.7 percent year-on-year to $4.7 billion, with Tanzania's exports to China growing by 62.5 percent and its imports from China growing by 48.4 percent. Chinese direct investment in Tanzania from the non-financial sector amounted to $43.82 million during the period, with the accumulated investment reaching $1.5 billion. China has been Tanzania's largest trade partner and investment source for many years in a row.
The largest China-invested project in Tanzania, the Maweni Cement Plant, has been put into operation, and negotiations over major projects such as the Bagamoyo special economic zone are expected to resume.
Practical cooperation between the two countries is making new contributions to improving Tanzania's infrastructure facilities, promoting its social and economic development, and accelerating its industrialization. Construction of the fifth section of the standard gauge railway, which is being undertaken by Chinese enterprises, has started. The new cooperation project such as Julius Nyerere Hydro-Power Station and Magufuli Bridge, and the renovation of Dar es Salaam Port and Mtwara Port are proceeding smoothly.
This year marks the 50th anniversary of the People's Republic of China restoring its lawful seat at the United Nations. Tanzania was among the 23 cosponsors of the draft resolution calling for the restoration of China's lawful seat at the UN, and it played a leading role in the whole process. Over the past half a century, China and Tanzania have upheld the banner of peace, development, justice and fairness in global affairs, worked together to safeguard and advance the overall interests of developing countries, and pushed the international order toward a more just and reasonable development.
Despite the rising hegemony, unilateralism and power politics in the global arena, China and Tanzania have maintained close ties and coordination in global affairs, and become important forces championing international justice and fairness and multilateralism. Tanzania has expressed support for China on issues related to its core issues through multiple channels. On its part, China has firmly backed Tanzania's pursuit of a development path suiting its own conditions, and explicitly opposed external interference in Tanzania's general election in 2020.
Currently, both China and Tanzania are at a critical stage of development. Facing new historical opportunities in the new period, the two countries will carry forward their traditional friendship and unswervingly support each other's development. China will implement the new initiatives announced at the eighth ministerial meeting of the Forum on China-Africa Cooperation in Dakar, Senegal, on Nov 29 and 30, and closely align the joint building of the Belt and Road Initiative with the national development strategy of Tanzania. It will deepen policy communication and strategy alignment with Tanzania, and enhance experience sharing in governance and development of the country. China will also expand its practical cooperation with Tanzania to more sectors to bring more trade and investment opportunities and benefits to the two peoples.
The author is China's ambassador to Tanzania. The author contributed this article to China Watch, a think tank powered by China Daily.
The views do not necessarily reflect those of China Daily. Contact the editor at editor@chinawatch.cn
Most Viewed in 24 Hours
China Views