Seminar highlights Constitution's role for HK's development
Share - WeChat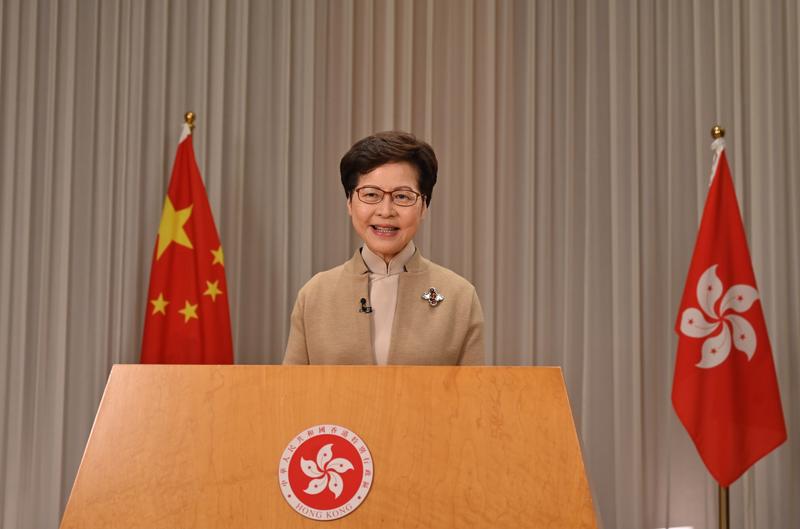 Political and legal heavyweights underlined the vital role of the nation's Constitution for Hong Kong's development at an online seminar on Saturday to mark Constitution Day.
Delivering a keynote speech at the seminar, Luo Huining, director of the Liaison Office of the Central People's Government in the HKSAR, elaborated on the relationship between the Constitution and "one country, two systems".
The Constitution provides a legal basis for the "one country, two systems" arrangement, as the SAR, which practices the arrangement, was established in accordance with its stipulations. The Constitution also guarantees the steady and sustained implementation of "one country, two systems", as in the case of events during and after the 2019 social unrest, Luo said.
It was in accordance with the Constitution that the National People's Congress (NPC) adopted the National Security Law for Hong Kong in June 2020 and reformed the SAR's electoral system in March 2021, which plugged major legal loopholes in the city's political system, and brought peace and stability back to Hong Kong, he added.
Luo said the Constitution and the Basic Law jointly comprise the constitutional foundations of the HKSAR, and that only with a firm awareness of the Constitution and by safeguarding its authority can the "one country, two systems" arrangement be implemented along the right course.
Carrie Lam Cheng Yuet-ngor, chief executive of the Hong Kong Special Administrative Region, said in a keynote speech that the SAR's continued prosperity and stability after its return to the motherland rely to a great extent on the unique "one country, two systems" principle.
As the SAR marks its 25th anniversary next year, it's necessary to deepen the understanding of all sectors, and especially the younger generation, around the Constitution and the Basic Law, while striving to uphold the SAR's constitutional order, Lam said.
She added that all Hong Kong residents have a responsibility to respect and safeguard the constitutional order, as it provides the strongest guarantee for Hong Kong's prosperity.
Zhang Yong, vice chairman of both the Legislative Affairs Commission and the Hong Kong SAR Basic Law Committee under the Standing Committee of the NPC, stressed that only by continuously improving the mechanism of "one country, two systems" can Hong Kong successfully implement the principle, and thrive under integration with national development.
Zhang noted that with an improved system of safeguarding national security, the HKSAR has restored order and is regaining prosperity. He believes that as long as the city remains on the course charted by the Constitution and the Basic Law, the SAR will scale new heights under the "one country, two systems" principle.