The 'commonsense guardrail' doesn't make common sense
Share - WeChat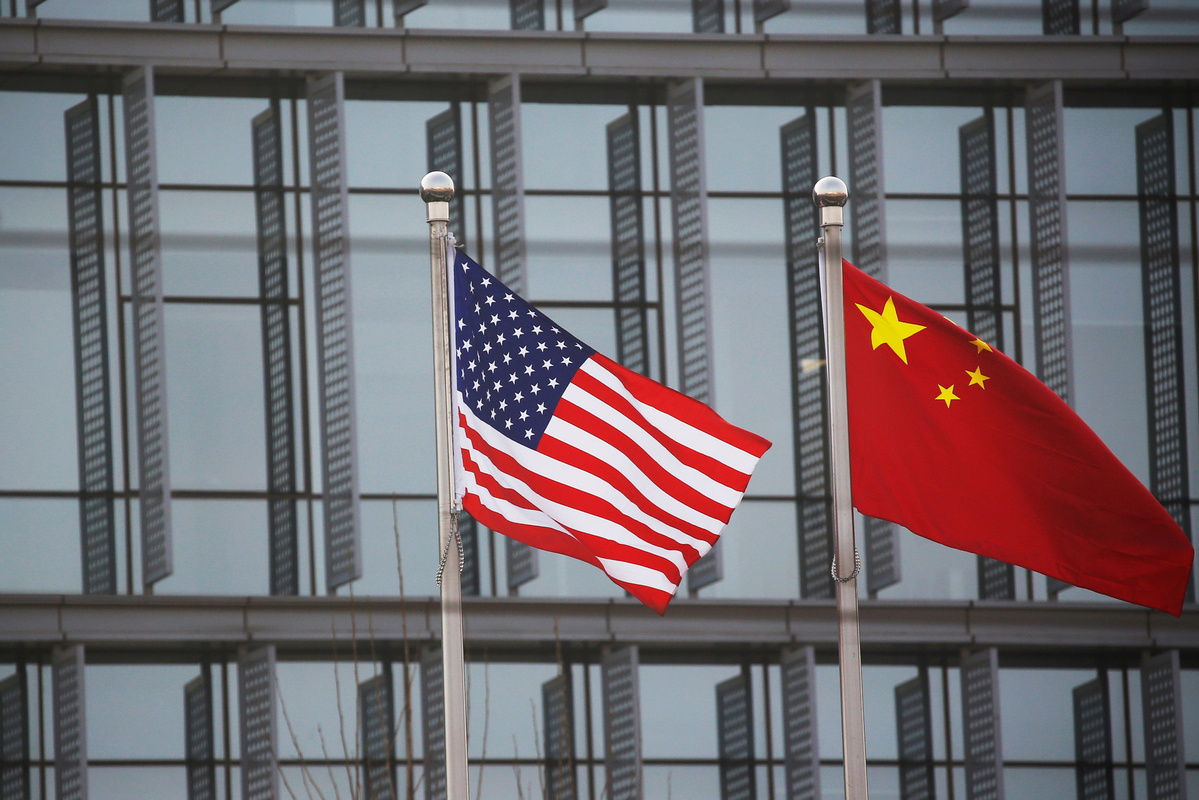 President Xi Jinping and President Joe Biden, the leaders of the heftiest countries in the world, waving at each other with big smiles at the beginning of their virtual meeting seemed encouraging on the front page. President Biden was in a good mood probably because he had just signed into law a trillion-dollar infrastructure bill, which he pitched, to some extent, as a way to counter China "from a position of strength". Yet even a most unseasoned student of international relations could tell that the sunny smile Mr. Biden was wearing didn't necessarily mean good will, and most surely was not a sign of policy adjustment in dealing with China.
The current US administration has been trying to triangulate between China hawks and progressives since day 1. That explains many of its bizarre moves: it has strengthened US diplomatic and military support to Taiwan, formed closer alliance with countries sitting on China's periphery, upgraded the "democracy versus authoritarianism" offensive, while asking for China's cooperation on Afghanistan, climate change, global energy shortage, etc. Washington originally branded its China policy as competition, confrontation and cooperation. Such self-contradictory definition met with clear-cut rejection by the Chinese side time and again in Anchorage, Tianjin, Zurich and Rome. In August, Foggy Bottom came up with a new euphemism for its wishful thinking-how about we put a "guardrail" on the relationship to ensure that the two countries won't go to conflict, no matter what?
Mr. Biden was happy with this little wordplay. He commented that "we need to establish some commonsense guardrails (with China)" and the White House labeled the Xi-Biden virtual meeting as a discussion "about ways to establish guardrails for that competition (between China and US)". One couldn't help but wonder, what is that guardrail exactly? Will that work? Provided the unbearable consequences of a deteriorating China-US relationship and the dangerous territories ahead of the relationship's current trajectory, how to behave responsibly and to which direction should the US leader steer the course of his country's relationship with China?
1. What is the nature of 'commonsense guardrail'?
If we do apply common sense, a guardrail should limit the scope of issues players can touch or the extent of actions players can take. For instance, WTO rules are the commonsense guardrails of trade policies, and UN resolutions are the commonsense guardrails of the "Taiwan representation" issue. It is common sense that a responsible player shall not lie, nor shall it evade its responsibilities. It is also common sense that sovereignty, territorial integrity and right to development are not negotiable for China, or for any other country. However, in order to maintain supremacy, the US has abandoned WTO rules in terms of trade and UN resolutions in terms of Taiwan, incriminated China with fabricated accusations, and burdened China with incommensurate obligations. Meanwhile, Washington hasn't been shy of interfering in China's domestic affairs and hurting China's core interests. It has been playing with "Taiwan independence", Hong Kong democracy, Xinjiang human rights, and "South China Sea arbitration". Judging from its track record, it is fairly obvious that Washington has no intention of demonstrating common sense.
As maintaining supremacy is the ultimate goal of Washington's current foreign policy and China is regarded as a challenger, one can only expect more menace to come. With such a convenient label as "guardrail", everything useful to Washington, or according to the typical zero-sum mindset of Cold War warriors, harmful to Beijing, can be put under this banner. It shouldn't be surprising that the guardrail Washington put up only intends to limit China's reactions and options, not its tools of confrontation or choice of battlefield. It only reveals its hegemonic habit of setting terms, not its recognition of the nature and reality of China-US relations. The Americans want to remain the big boss and dictate the rules of the road, as they have been doing for the last century, but the world has changed. There is no way that Washington should expect Beijing to fall into this designed trap.
2. Will a guardrail work?
Even if, for practical consideration and with equal-footed discussion, the US does produce a set of rules with China to prevent conflict, like it did with the Code for Unplanned Encounters at Sea (CUES), that alone is anything but an assurance of the peace and prosperity longed for by the world and the two peoples across the Pacific. Country-to-country relations are subject not only to political will, but geopolitical context, common interests, people-to-people ties and shared values. It is common sense that with no positives to act as a solid foundation, competition is destined to veer into conflict.
The US used to have those positives with China, they were biggest trading partners to each other, they celebrated their united fight against fascism, more Chinese students went to the US seeking knowledge and opportunities than any other country. Regrettably, the current administration has inherited and even furthered the detrimental China policy of Donald Trump, empty-talking and tampering with the One-China principle, keeping the discriminatory tariffs against Chinese products, building a "small yard, high fence" to smother Chinese high-tech industries, and locking up and interrogating Chinese students upon arrival and departure. With the eroding foundation of China-US relations, plus Washington's fierce offensive to out-compete China, Washington is shouting "no Cold War" but actually pushing the delicate relationship to the verge of conflict, cold or hot.
3. Does Washington have a better option?
Yes it does. It is ancient Chinese wisdom that the right treatment should address the root cause, instead of just dealing with symptoms. That applies to country-to-country relations. To steer away from crisis or conflict, one should adjust the underlying mindset that creates conflicts. The only right way out for the China-US relationship was put on table by the Chinese side long ago. President Xi again pointed it out when he talked to Biden this time, China and the US should respect each other, coexist in peace, and pursue win-win cooperation, simple and clear. With these guiding principles in hand, cooperation will be given priority, and competition will be conducted in a fair and healthy manner.
It is common sense that mutual respect has been the guiding principle of modern international relations, while peace and prosperity the goals toward which the current global system was built. The three principles are not shocking innovations by the Chinese side, but a responsible assessment of the reality and an honest manifestation of the common wishes of almost every single human being in the world. In a time of raging pandemic, looming recession and global climate change, it is common sense that the US should answer China's call of safeguarding a peaceful and stable international environment, including finding effective responses to global challenges.
The tragedy of great power is that all the bad decisions are consciously made. The current US administration can use domestic politics as an excuse as much as it wants, but true statesmen make right decisions from a historic perspective, and lead their country and guide their people. Nobody has tied America's hands or limited its options except America itself. If Washington continues to build up its military against imaginary enemies, abuse the dollar for its own convenience, overthrow other governments according to its own preference, the world will never be a better place. No matter what and how Washington chooses, history will judge.
The author is a Beijing-based observer on international affairs.
The views don't necessarily represent those of China Daily. If you have a specific expertise, or would like to share your thought about our stories, then send us your writings at opinion@chinadaily.com.cn, and comment@chinadaily.com.cn.
Most Viewed in 24 Hours
China Views