Solomon Islands returns to uneasy calm after violence in capital Honiara's Chinatown
Share - WeChat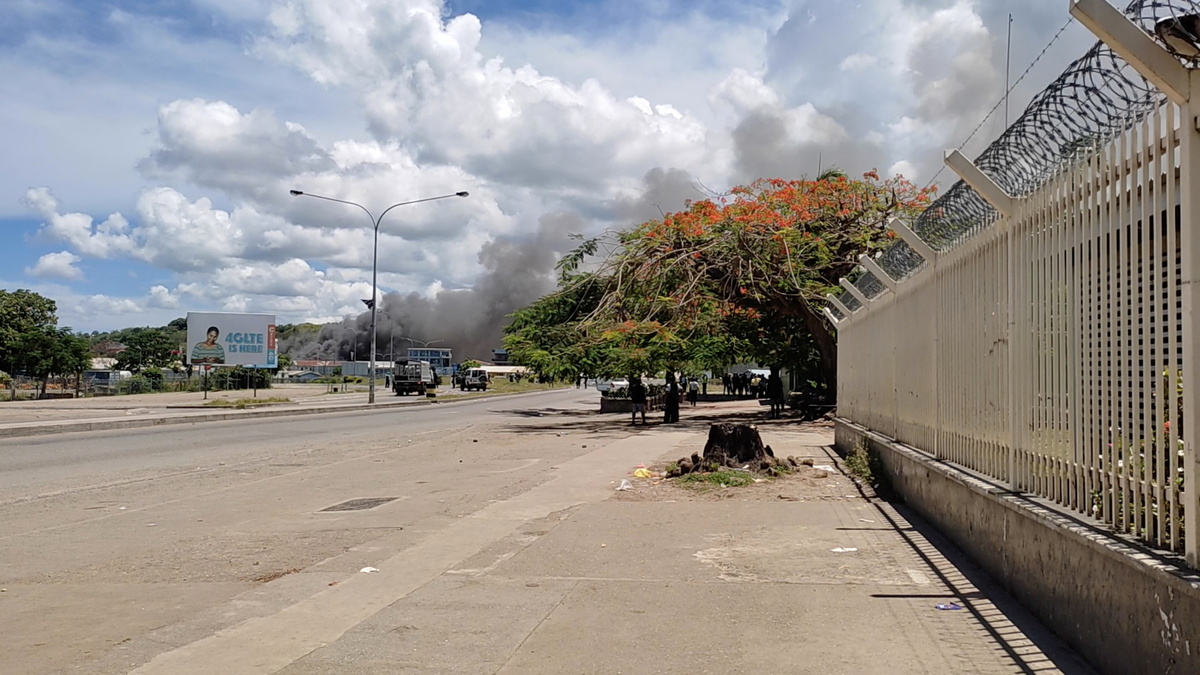 An uneasy calm has settled over Honiara, capital of the Solomon Islands, following violence last week that saw government buildings torched and much of the once thriving Chinatown burned to the ground.
At least three people died in Chinatown, with their charred remains found in burnt-out buildings, and more than 100 have been arrested for arson and looting.
Armed police and troops from Australia, Fiji and Papua New Guinea patrol the streets maintaining order following a request from Prime Minister Manasseh Sogavare.
While some Aussie commentators have tried to blame Sogavare's decision to recognize China over its island of Taiwan, the unrest goes deeper as Washington's rare move in its most populous island of Malaita has fuelled tensions and worsened the deep ethnic divide between the island and the people of Guadacanal region, where the national capital is situated.
On Sept 18, the Solomon Islands and China signed a joint communique in Beijing on establishment of diplomatic relations. Prior to the signing, the Solomon Islands severed the so-called "diplomatic ties" with Taiwan's administration.
The Solomon Islands Chinese Association, or SICA, condemned the recent violence and has called on all Chinese owned and operated businesses to continue operating in an "ethical and fair manner", continuing to respect and abide by the laws of the country.
It said the Chinese community remains confident in a brighter Solomon Islands despite the violence, which it blamed on a small minority. Compensations for the losses of life and property remain a question.
The Solomon Islands is an island archipelago comprising six major islands and 900 smaller islands covering an area of 28,400 square kilometres to the east of Papua New Guinea and northwest of Vanuatu, with Malaita being the largest and the most populous.
More than two-thirds of the poor country's population of about 700,000 are under the age of 30, with many disaffected and desperate young people descending on Honiara for work.
Sinclair Dinnen, a fellow at the Australian National University's Coral Bell School of Asia Pacific Affairs, noted there has been "a lot of behind-the-scenes politicking going on to dislodge the current government, which is symptomatic of the inherently unstable kinds of coalition government that Solomon Islands has had since independence and the patrimonial politics that animates them".
He also said the civil unrest highlights the fragility of the Solomon Islands as a nation. Internal tensions between 1998 and 2003 highlighted a deep economic and ethnic divide that still exit to this day and saw foreign troops and police sent to the country to help with stability.
The analyst was referring to the ethnic tensions that saw a protracted period of lawlessness and violence and led to the creation of the Regional Assistance Mission to Solomon Islands, which ran from 2003 to 2017 and comprised military personnel, police and civilians from Australia, New Zealand and 15 contributing Pacific nations.
"The weakness of national identity and allegiances underlies many of the country's challenges," Dinnen said, and building a sense of national community "is obviously a complex and long-term task and one that needs to be driven by Solomon Islanders".
While much of the focus over the last two decades has been on propping up and strengthening the key institutions of the Solomon Islands state, less attention has been paid to the need to build a sense of national community, Dinnen said.
Mihai Sora, research fellow in the Pacific Islands Program at the Lowy Institute, a Sydney-based independent think tank, also noted: "The perceived uneven distribution of economic development across the country, and particularly Malaita's relative lack of development compared to Guadalcanal, is a longstanding grievance that is widely regarded as having been at the root of Solomon Islands' internal conflict from 1998 to 2003."
In an assessment of the unrest published Nov 25 by the Lowy Institute, Sora said that Daniel Suidani, the premier of Malaita, had been under "sustained political pressure" from his own provincial MPs.
Sora noted Suidani has maintained Malaita's ties with Taiwan authorities even after September, "something that sits uneasily across national and sub-national levels of government." Suidani's decision to maintain support for Taiwan "was readily embraced by Malaita's decades-old secessionist movement", he said.
Sora said that with all the subtlety of an absent superpower, in October 2020, Washington allocated a $25 million aid package directly to the Malaitan government, "50 times what the province would normally get in a year from donors, in what was regarded as a cynical payoff to one of the ever-dwindling number of pro-Taiwan actors in the Pacific — never mind that it's a subnational entity".
Without naming any country, Sora said: "The actions of large nations as they curry sympathy with local actors — without pause to consider deeper social and political undercurrents — have a destabilizing effect on social cohesion in vulnerable countries such as Solomon Islands, which seeks desperately to maintain its hard-won fragile peace after years of civil unrest."