Beijing helps promote integration across Africa
Share - WeChat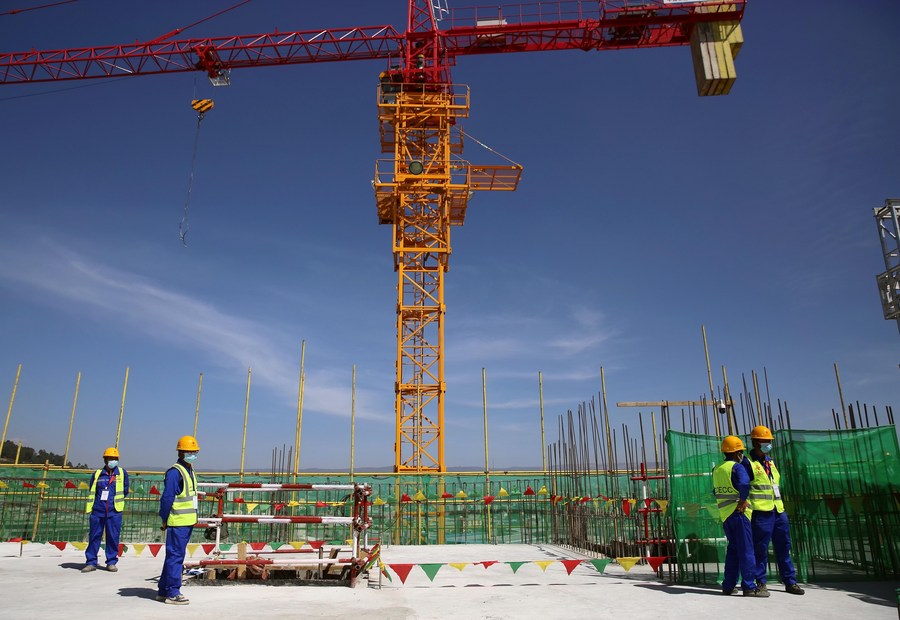 China has always been an active supporter and promoter of African integration in areas including politics, economy, education, science and technology, and public health.
China has always supported the African Union in playing an important role in African development and integration, and other international and regional affairs. Today, China is a strong partner in supporting the African Continental Free Trade Area, also known as the AfCFTA.
China has actively participated in improving the connectivity in Africa. With its help, more than 6,000 kilometers of railway and the same amount of roads, nearly 20 ports and over 80 large-scale power plants, more than 130 medical institutions, 45 sports stadiums and 170 schools have been built in African countries, including flagship projects such as the Addis Ababa-Djibouti Railway and the Mombasa-Nairobi Standard Gauge Railway.
All of these projects have played an important role in the industrialization and economic transformation of Africa. During this process, Chinese enterprises have employed a large number of local workers, creating more than 4.5 million jobs for Africans.
China-Africa trade has increased twentyfold over the past 20 years. According to China's Ministry of Commerce, China-Africa trade increased 40.5 percent year-on-year in the first seven months of 2021, reaching a record $139.1 billion. At the same time, China has been the largest trading partner for South Africa for 12 consecutive years, and South Africa has been China's largest trading partner in Africa for 11 consecutive years. In the first eight months of 2021, China-South Africa trade reached $34.72 billion, an 65.7 percent year-on-year increase.
After the COVID-19 outbreak, more than 1,100 Chinese projects in Africa continued to operate, including construction of the headquarters of the Africa Centres for Disease Control and Prevention. Newly signed construction projects by Chinese enterprises in Africa increased 21.4 percent in 2020 from the previous year, which shows African countries still have a great demand for infrastructure. It can be seen that China has become the most powerful external partner of African integration and a positive force in promoting the AfCFTA.
According to the "World Investment Report 2021" by the United Nations Conference on Trade and Development, the annual growth of foreign direct investment flows to Africa has been continuously declining. It went from growth of 13 percent in 2018 to 4 percent growth in 2019, and further declined in 2020 to $40 billion, the report said.
However, Chinese FDI in Africa has been growing steadily, reaching $2.96 billion in 2020, an increase of 9.5 percent year-on-year. By the end of 2020, the stock of Chinese FDI in Africa exceeded $47.4 billion, of which over 90 percent was contributed by the Chinese private sector. In the long run, the FDI in Africa could draw strength from the implementation of the AfCFTA.
Africa has also been an important exporter to China. In the past three years, China's agricultural imports from Africa have grown at an average annual rate of 14 percent, making China the second-largest agricultural importer of products from Africa.
More than 350 agricultural products from Africa have been granted access to the Chinese market. The three-month African Products Online Promoting Season was launched in September and supported by Taobao, the largest online shopping platform in China, allowing Chinese consumers to buy African products through such means as livestreaming promotions.
In the future, China-Africa economic cooperation could be better integrated with the AfCFTA, enhancing connectivity in free trade, transportation infrastructure and monetary policy between China and the economic entities within the AfCFTA. Some potential frontiers could be explored, including the areas of agricultural processing, automotive industry, telecommunications, finance, e-commerce, digital innovation and information services.
The author is director of the Institute of African Studies at Zhejiang Normal University. The views do not necessarily reflect those of China Daily.