Ministry: US not qualified to be 'model of democracy'
Share - WeChat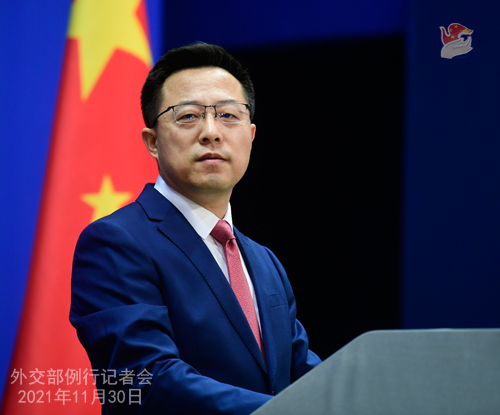 China said on Tuesday that the United States is not eligible to claim itself as being a "model of democracy", as it opposed attempts by the US to stoke division and confrontation to serve its hegemonic agenda.
Foreign Ministry spokesman Zhao Lijian made the remark at a daily news briefing while referring to sound criticism and suggestions regarding US-style democracy from the global academic circle.
Andrey Kortunov, director general of the Russian International Affairs Council, said, "The 'Summit for Democracy' attempts to turn the multicolor modern world into black and white divisions."
The "summit" is scheduled to open on Dec 9, with Washington bringing together leaders from a group of countries that it deems to be consistent with its standard for democracy.
Zhao quoted Atlantic Council researchers Daniel Fried and Rose Jackson as saying that the US should ask itself what is causing the democratic decline and make those issues its focus.
He also quoted the remarks of Elliot Abrams, who is a senior fellow at the US-based Council on Foreign Relations.
Abrams said that the US has spent billions of dollars every year to advance democracy globally, yet the relevant projects for the past two decades have been seriously disoriented in the pursuit of profits. A comprehensive review of its efforts to promote democracy was needed, he said.
Ben Scott, a researcher at the Lowy Institute in Australia, said, "The US authority has been weakened by its own democratic shortcomings."
As all countries have shared the pursuit of democracy, discussions about realizing democracy should be rich, diverse and inclusive, Zhao said.
Countries with various social systems should learn from and exchange ideas with each other, he said.
Zhao added that the US was obsessed with a sense of superiority, has compulsorily exported so-called "democracy", meddled in other countries' internal affairs and waged war or invaded countries, which have only resulted in disorder and caused refugee situations.
He said Washington was serving as the so-called "judge of democracy" in a self-choreographed performance.
Calling the move an irony of democracy, Zhao said the US was portraying the colorful and diverse world with the dichotomy of black and white, and monopolizing the definition of democracy with its own standard, in disregard of the huge differences of countries in culture, history and civilization.
"The US patches up the so-called 'Summit for Democracy' and peddles the narrative of 'democracy versus authoritarianism', in essence to revive the Cold War mentality and stoke division and confrontation so as to serve its hegemonic agenda," he said.