Vigilant volunteers help combat virus
By WANG XIAOYU in Ruili, Yunnan and LI YINGQING in Kunming | China Daily | Updated: 2021-12-01 06:46





Share - WeChat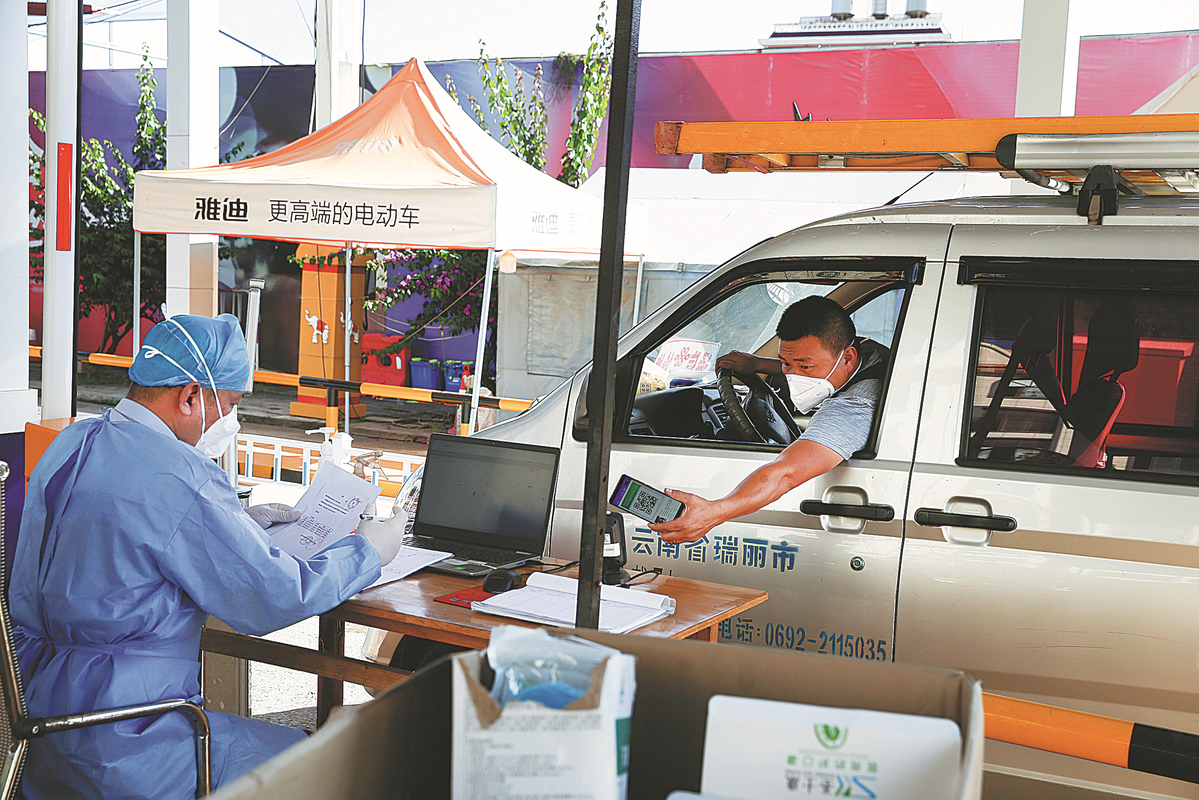 Responsibility vital
Xu Yongqing, a Mengmao county official, said such workers play an indispensable role in ensuring that no one is ignored in testing or vaccination programs.
"For instance, if we report to higher-level authorities that 1,000 people should be tested, but only 900 eventually show up at the vaccination venue, it is the workers' responsibility to trace and find out whether the other 100 took tests, and if so, when and where," he said.
Like many of the 4,000-plus part-time grid management workers in Ruili, Li set aside her regular job to volunteer for the position.
She used to run a stall selling bubble tea and local desserts at the city's largest farmers' market, which had to be closed several times as part of measures to reduce the risk of the virus spreading.
"I started watching my mom making these dishes when I was at primary school, and took over the shop after graduating from high school," Li said.
"Although my biggest wish was to reopen the market stall and see bustling crowds again, I am deeply proud of being able to contribute to the fight against the virus."
Li has also begun exploring a number of e-commerce platforms that she had never used previously. "I am still learning to promote and sell my products online via apps such as Douyin and WeChat," she said.
As local COVID-19 cases stabilized, the market where Li worked reopened on Nov 16. She asked her husband and brother to set up the stall and take ingredients and cooking equipment there to cater to the resumption of business.
"Sales will probably not return to pre-pandemic levels anytime soon, but it seems that everything is moving in a positive direction," she said.
Liang Wannian, a member of the National Health Commission's COVID-19 response task force, said the "dynamic zero-COVID-19" goal-clearing a new outbreak as soon as one emerges-should be firmly upheld.
After an inspection trip to Ruili in the middle of last month, he said implementation of virus control measures and the development of society and the economy should be balanced, and the city's pandemic control system should be "strenuous, warm and full of confidence".
Liu Yonghua, who works at the CDC in Ruili and has been involved in epidemiological investigation work since early last year, has witnessed improvements made to the city's disease control capability.
"If you ask me whether I feel exhausted from time to time, that's for sure," he said. When an outbreak of COVID-19 emerged in late March, he said he had little sleep for five days and nearly collapsed when going to the toilet.
"But if you ask whether the battle feels never-ending, I would immediately say 'no'."
Liu Yonghua said the response mechanism to stem new infection clusters has become "increasingly smooth". Local health workers have also markedly sharpened their professional skills thanks to training offered by medical aid teams and the accumulation of front-line experience.
"As the vaccination rate is rising, we believe the virus can be conquered eventually," he added.