Brussels seeks London's help over migrant crisis
Share - WeChat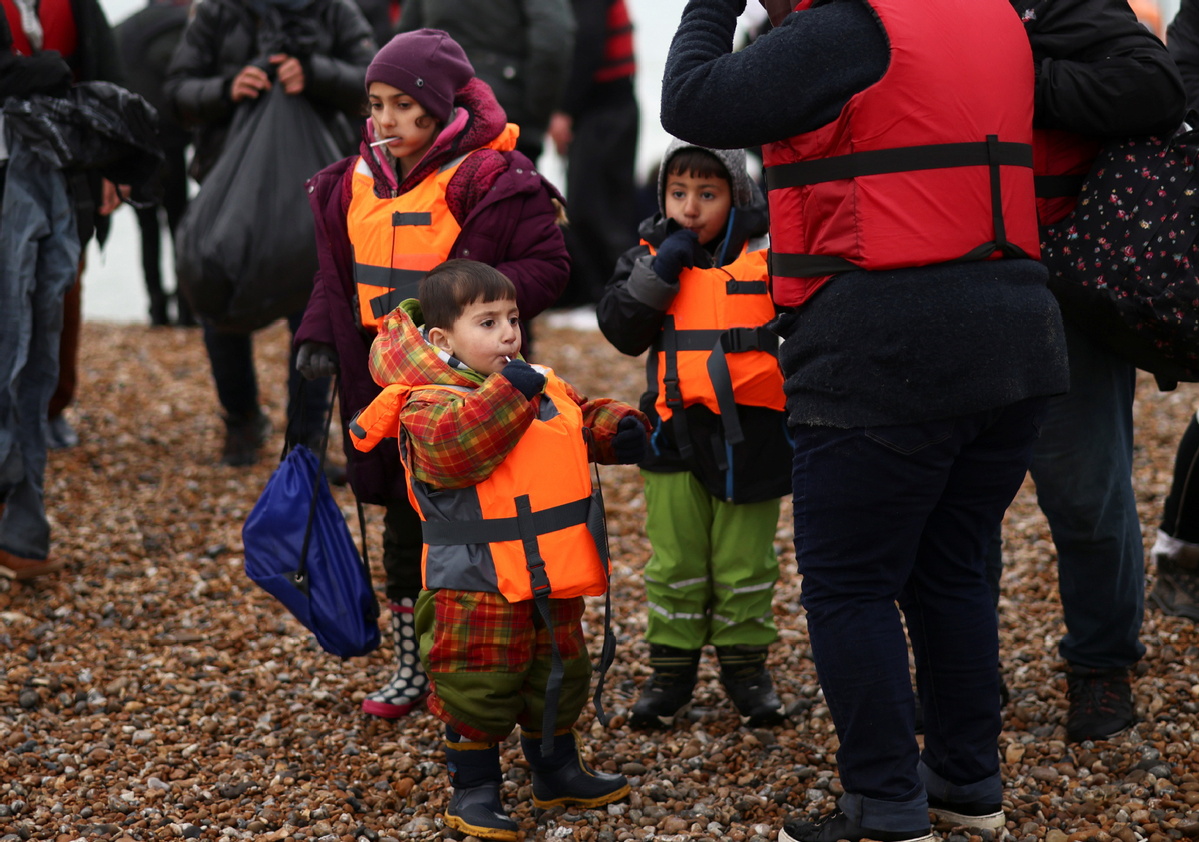 Ministers from the European Union have agreed that a new migration policy framework with the United Kingdom was urgently needed to address the increase in the number migrants attempting to cross the English Channel from France in small boats.
Ministers from France, Germany, the Netherlands and Belgium gathered for a crisis meeting in Calais on Sunday four days after 27 people drowned in the seaway when their inflatable dinghy sank.
They agreed to strengthen intelligence sharing on people-smuggling operations and announced that the EU's border agency Frontex would deploy an aircraft 24-hours-a-day over the Channel coast to monitor migrant crossings.
France's Interior Minister Gerald Darmanin insisted any deal with the UK on tackling the migrant surge would have to be discussed in Brussels, said a report in the Independent newspaper.
He said that a "new framework of work with Britain on immigration which must be that of the (European) Commission and of the EU", according to the paper.
British officials, including Home Secretary Priti Patel, were not invited to the meeting, after a row broke out last week between the UK and France over who was to blame for the surge in migrant crossing attempts.
After the meeting, Darmanin told reporters: "This meeting was not anti-British. It was pro-European. We must work with our British friends. Britain left Europe, but not the World. We need to work seriously on these questions... without being held hostage by domestic British politics.
"If migrants are coming to Calais, Dunkirk or northern France, it's because they are attracted by England, especially the labor market which means you can work in England without any identification.
"We have to work with our British friends and tell them a few things. Firstly, help us fight people-smuggling better. We need intelligence. Responses to requests from the French police are not always given."
He criticized the UK's lack of mandatory ID cards, which he said made it easier for undocumented migrants to find jobs. He said: "Britain must take its responsibility and limit its economic attractiveness."
Sammy Mahdi, Belgium's Secretary of State for Asylum and Migration, who attended the crisis meeting, told BBC Radio 4 on Monday that it was important that the EU spoke with one voice, urging countries to work together and not to blame each other.
He said the EU needed to strengthen its borders to control people seeking to enter the bloc. Asked how cooperation can be improved with the UK if British officials are not in talks, Mahdi said: "We will try to have them in the talks."