Crackdown on express delivery of contraband
Share - WeChat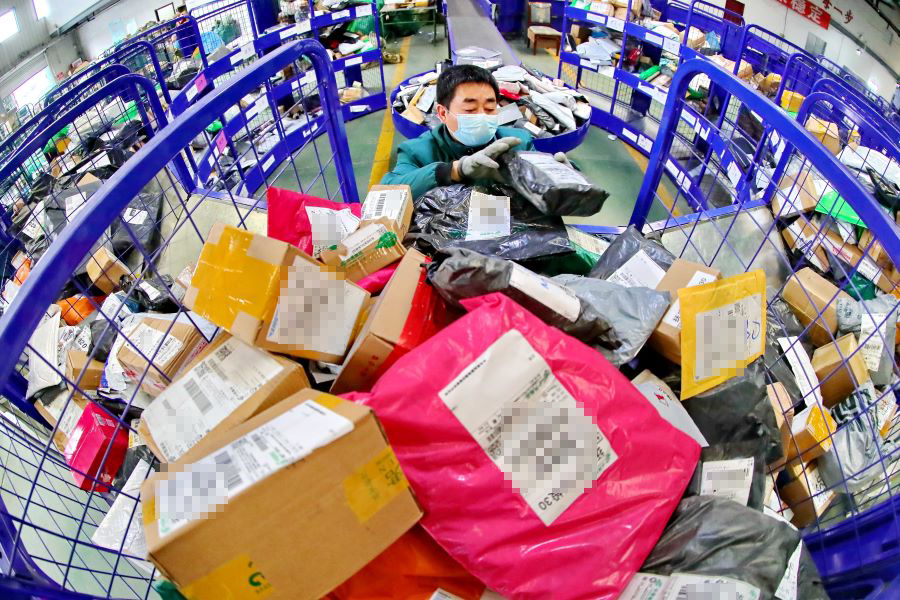 The Supreme People's Procuratorate and the State Post Bureau pledged on Thursday to rein in the trafficking and delivery of contraband through express delivery services and severely penalize such crimes.
Suspects have taken advantage of the rapid development of the delivery industry in recent years to deliver contraband more frequently, and prosecutors will urge more severe punishment for such crimes, said Yuan Ming, head of the SPP's Second Procuratorial Office.
Statistics from the SPP show that from 2017 to last year, procuratorial organs around the country prosecuted 11,235 people for trafficking drugs through express delivery services, as well as 8,782 people for sending guns and explosives, and 1,153 for distributing wildlife products.
"The crime of sending and delivering contraband is increasing," Yuan said. "For instance, the number of people prosecuted for sending drugs via logistics services rose from 1,911 in 2017 to 3,097 in 2020. The number of drug crimes has decreased to a certain extent in recent years, but the number of related crimes committed through logistics channels has bucked the trend, which deserves our highest vigilance."
Drug delivery cases handled by prosecutors from 2017 to 2020 involved 7.19 metric tons of methamphetamine, 2.08 tons of heroin, 2.03 tons of marijuana, 624.7 kilograms of ketamine and 207.7 kg of cocaine.
The use of express delivery services to deliver contraband makes the investigation of such crimes more difficult, and suspects often use code words to communicate, Yuan said. They even use foreign chat software or niche communication software and destroy chat records, with payments made through third-party payment platforms or via virtual currencies. Suspects also often employ others to collect, send and deliver or transfer contraband to avoid investigation, he said.
The top procuratorate issued a procuratorial suggestion to the post bureau on Oct 20, recommending it strengthen the governance and supervision of the express delivery industry.
It said the number of people using express delivery services to commit crimes has increased significantly, but supervision of the industry involves many departments, postal management is weak, and crimes exploiting loopholes in the sector pose a threat to its stable development.
Supervision of the express industry sector is limited, and some enterprises attach more importance to business volume than supervision, resulting in mere lip service being paid to the requirement that real names be used when sending and receiving packages, along with inspections before delivery, the document said.
The number of express deliveries increased from 2.34 billion in 2010 to 83.3 billion last year, with the average daily volume now exceeding 300 million, according to the State Post Bureau.
Jin Jinghua, head of the bureau's market supervision department, said it is focusing on improving the industry's credit management system and the market withdrawal mechanism for enterprises violating laws, and is imposing credit punishment on those who seriously violate laws and prove untrustworthy.
Multiple measures have also been taken to enhance delivery companies' security capabilities through the application of technologies, enhanced inspection and improved operating procedures, Jin said.
The bureau will work closely with public security and judicial organs to promptly penalize delivery enterprises that violate related regulations and laws to ensure the security of the express industry, he added.