Chicago epitomizes problems in US society
Share - WeChat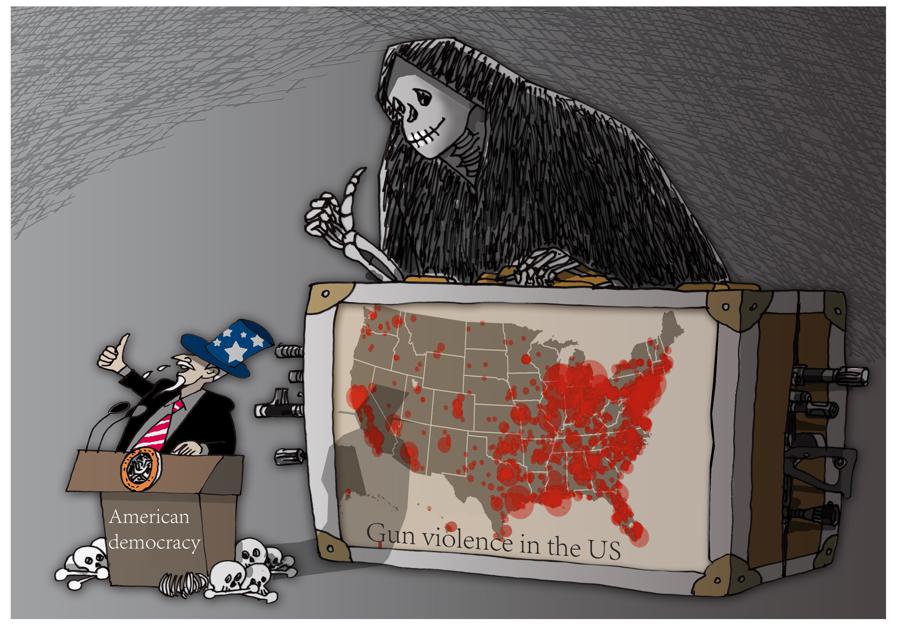 "It is my first trip to a foreign country, and it is to attend your funeral." These were the sad words of Li Rong, a Chinese mother attending a memorial service at Chicago University for her 24-year-old son, who was shot dead by a robber in Chicago on Nov 9.
In January, another Chinese student at the university, Fan Yiran, died from gun violence. On Nov 13 to 14, there were more than 10 incidents involving shootings in the city, which left four people dead and more wounded. And that's only one of the many "bloody weekends" the city has experienced this year. On July 4, US Independence Day, 14 people died and 95 were injured in shootings.
Besides loose gun control, which is a problem it has in common with other US cities, Chicago also has its own unique problems. In the first three decades of the 20th century, gangsters used so much violence in Chicago that the Thomson submachine gun was nicknamed "Chicago typewriter". In the 1980s there were new gangsters, which were pacified later but attracted many youngsters to join again in 2020.
A major reason for that is the enlarged social wealth gap, which has bred hate among the different classes of society. A few kilometers away from the prosperous Central Business District there are large ghettos. With the convenient tool of the internet, gangsters can easily lure young people in Chicago to join them.
Especially, since the COVID-19 pandemic hit Chicago, which has caused a higher unemployment rate, and intensified the problems. That in turn has prompted many businesses to leave the city and discouraged many tourists from visiting, which has further worsened its economic plight pushing the unemployment rate higher-it's a vicious circle.
The local government of Chicago has launched a crackdown on the gangs by rewarding those who report illegal guns. Yet unless they bridge the social gaps and revive the city's economy, it will not be possible to solve the problem.
- BEIJING NEWS
Most Viewed in 24 Hours
China Views