GBA Briefs
Share - WeChat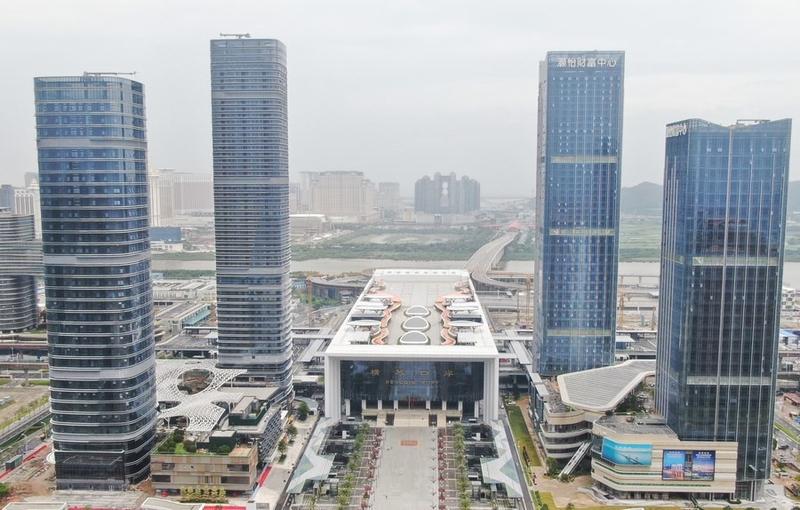 Macao/Zhuhai: Cross-border financing stepped up with $75m deal
More banks in the Hengqin Guangdong-Macao In-depth Cooperation Zone in Zhuhai have joined the cross-border renminbi financing business between the Chinese mainland and the Macao Special Administrative Region.
The Bank of China's branch in the cooperation zone has signed a pact with Macao's Luso International Banking to provide cross-border financing amounting to 480 million yuan ($75.1 million).
Officials in the cooperation zone said the deal will further boost connectivity between the mainland and Macao financial markets, as well as financial innovation between the SAR and Guangdong province.
The Guangdong provincial branch of Industrial and Commercial Bank of China recently became the first mainland lender in the cooperation zone to offer cross-border financing of up to 1 billion yuan following discussions between ICBC's sub-branch in Hengqin and the banking group's subsidiary in Macao.
Guangzhou: Provincial capital aims to be world-class cultural hub
Guangzhou aims to become a world-class cultural hub and travel destination by 2025, according to the city's newly published 14th five-year plan for cultural and tourism development.
By then, the added value of the cultural industry will account for more than 7 percent of the Guangdong provincial capital's GDP, with the tourism sector taking up more than 7.5 percent. Total tourism revenue is expected to exceed 600 billion yuan ($93.9 billion), with the number of tourists surpassing 300 million.
Guangzhou plans to build 350 libraries, 120 museums and more than 100 A-grade tourist attractions.
Shenzhen: Bay Area's first smart port goes into operation
Mawan Port — the first smart port featuring 5G technology and a low carbon system to be built in the Greater Bay Area — is in operation. The port, located in Shenzhen's Shekou peninsula, was upgraded after a three-year renovation. It has five berths with a throughput capacity of 3 million twenty-foot equivalent units.
The 5G network fully covers the area, providing a technological foundation for the operation of 38 self-driving container trucks. The smart port also adopts a low-carbon system capable of reducing annual emissions of nitrogen dioxide by 1,350 metric tons, carbon monoxide by 450 metric tons, and sulfur dioxide by 15 metric tons.
Zhuhai: SARs residents get more incentives to live in city
Zhuhai unveiled 60 measures on Nov 12 that make it easier for Hong Kong and Macao residents to live, work and do business in the city. The incentives also cover technology innovation and partnership, economic and trade exchanges, as well as social and cultural communication between Zhuhai and the two special administrative regions.
Residents of the two SARs will also be offered housing subsidies through allowances and public-housing rental programs, and encouraged to take nationally recognized examinations for professional certificates through simplified application procedures.
Foshan: A-share listed firms defy costs with profit growth
More than 80 percent of the A-share listed companies in Foshan saw positive revenue growth in the first three quarters of this year despite rising costs of raw materials and international logistics services. Some of the enterprises recorded net profit increases of more than 700 percent.
Among the 45 Foshan companies listed on the A-share market, 37 of them registered positive year-on-year growth in revenue during the period, while 29 achieved positive net profit growth.
The number of A-share listed companies with revenue of more than 5 billion yuan ($782 million) reached 10, while the growth rate of nine enterprises hit double digits.
Huizhou: Seminar to boost intellectual property right protection
A seminar on the capitalization of intellectual property rights in the Greater Bay Area was held recently in Zhongkai district, Huizhou.
Organized by the Huizhou Municipal Administration for Market Regulation and the Guangdong Intellectual Property Society, the seminar attracted about 50 of Huizhou's intellectual property rights-related enterprises, representatives of young entrepreneurs and chambers of commerce, as well as executives of well-known enterprises from Hong Kong, Macao and Taiwan. The event was aimed at strengthening intellectual property rights protection in the Greater Bay Area.
Dongguan: Innovation competitiveness ranks in top 20 in China
Dongguan's competitiveness in science and technology innovation has made its way to the nation's top 20 list — up 20 spots compared with last year's — according to a recent report.
The annual report of the Chinese Academy of Social Sciences assessed the overall competitiveness of 291 cities. In terms of overall economic competitiveness, Dongguan ranked 17 — up two places from last year.
Dongguan has seen significant progress in the science and technology sector in recent years, including the completion and operation of the world's fourth and the nation's first spallation neutron source, and the construction of a national science center with Hong Kong and Shenzhen.
Zhongshan: Macao property buyers can do mortgaging on internet
Macao enterprises and residents buying properties in Zhongshan can register their real-estate mortgages with banks through the internet without having to show up personally in Zhongshan as of Nov 12. The process from accepting mortgage applications to issuing them takes one working day at most. This has greatly facilitated the registration of real-estate mortgages in Zhongshan for Macao applicants.
Previously, applicants for real estate mortgage registration had to collect the supporting documents on-site, requiring property owners and borrowers to make multiple trips between banks and the real estate registry in Zhongshan.
Jiangmen: Exhibition showcases achievements in technology
Jiangmen has launched its 2021 Innovation Achievements Exhibition. Organized by the Jiangmen Science and Technology Bureau, the exhibition runs from Nov 11 to Tuesday, and has attracted more than 60 enterprises so far. With a display area for excellent products and an exhibition area for Jiangmen science and technology innovations, the exhibition showcases technological achievements, and aims to enhance cooperation across different sectors.
Zhaoqing: Forest farm takes out green insurance policy
A new type of green insurance is now available in Zhaoqing to support forest farms' roles in reducing carbon emissions. Beijing-based China Life Insurance Company has offered a 218,000 yuan ($34,100) green insurance policy to a State-owned forest farm in Zhaoqing. It's the first such policy to be taken out in Guangdong province. China Life first introduced it in Fujian province earlier this year.
Forests are vulnerable to adverse events, such as national disasters, which undermine their capabilities to capture and reduce carbon dioxide emissions. If these capabilities are damaged to levels specified in the policy, the Zhaoqing forest farm could file an insurance claim.
Guangdong is trying to reduce carbon emissions and achieve carbon neutrality by promoting the sustainable development of forests, addressing major hazards like fires and cold spells.