Italy, France on path to form new EU 'power center'
Share - WeChat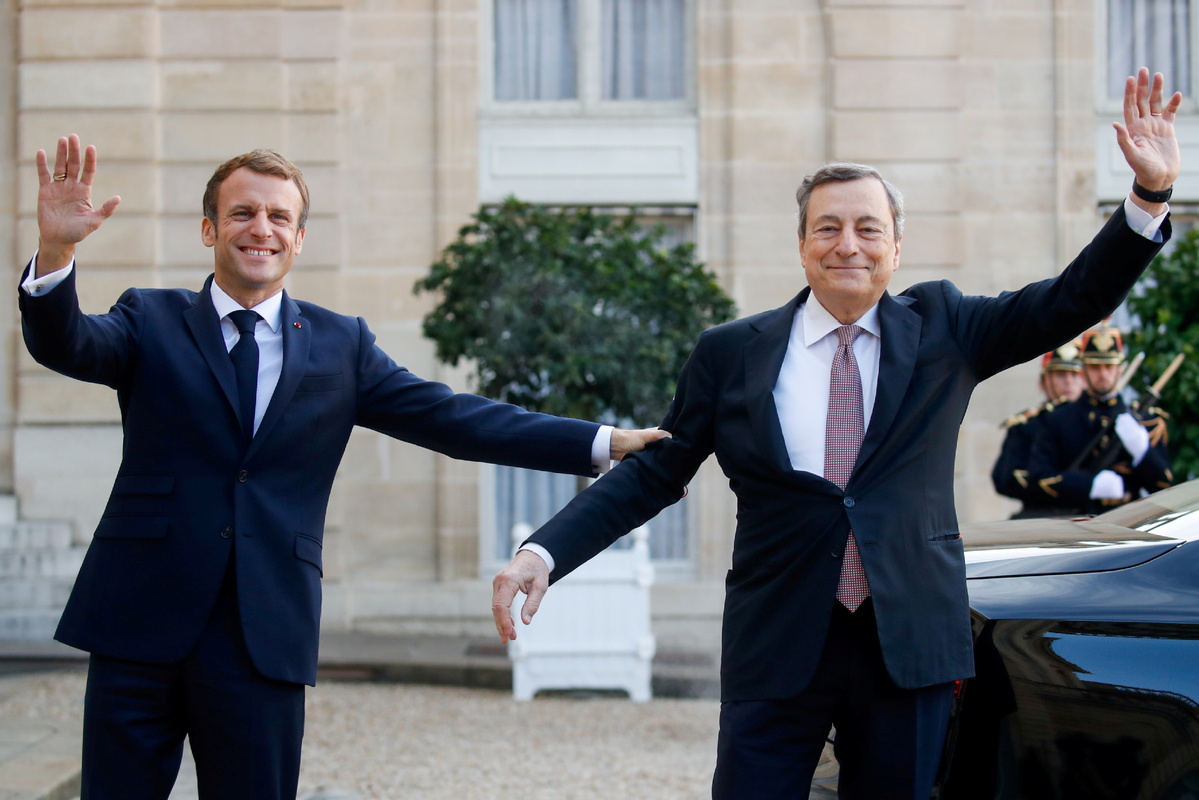 The leaders of Italy and France are reported to be close to signing a deal that aims to strengthen ties between the two countries and shift the balance of power in Europe.
Neither side has officially disclosed details of the treaty, though Reuters cited an Italian government official as saying the deal will enhance cooperation between the countries in areas including trade, tourism and culture.
With the imminent departure of German Chancellor Angela Merkel after 16 years, Italian Prime Minister Mario Draghi and French President Emmanuel Macron have an opportunity to exert more influence over European Union policy.
Bloomberg reported that relations have improved between the two nations that previously argued over everything from migration to culture. Reuters pointed out that France even briefly recalled its ambassador over a row involving immigration in 2019.
Mutual respect between the two men, a familiar sight since the Italian premier headed the European Central Bank, has deepened over the past nine months, allowing disputes to be put to rest. Bloomberg noted that the two leaders have spent almost 10 hours in bilateral meetings since Draghi became prime minister in February. Their most recent meeting was in Paris last week, where they discussed the political transition in Libya and ways of stabilizing the North African country that has strategic importance for both.
According to several reports, the treaty will be similar to the so-called Elysee Accord between France and Germany, ratified in 1963. A Reuters source said Italy's intention is for the treaty to be named after the Italian president's Quirinale Palace, where it will be signed.
"Macron wants a stronger bond with Italy, and Italy wants to insert itself in the traditional partnership between France and Germany," said a second Italian official, who requested anonymity in an interview with Reuters.
Nathalie Tocci, a director of Rome's Institute of International Affairs, told Bloomberg that Draghi and Macron "really see eye-to-eye on European integration, including fiscal union".
"That's their baseline. It feeds the convergence between them. On this, they could be the new power center post-Merkel, and it could extend to other fields related to the economy like the green agenda and digital," she said.
"The way Draghi sees the world is more economic than foreign policy oriented. For Macron, here is someone who not only wants to rebuild the relationship but also has the credentials."