Table tennis superstar eyes new life on Peking campus
Share - WeChat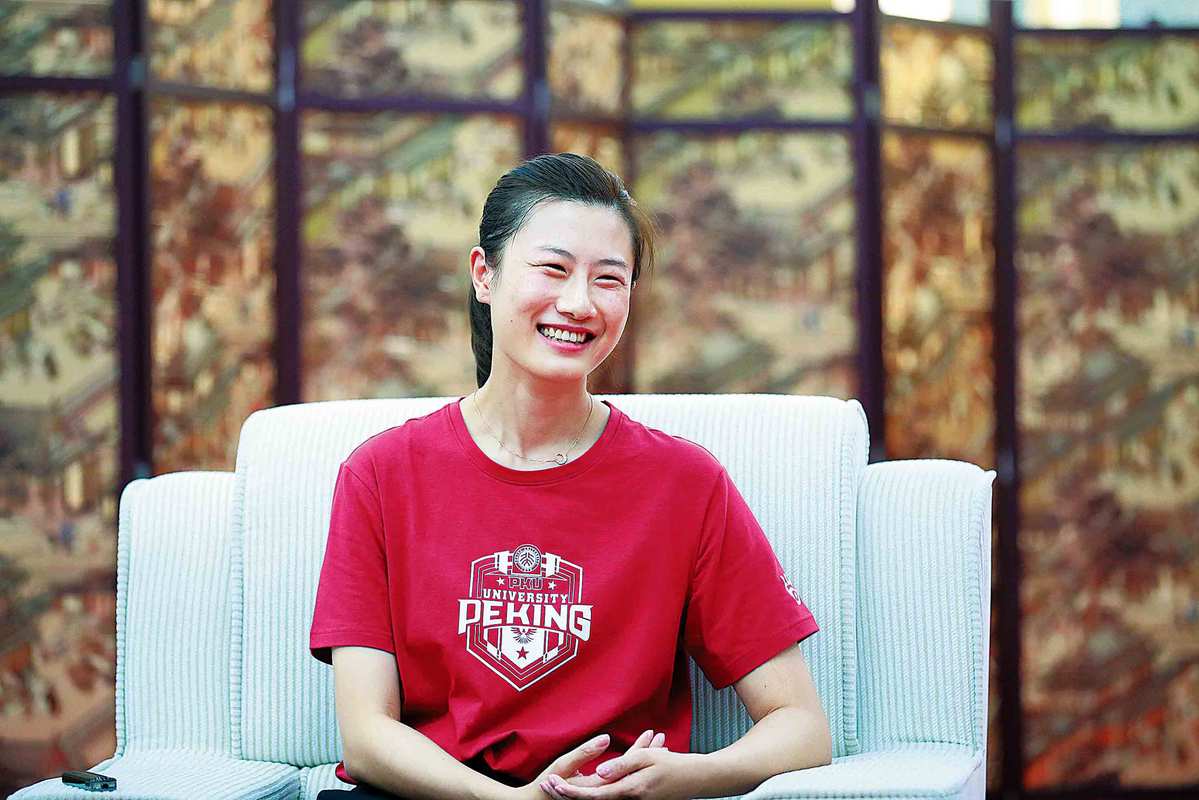 Olympic gold medalist trades paddle for books as she enters university
Ding Ning, who has won many awards during her table tennis career, including an Olympic gold medal, announced her retirement from the game on Sept 6.
She has started a new chapter as a graduate student at the Department of Physical Education at Peking University.
"It was a hard decision to make," she said, adding that pursuing further studies after retiring from competitive sports is a great turning point.
Throughout her career as an athlete, Ding, 31, said she longed for a chance to study, to explore the world and learn new things, as she sometimes found the life of an athlete monotonous.
Although she traveled to many countries to compete, she did not have the opportunity to explore new cultures or enjoy the scenery. The trips were short, and Ding usually saw no more than arenas, hotels and supermarkets.
College was Ding's dream, but her responsibilities as a top athlete and team leader did not allow for it. In 2017, after she won her third World Table Tennis Championships title and the grand slam, she began to think in earnest about college. But given her age and other uncertainties, preparations for the Tokyo Olympics took priority, so she put off her plans until this year.
Ding, who won the gold at the 2016 Summer Olympics in Brazil, is no stranger to Peking University. She has visited several times and said she is impressed by its openness and inclusiveness, which she feels will allow her to explore freely and develop different interests in the future.
"I used to be a table tennis specialist. Now, I want to be an all-rounder," she said.
To make that happen, Ding plans to broaden her studies and talk to like-minded people from different backgrounds, and in addition to required courses, she has also chosen to study psychology and Chinese.
If the world champion seems a little nervous when speaking about her future academic life, it's because she considers it a challenge.
"It's as if you'd grown up studying and were suddenly asked to play table tennis. You may have courage and enthusiasm, but you still can't imagine what it's like to be an athlete or what difficulties an athlete might experience, and vice versa."
This sudden change in her life and the accompanying uncertainties are only part of her challenge-her reputation is another. For Ding, fame is a double-edged sword.
It gets her more help and support on the one hand, but also attracts attention and higher expectations on the other.
She is not one to step back from adversity and has often said that it is important to have a brave heart. As she faces new challenges on her academic path, she said that she believes there are always more solutions than problems.
Perhaps most importantly, Ding sees sport as a form of psychological support, which gives people the inner strength to fight again. Sports make her brave, and she hopes to instill that courage in other people.
During the epidemic, Ding taught her family and friends how to stay fit at home. She discovered that many people do not know how to do sports in a proper, healthy way.
She said she hopes that in the future, she can teach teenagers about healthy exercise, not only through her experience, but also through rigorous theory.
She also hopes that her choice to go back to college will inspire younger athletes to explore other possibilities after retirement and obtain greater opportunities.
Those opportunities, she said, are open to her, too. According to Ding, becoming an all-rounder is not only about exploring different fields, it also opens up new horizons.
Once, she specialized in table tennis and aimed to achieve one definite goal every day. Now, she wants to be an explorer with an open future, she added.