Travel industry takes the road to recovery
Share - WeChat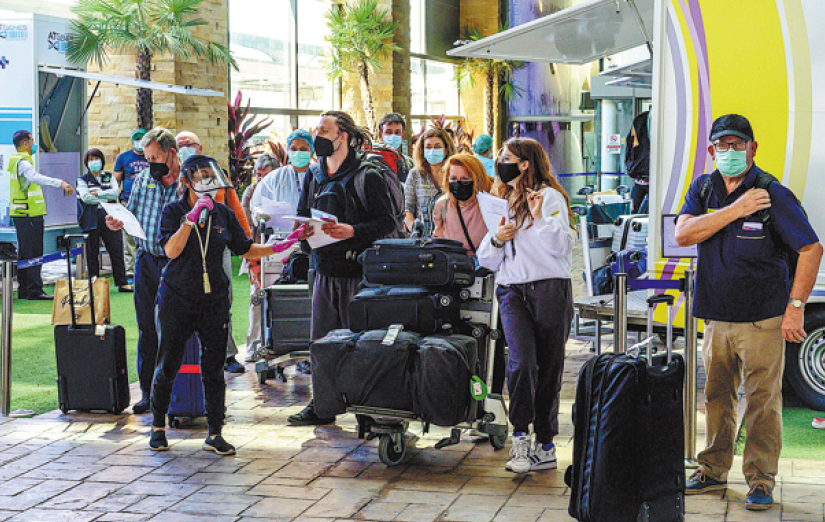 Travel lane
More countries across Asia are also planning to reopen.
Singapore has gradually been doing so through its Vaccinated Travel Lane system, which allows visitors to enter without quarantine.
In Malaysia, Prime Minister Ismail Sabri Yaakob said on Oct 22 that fully vaccinated foreign travelers would be allowed to visit the island of Langkawi from the middle of this month with no quarantine restrictions.
On Oct 14, Indonesia opened its doors to travelers from 19 countries visiting Bali and the Riau Islands. The archipelago also agreed with Malaysia on Nov 10 to launch a vaccinated travel lane between the two countries.
In Cambodia, where more than 87 percent of the population of nearly 17 million has been vaccinated against COVID-19, Prime Minister Hun Sen announced on Nov 14 quarantine-free travel for all fully vaccinated inbound passengers from Nov 15.
Vietnam plans to reopen the resort island of Phu Quoc to vaccinated foreign visitors late this month. The country is also looking to restart international commercial flights with 15 countries from January, with a full resumption by July.
Sri Lanka, which has witnessed an easing of COVID-19 cases in recent weeks after facing a third wave since April caused by the Delta variant, is ready to reopen to foreign visitors in an attempt to strengthen its lucrative tourism industry.
The government will launch a special tourism promotion program in France, the United Kingdom, Germany, India and Russia, Sri Lankan Tourism Minister Prasanna Ranatunga said late last month.
Publicity campaigns will also be carried out in Kazakhstan, Ukraine and the Middle East to promote Sri Lanka as a country that has successfully administered COVID-19 vaccinations.
More than 90 percent of people age 20 and older in the island nation have been given at least one dose of a COVID-19 vaccine.
The Global Wellness Institute ranked Sri Lanka fourth this year on a list of the world's top wellness tourism destinations, with Bali topping the list. The institute also rated Sri Lanka the leading destination for spiritual healing.
According to official figures, after Bandaranaike International Airport in Colombo reopened to tourists in December, more than 40,000 people have visited Sri Lanka, with over 13,000 arriving in September.
In Bangladesh, tourist destinations, which have posted losses of about $2.33 billion due to the pandemic, have been allowed to reopen at half capacity since Aug 19.
Jesper Palmqvist, area director for Asia Pacific at data and consulting company STR, said many countries in Asia are working to boost domestic tourism. Just how effective these plans are will depend on the size of the domestic markets and each country's need for international tourism.
For example, in Thailand, the number of foreign tourists plummeted to 6.7 million last year from a peak of nearly 40 million in 2019, taking a toll on the tourism sector, which accounted for about one-fifth of the nation's economy before the pandemic.