The extinguisher
Share - WeChat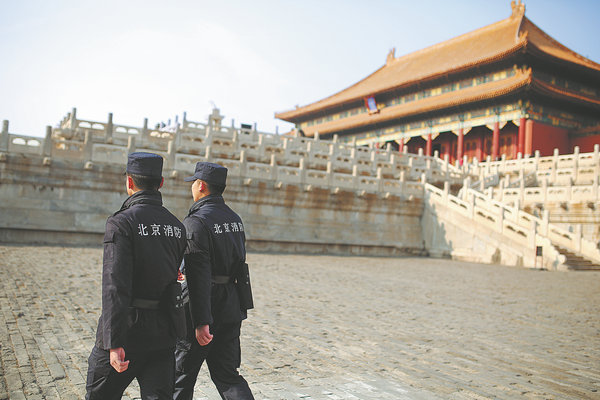 When many were enjoying fireworks in the sky above Tian'anmen Square in 2019, to celebrate the 70th anniversary of the founding of New China, some people were focused on tracing the tracks of the fallen embers.
Before the show, the tops of buildings and nearby planted areas had been humidified, with water hoses in place. On seeing the embers land, support workers rushed to make sure they were extinguished.
Cai Rui, 37, a staff member at the Palace Museum fire station in the area, is one such person who works to prevent fires and is there to deal with accidents or emergencies if any occur at the square. The area, which covers 3.7 square kilometers, includes the Tian'anmen Rostrum, the Great Hall of the People and the National Museum of China, with the museum, also known as the Forbidden City, at the center.
Cai was awarded a "heroic exemplar" in emergency response by the Ministry of Emergency Management recently.
The world's largest wooden architectural complex, with a number of old artworks and literature in its collection, the Palace Museum has stringent safety requirements.
"As a firefighter, in other places you work to extinguish fires, but in the Tian'anmen area you work to prevent any signs of smoke," Cai tells China Daily.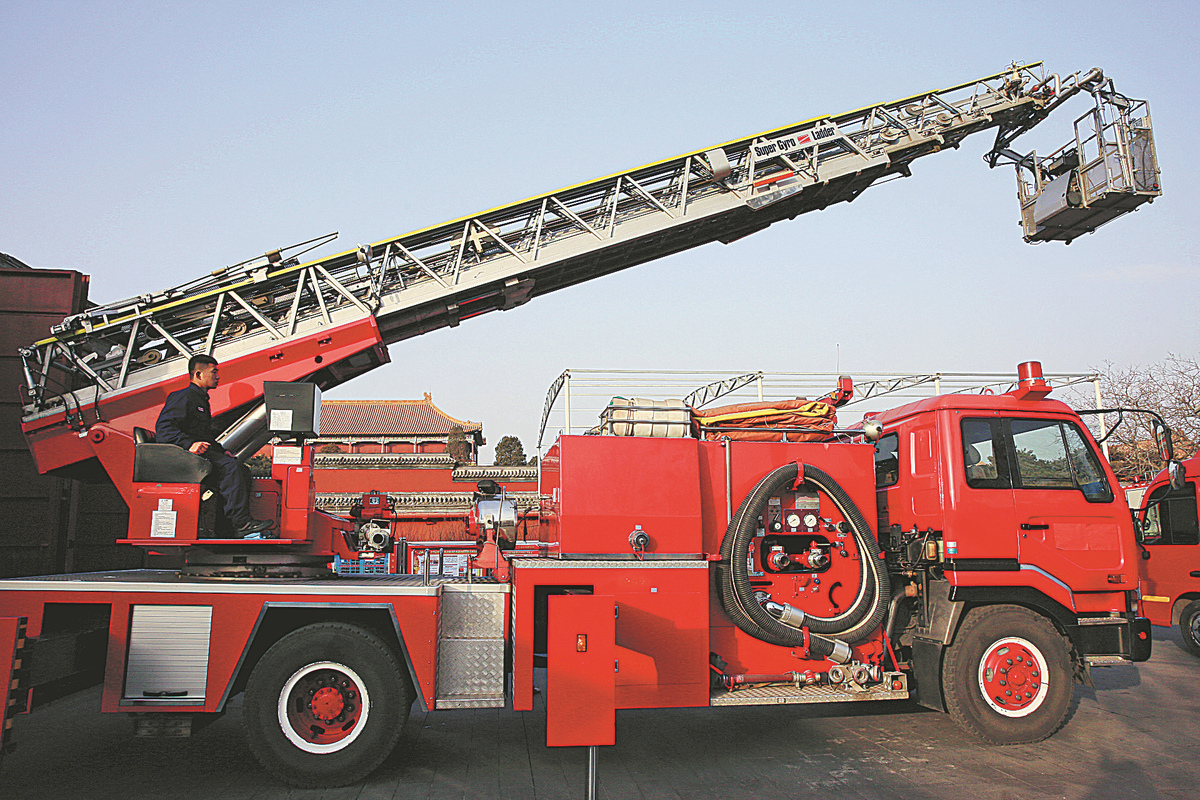 To realize that goal, Cai and his colleagues have invested tremendous efforts. They categorized the Palace Museum, with 8,728 rooms, into 10 areas, each containing some key buildings, and formulated elaborate fire extinguishing plans for each section.
"We considered the routes of vehicle movements, the number and location of nearby firefighting devices, the internal facilities and ceiling heights, and developed different plans, down to details like where to park and how to put up fire hoses.
"We have many drills to make sure firefighters bear all plans clearly in mind so they would not mess up if emergencies occur, and our actions would be as fast as possible," says Cai.
Patrolling is their main daily work. Cai and his colleagues patrol the 0.72-square-km museum every day to check if there are any potential risks, like visitors throwing cigarette butts near trees or into garbage bins, and if the firefighting devices, including 168 fire hydrants and more than 4,000 fire extinguishers, are in good condition.
"Cai is very strict with our practice and drills," says Zheng Hao, a firefighter at the same station. "Only when we make our daily drills perfect over hundreds of times, can we complete our tasks well if an emergency occurs, so we understand why he is strict."
They have also inherited wisdom. Previously, people kept water in 308 big copper tanks in front of the royal palace as preparation to extinguish fires. Now, firefighters still fill the tanks with water in the staff area, but not the areas open to the public for fear of visitors falling in.
In imperial times, people also made holes in the ice on the moat around the Forbidden City in winter to get water during an emergency, and weeded and swept away fallen leaves in spring and fall respectively. Such precautions are still taken by firefighters today.
Cai also makes firefighters carry blankets and sand and water in a bag on their shoulders during patrolling. And if they find any vehicle leaking, they could immediately solve the problem with such things.
Thanks to the efforts of firefighters like Cai and his many colleagues, no major blaze has ever happened at the Palace Museum for about half a century.
It's a great responsibility to safeguard the capital's core area, says Cai, adding that the job requires a full-time focus.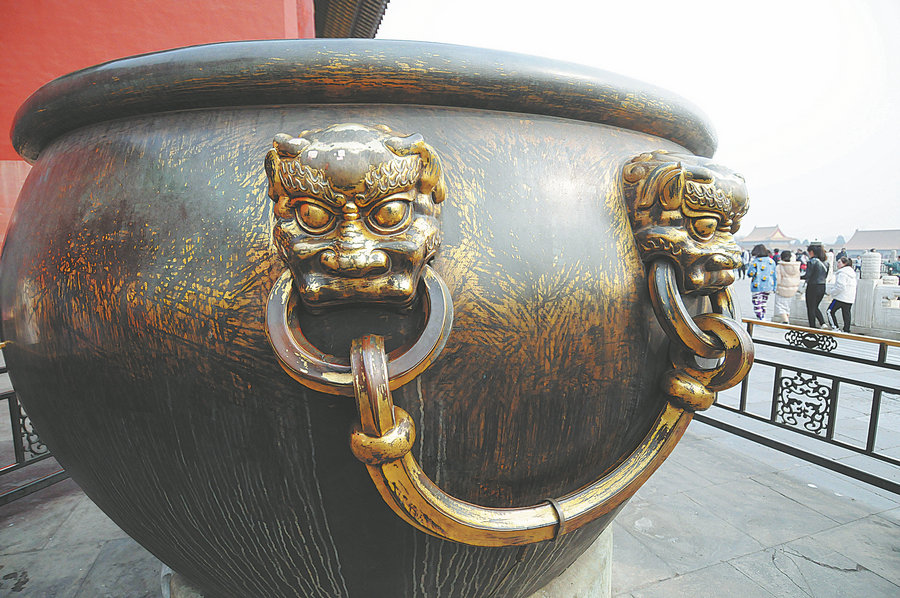 Cai deeply cares for his colleagues, according to Zheng.
"He often tells us to prioritize safety in our drills, and talks with us about our families. Once when he got to know a colleague had difficulty paying for his father's medical expenses, Cai, as secretary of our Party branch at the station, organized us to collect funds for him."
Born in Bengbu city, East China's Anhui province, Cai became a firefighter at 18, and has participated in more than 3,000 fire operations. He still remembers his first emergency in 2004, two years after he became a firefighter. It was a chemical leakage in a gold smeltery in Beijing, which claimed the lives of three people. Cai and other firefighters worked for two days to prevent the leak from spreading.
"It was my first time seeing death closely. I was not confident, but just went forward under the guidance of experienced supervisors. But after participating in more tasks like that I became calm to deal with them," says Cai.
Since 2013 he has also provided basic training to locals at a government school, where firefighters teach people how to use fire extinguishers and flee fires. More than 20,000 people have received such training.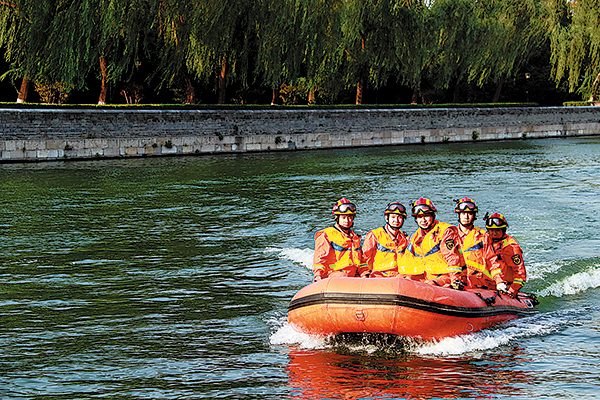 Most Popular