Ethiopian building cultural bridges in Chongqing
Share - WeChat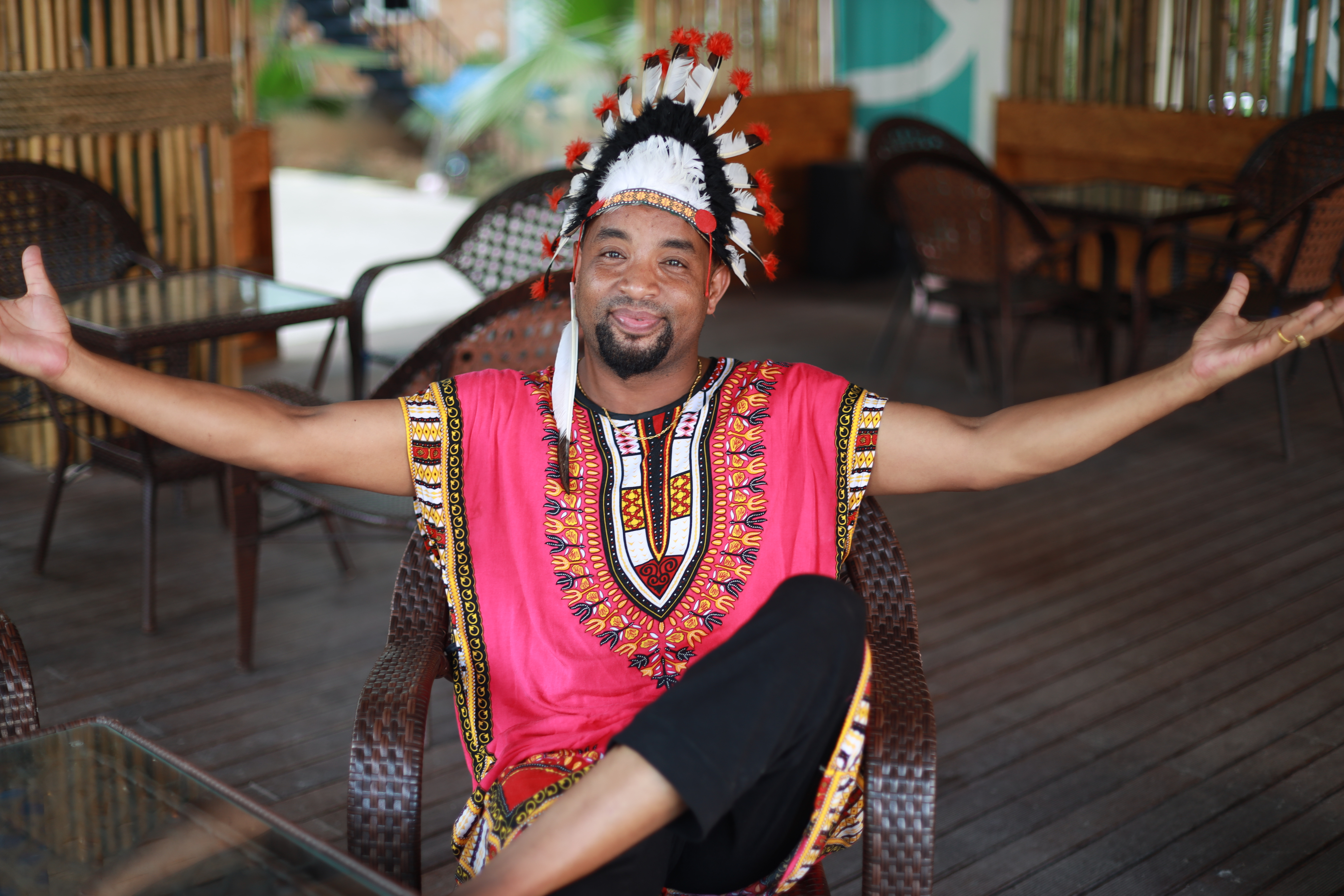 With a tattoo saying "I Love China "on his right arm, 37-year-old Ethiopian Derbe Roba Dagne, who loves Chinese culture and has been living in China for 12 years, hopes to strengthen the friendship between the two peoples.
Derbe, nicknamed Sami, is now a performer at Chongqing Meixin Wine Town, a scenic spot in Chongqing's Fuling district.
Born into a big family in Addis Ababa, the capital of Ethiopia, in 1984, Derbe has three elder brothers and five elder sisters.
At age 17, shortly after he finished high school, he saw a TV program featuring the Great Wall, Mount Emei and the Yangtze River. He said he was mesmerized and told his parents, "I will go to one of these places."
His dream came true eight years later in 2009, when an intergovernmental program offered him a chance to work in Chongqing, on the upper reaches of the Yangtze in Southwest China.
He worked in Chongqing's Foreigner Street, or Yangrenjie, a free-entry urban amusement park that opened in 2006.
Though closed and demolished in 2019, Yangrenjie grabbed domestic and international headlines with its comical and exotic architecture. It boasted the world's largest toilet, which could accommodate 2,000 people at the same time, Venetian canals, a crooked pedestrian street reminiscent of San Francisco's famed Lombard Street, a tree house, and toilets in the shape of an Egyptian pyramid. More than 10 young Africans, including Derbe, worked in the African Village, an African-themed section of the park, singing and dancing and selling African coffee and snacks.
Yang Xiaoyong from Chongqing Meixin Group, the developer of the spot, said there were nearly 100 foreign merchants and staff members in its Hawaii Bar, French Cafe and other international-themed venues.
"Sami is loyal, enthusiastic and ready to help," said Derbe's former department head Chen Yao, noting that his love for dancing, Chinese culture, local cuisine and a good command of Mandarin and the Chongqing dialect made his stay smooth and happy.
In 2019, the group created another scenic spot-Chongqing Meixin Wine Town in Fuling-following the business pattern of Yangrenjie.
"I love China and Meixin treats me like family," Derbe said.
He said he decided to move to the new spot to perform African singing and dance, prepare Ethiopian coffee, distribute the spot's bestsellers-giant bread and steamed buns-and act in some shows. He works eight hours a day and is normally busy during the holidays.
"He plays an important role in the spot and in the cultural exchanges between China and Africa," Yang said.
Early last year, Derbe bought a four-room apartment for his family-his septuagenarian mother, his girlfriend and their two toddler sons-in Addis Ababa. He also sends back Chinese medicines for his mother.
"I feel lucky to be in China, which has set the best example in the fight against the COVID-19 for the world," he said. With family reunions ruled out for almost two years due to the pandemic, Derbe said the local people's kindness was his best consolation. He goes downtown to meet friends and try local food often, especially hotpot and noodles.
Derbe said he had his cellphone returned recently after watching local people playing mahjong at a club. "It's not the first time I have had my personal belongings returned," he said, adding the situation might be quite different in his home country.
Derbe is hoping for a change. He is mulling the establishment of a nonprofit organization with friends in his hometown to help more people learn about China's culture, morals and rules, public hygiene and the hardworking attitude of its people.