Artists adapt to life during the pandemic
Share - WeChat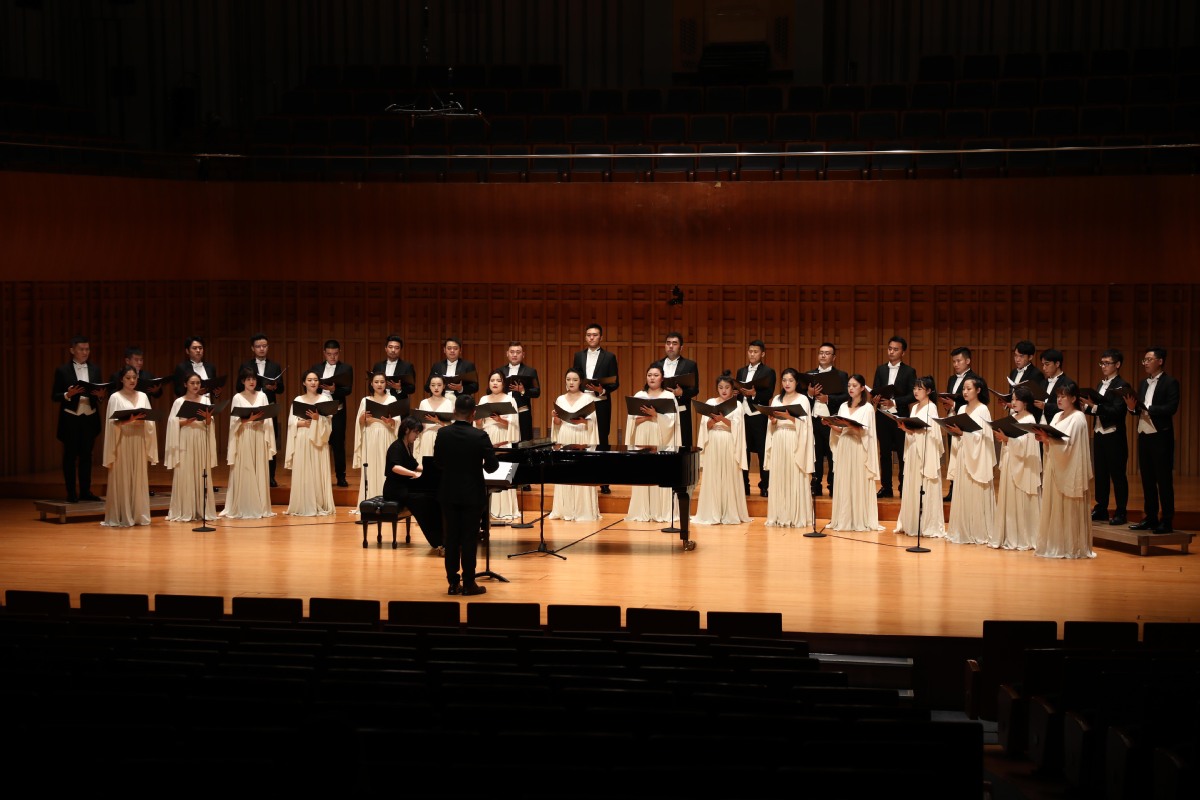 New ways explored to connect with audiences
The lights dimmed, the conductor lifted his baton, and chorus members started to sing at a concert given by the Xi'an Symphony Orchestra in Shaanxi province on Oct 31.
However, this performance at the Xi'an Concert Hall was special, as it was staged in an empty auditorium.
Conducted by Zhu Yizhang, the livestreamed concert attracted more than 40,000 viewers that night and the next day, and an edited version has been viewed about 1 million times online.
Titled Don't Worry, the concert was staged for audiences unable to attend live performances during the coronavirus outbreak, and also to pay tribute to front-line healthcare workers.
A total of 11 pop songs, such as Legend, written and first performed by singer-songwriter Li Jian, and Big Fish, written by Qian Lei and Yin Yue, which was debuted by singer Zhou Shen, were adapted into choral songs for the concert.
The chorus, launched in 2017 by the orchestra, decided to stage the special online concert after two new locally transmitted COVID-19 cases were identified in Shaanxi among a tour group in Xi'an on Oct 17.
Cao Jiwen, branding director of the orchestra, said the Xi'an Concert Hall, home to the ensemble and its chorus, is located close to popular scenic areas, such as Giant Wild Goose Pagoda and the Great Tang All Day Mall Pedestrian Street, which the tour group visited.
To rehearse for the concert, the chorus and staff members at the venue were given nucleic acid tests every 48 hours.
Cao said the live concerts due to be performed by the orchestra and chorus were canceled after the new cases were detected in Xi'an, including the orchestra's nationwide tour and performances for its new season.
"Fears about the virus have been with us for the past two years, and may be around for some time, so we decided to stage an online concert for people in the hope of offering them comfort, making them feel less lonely, and allowing them to enjoy the performance from the comfort of home," Cao said.
The performance was livestreamed on Bilibili, one of China's most popular online video sharing and entertainment platforms, which is known for its danmu (bullet screens) service, on which viewers post real-time comments while watching a film or show.
Cao said, "I was touched when I saw a screen full of comments from online audience members offering one another support."