Album marks folk group's return with message of hope
Share - WeChat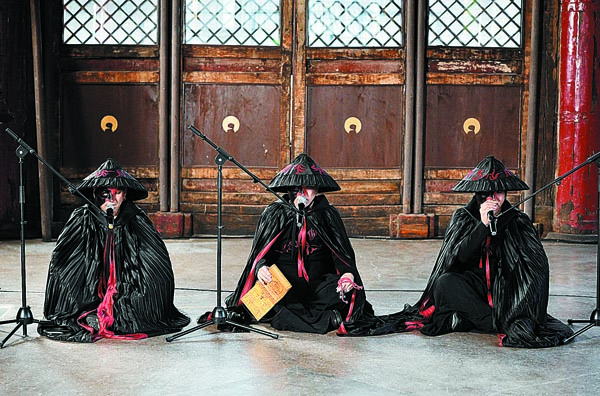 New album sees Yi People performing again with songs inspired by poems, Zhang Lei reports.
The popular folk music group band Yi People released their first album in 10 years, Poems of Jidi Majia, on Oct 27. To mark the event a music and poetry session was held in Beijing on the same day. In the capital's Zhizhu Temple, dedicated to Tibetan Buddhism, with a history of nearly 600 years, their music echoed off the ancient wooden walls with a new message stressing the importance of originality.
The band first presented three singles Mom, Brother and Tao in tune with their brisk performing style. After going behind the screen to change, they returned wearing traditional Yi ethnic costumes to perform singles from the new album. The plain dark background and humble settings are intended to "give the audience a ritual of bathing in the great wilderness where the Yi people have resided for centuries". Jaba Asan, a representative of young Yi musicians, came to liven up the scene by reciting the poem Black Rhapsody to pay tribute to the Yi poet Jidi Majia and the beauty of Yi culture.
Poems of Jidi Majia is the first experimental music album by Yi People that combines traditional ancient Yi folk songs, chanting and tunes. The band spent a decade in creating the new album with all the lyrics adapted from Jidi's poems, marking their creation shift from the previous pop style since their debut 25 years ago.
Most Popular