Integration of culture and tourism crucial for growth
Share - WeChat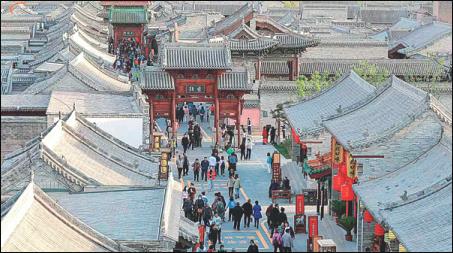 In his work report at the 12th Congress of the Shanxi Provincial Committee of the Communist Party of China, Lin Wu, Party secretary of Shanxi, said one of the local development targets is to become a renowned tourist destination with international influence.
To realize that goal, the integration of tourism with cultural resources is crucial, according to Shanxi officials and residents.
Tourism is a sector with great development potential and is expected by local governments to be an important industry in Shanxi's high-quality and green development, officials said.
According to the Shanxi Department of Culture and Tourism, the province received more than 30 million visits during the first eight months of this year, growing 46.8 percent from the same period last year.
One example of tourism increase promoted by the province's integration with cultural resources is the newly opened Bell Tower Street in the provincial capital of Taiyuan.
Bell Tower Street, which used to be a booming commercial district in Taiyuan but had been silent for decades, was reopened to tourists at the end of September after renovations started in April 2020.
On Oct 1, the site welcomed more than 150,000 visitors. Visitors included Taiyuan residents wanting a nostalgic experience of their childhood as well as tourists from the rest of the country who wanted to explore the historical and cultural charm of Taiyuan.
The province has already made great efforts to promote the integration of tourism and culture over the past years.
One of the important initiatives launched by the government of Shanxi to boost cultural tourism is the release of three tourism routes along the three landmark attractions-the Yellow River, the Great Wall and the Taihang Mountains, which represent Shanxi's cultural and natural wonders.
To promote tourism development, Shanxi is building three major sightseeing highways to link most of the destinations along the three routes, which have already made and will continue to make travel much easier.
Shanxi boasts rich cultural resources for its tourism development. Its number of historical monuments and ancient buildings ranks first in China. Its iconic cultural tourism sites also include the Yungang Grottoes in Datong, the Buddhist holy land of Wutai Mountains in Xinzhou and Jinci Temple in Taiyuan.
Shanxi has witnessed steady growth in its tourism industry during recent years.
During the 13th Five-Year Plan (2016-20), the province realized a total tourism revenue of 2.73 trillion yuan ($426.9 billion), with an average annual increase of 24 percent.
Wang Pei contributed to this story.