9,000 unvaccinated NYC workers put on unpaid leave
Share - WeChat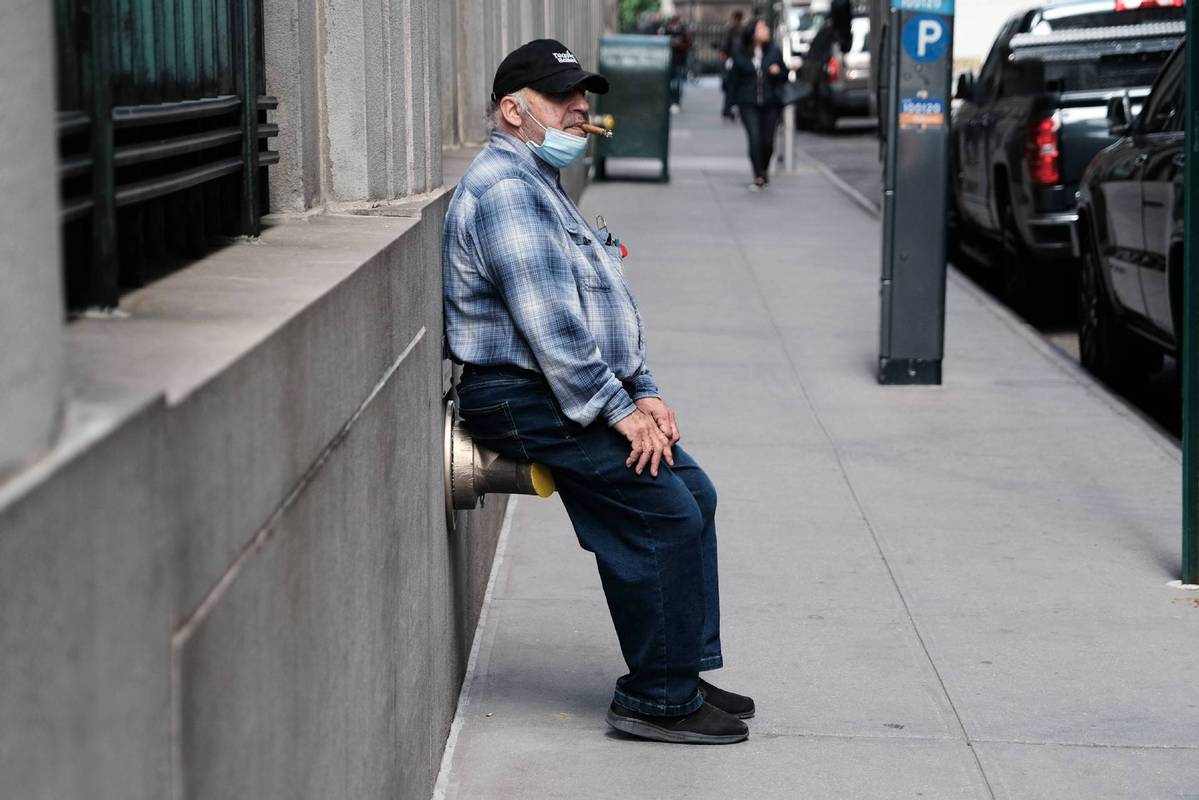 About 9,000 New York City municipal workers were put on unpaid leave for not complying with a COVID-19 vaccine mandate that started Monday, and thousands of firefighters have called out sick in apparent protest, Mayor Bill de Blasio said.
New York City braced for an anxious week as the vaccine mandate for municipal workers went into effect, a day before the city votes on who its next mayor will be.
Nine in 10 New York City municipal workers have received at least one COVID-19 vaccine, according to de Blasio. New York City has more than 370,000 employees.
Firehouses remained open, but 18 of the department's 350 units were out of service and "many units are understaffed", Fire Commissioner Daniel Nigro said Monday.
As of Sunday, 1 in 4 of the city's uniformed firefighters hadn't gotten a required first dose of the vaccine. About 1 in 6 police personnel, and 1 in 6 sanitation workers were unvaccinated.
Police Commissioner Dermot Shea said Monday that the vast majority of unvaccinated workers in his department have applied for religious or medical exemptions. So far, 34 police officers and 40 civilian police employees have been placed on unpaid leave, he said.
About 12,000 workers have applied for religious or medical exemptions. They can remain on the job while city officials review the requests.
About 2,300 firefighters were out sick, compared with about 1,000 per day typically. The Fire Department's medical office normally sees about 200 people a day, Nigro said. The past week, it has been 700 a day.
"I've asked them to rethink this, to remember their oath of office," Nigro said. "It's not only affecting the people they serve, it's affecting their brothers and sisters in the department who are forced to fill their spots."
"We have every reason to believe there's a lot of people out there claiming to be sick who are not, and it's not acceptable," de Blasio said.
The head of the firefighters union, which has fought the vaccine mandate, warned that public safety could be at risk. The FDNY said it was prepared to take up to 20 percent of its fire companies out of service and have 20 percent fewer ambulances on the road.
"We're here today because of a mandate that was put not only on our members, but also all New York City employees, given nine days to make a life-changing decision on their career or whether or not they're going to take a vaccine," Uniformed Firefighters Association President Andrew Ansbro said Monday.
Staffing shortages made the department close 26 fire companies citywide on Saturday, the New York Post reported.
FDNY crews have been the most vocal of city workers in their opposition to the mandate.
"People should be aware and should know that this mayor is putting people's lives at risk and in danger," FDNY rescue paramedic Niall O'Shaughnessy said on the Fox & Friends Weekend television show. "There will be ambulances run down, there will be firehouses that will not be open.
"We want to serve the people of New York City. We want to respond to these calls. … He (the mayor) is not allowing us to work," O'Shaughnessy said, adding that after 16 years, he was considering quitting.
"The fact that this mayor has put me in this position makes me beyond furious. And not just me," he said. "All of the EMTs, paramedics and firemen are furious that this mayor is putting our people, our New York citizens in harm's way."
According to the New York City government website, all the major data on COVID-19 were lower in the past week, with 24 hospitalizations and six deaths. The city has reported 29,419 confirmed COVID deaths since it began keeping track on Feb 29, 2020.
The vaccine mandates also have become an issue in Tuesday's mayoral election.
Democratic mayoral front-runner Eric Adams has not said whether he would keep the mandates if elected.
"What I don't want to do is add to the tension already in our city," Adams said in a radio interview on Saturday. "We have one mayor, and it is his responsibility to bring everyone over this finish line. And I am not going to be disruptive to that process before Election Day."
Curtis Sliwa, Adams' Republican mayoral opponent, opposes vaccine mandates.
"A vote for Curtis Sliwa = a vote to END vaccine mandates. A vote for Eric Adams = a vote to CONTINUE vaccine mandates," Sliwa, the founder of the Guardian Angels civilian patrol group, wrote on social media on Sunday.
Sliwa, 67, who is considered a heavy underdog in the vastly Democratic city, also has made de Blasio, a two-term mayor, a campaign issue. In a mayoral debate last week, Sliwa graded de Blasio's performance an "F", while Adams, 61, gave him a "B-plus".
Both men visited the city's five boroughs Monday in a last-minute appeal for votes.
Across the US, Los Angeles may face a "mass exodus" among law enforcement officials due to its vaccine mandate, according to a letter from LA County Sheriff Alex Villanueva.
The sheriff wrote in a letter to the county Board of Supervisors that he could lose up to 44 percent of his force over the vaccine mandate.
Villanueva wrote that it is "heartbreaking" that workers could lose their jobs after being called "heroes" earlier during the pandemic.
"Compounding this issue is the fact my Department is experiencing a mass exodus of employees who are retiring early," he said. "I currently have 1,605 employees that have 28 years of service or more. This means that they could retire without financial consequence.
"With the pandemic waning, there is no justification for your mandate," Villanueva said. "This mandate is like putting up storm windows after the storm has passed."
In Chicago, a judge on Monday suspended a Dec 31 deadline for city police officers to be vaccinated but didn't weigh in on a requirement that they be regularly tested.
Cook County Judge Raymond Mitchell said that disputes over vaccinations should be handled as a labor grievance with an arbitrator.
"The effect of this order is to send these parties back to the bargaining table and to promote labor peace by allowing them to pursue" remedies under Illinois law, Mitchell said.
"Instead of forcing people to do something, you bring it to a conversation and arbitration," said city Alderman Anthony Napolitano, a union ally. "This has become too much of a control situation."
City data released Monday showed about 73 percent of CPD employees had reported their vaccination status, and about 80 percent reported being fully vaccinated.
According to an analysis by the Bloomberg Cities Network, 13 of the 50 largest US cities are requiring their employees to get vaccinated, with some exceptions for medical or religious reasons. Another 15 cities are offering employees a choice of getting vaccinated or being regularly tested.
In nearly half of the 50 largest US cities, local politicians are exceeding the guidance set by their state governments, according to Beth Blauer, executive director of the Centers for Civic Impact at Johns Hopkins University. Her article appeared on the Bloomberg Cities Network website, hosted by the university.
She wrote that 11 of the cities are in states such as Arizona, Florida and Texas, "where local actions run counter to aggressive state bans against vaccine mandates".
The Associated Press contributed to this story.