Teacher fulfills sports dreams by officiating
Share - WeChat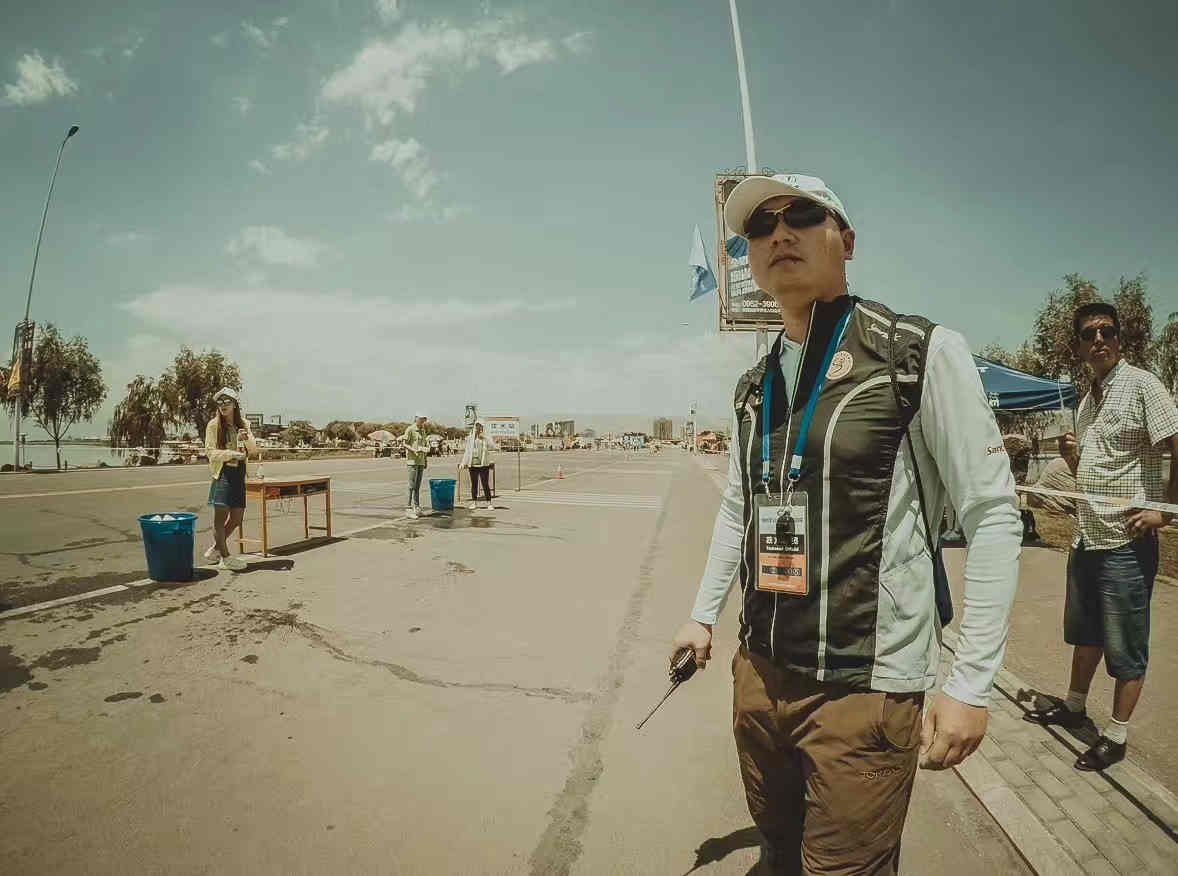 "Normally, you know, a triathlon won't be canceled unless it rains knives. It is one of the best competitions ever!" joked Pan Xingyu, a college physics teacher who fulfilled his long-cherished dream of becoming an international referee after 12 years of persistence.
Thirty-year-old Pan, whose professional officiating has won him respect, was one of the youngest triathlon technical officials at the 14 National Games-a top-level national multisport event-held in Xi'an, Shaanxi province, in September.
Pan, a physics teacher at Chongqing Chemical Industry Vocational College, was also one of about 50 people in the country-most of whom are sports majors-to have obtained the WT Level-1 technical official certification issued by the World Triathlon.
He was born in Chongqing's Changshou district in 1990. As a child, he dreamed of becoming a professional basketball player until in his late teens, when he realized his 172-centimeter-height might derail his hopes.
He developed a new dream when he was 18. As he watched the Beijing Olympics on TV, he thought, "Why not be a basketball referee instead?"
Soon after Pan entered the Sichuan University of Science and Engineering in Zigong, Sichuan province in 2009, he applied for an audit course in basketball refereeing. He insisted on traveling between his college's campus to the university's other campus for two years for extra study.
To catch up with his own major, machine design, he burned the midnight oil. Even so, he got up at 7 am everyday to practice officiating gestures and do physical training.
His hard work paid off. Three years later in 2012, Pan got his certification as a National Level 1 Basketball Referee.
In 2015, he was introduced to triathlons and became addicted to the sport. He had a bigger dream-to be a triathlon referee.
Pan absorbed himself in gaining professional knowledge, learning English and undergoing physical training for nearly three years, working even harder than he did in college. He went on to earn triathlon referee certifications from the city level to the national level.
In May 2018, Pan was certified as a WT Level-1 technical official, which allows him to officiate at international triathlons.
"You should know the contest inside out, from the rules, the officiating principles and the venues to the athletes," he said. "The most complex part is the venue setting."
Unlike soccer, basketball or volleyball, which have standardized sites, each triathlon is held at a unique venue.
The sport, which is integrated with nature, may take place in aquatic areas like rivers and lakes or on streets and sidewalks. It takes the joint efforts of the technical delegate, head referee and the field of play and equipment groups to establish a successful triathlon course.
"Flexibility is also a must," Pan said. For example, if there's a tide or undercurrent in the water, or traffic management and control puts too much pressure on the city during the event, adjustments should be made promptly.
Pan said it takes a lot of energy and strength to participate while being exposed to multiple weather conditions. Sometimes, referees have to officiate from 3 am to 7 pm during a long-distance triathlon. Still, he finds the exhausting events, all held in breathtaking scenic spots, worthwhile.
Over the years, Pan has served as a triathlon technical official at the 2nd National Youth Games, the 7th Military World Games, ITU Triathlon World Cups, ITU Triathlon Asian Cups and the China Triathlon Sport Association's National Triathlon Championships. He has also refereed many city-level basketball games in Chongqing.
"I thank the CTSA and inclusive sportsmanship for allowing a non-sports-major technical official like me to officiate," Pan said. "I wouldn't have made it without support from my former teachers, my current workplace or my family, either.
"I'll reach a higher stage one day, to give full play to my strength at serving sports events."