Butterfly soars high on love's light wings
Share - WeChat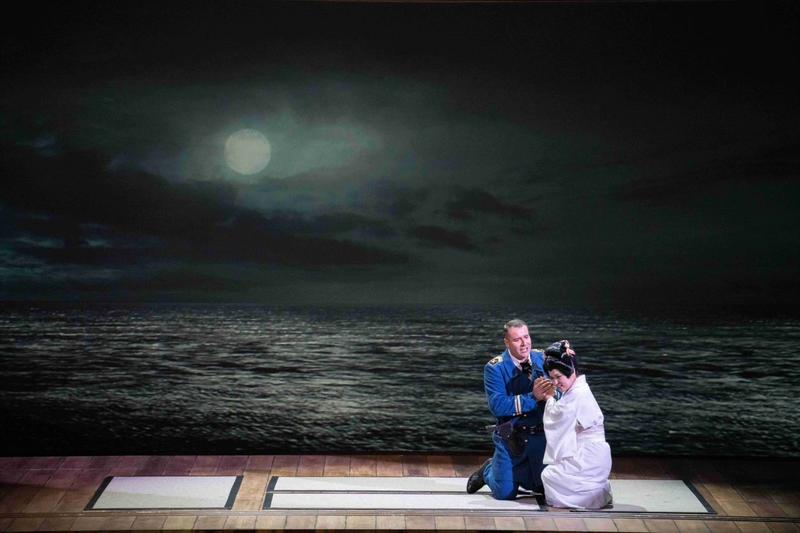 Opera Hong Kong's production of Puccini's Madama Butterfly, staged earlier this month, was a treat to watch. Kudos to producer Warren Mok and director Pier Francesco Maestrini for coming up with a world-class show.
I almost forgot that the opera was being sung in Italian — a language I do not speak — as it was easy to follow the plot, right from the moment the 15-year-old geisha Cio-Cio-san, aka Butterfly (Sae-Kyung Rim), caught the attention of US naval officer Pinkerton (Mykhailo Malafii) because of her fragile beauty and naivete.
The director exercised artistic freedom by pushing back the piece's original early-20th-century setting to 1860s Nagasaki — when the feudal era was coming to an end in Japan — in order to give more credence to the idea of a self-serving expatriate exploiting a native woman while showing utter disrespect to local customs.
Puccini's opera is adapted from John Luther Long's 1898 short story Madame Butterfly. It is a tragic love story about a US naval officer taking a very young geisha as his wife. It's a provisional arrangement, negotiated through a marriage broker. But Butterfly has fallen in love with her foreign husband and three years after his departure, plagued by gossip and financial hardship, is still waiting for him to return. By the time Pinkerton returns to Nagasaki the stage has been set for a tragic denouement.
Rim was flawless in the title role. The audience could empathize with her emotional outpourings — right from the love duet in the first act, where she has doubts about her American husband's love, to her farewell song to her son, sung before the ultimate tragedy ensues.
I particularly enjoyed watching her playing the young bride, full of hopes and dreams, followed by the revelation that she had secretly converted to Christianity — an act which causes her uncle to curse her on the wedding day. It highlights the double standards that prevailed in Japanese society at the time. Geishas were part of a social tradition but falling in love with a foreigner was frowned upon.
Yayoi Toriki as Butterfly's maid Suzuki was magnificent, expressing her love and loyalty for her mistress most convincingly. Marcin Bronikowski was superb as the American consul posted in Nagasaki, wizened by age. Malafii as the insincere Pinkerton was brilliant as the flawed male lead. The marriage broker (Chen Yong) gave a masterful performance. And Butterfly's young son stole my heart, although he did not have a singing part.
Set designer Nicolas Boni combined video projections with physical sets to create Butterfly's house with a view of the sea. The costumes by Luca Dall'Alpi were spectacular. The Hong Kong Philharmonic Orchestra and Opera Hong Kong Chorus were brilliant as well.
Madama Butterfly highlights how the differences in class, culture, religion and race can create rifts between people and dwells on the basic human experiences of love, sacrifice and loss. Opera Hong Kong scores full marks for choosing to stage one of Puccini's most accomplished operas and putting together a perfect team to pull it off.