Immigration officer looks to sign off in style at Games
Share - WeChat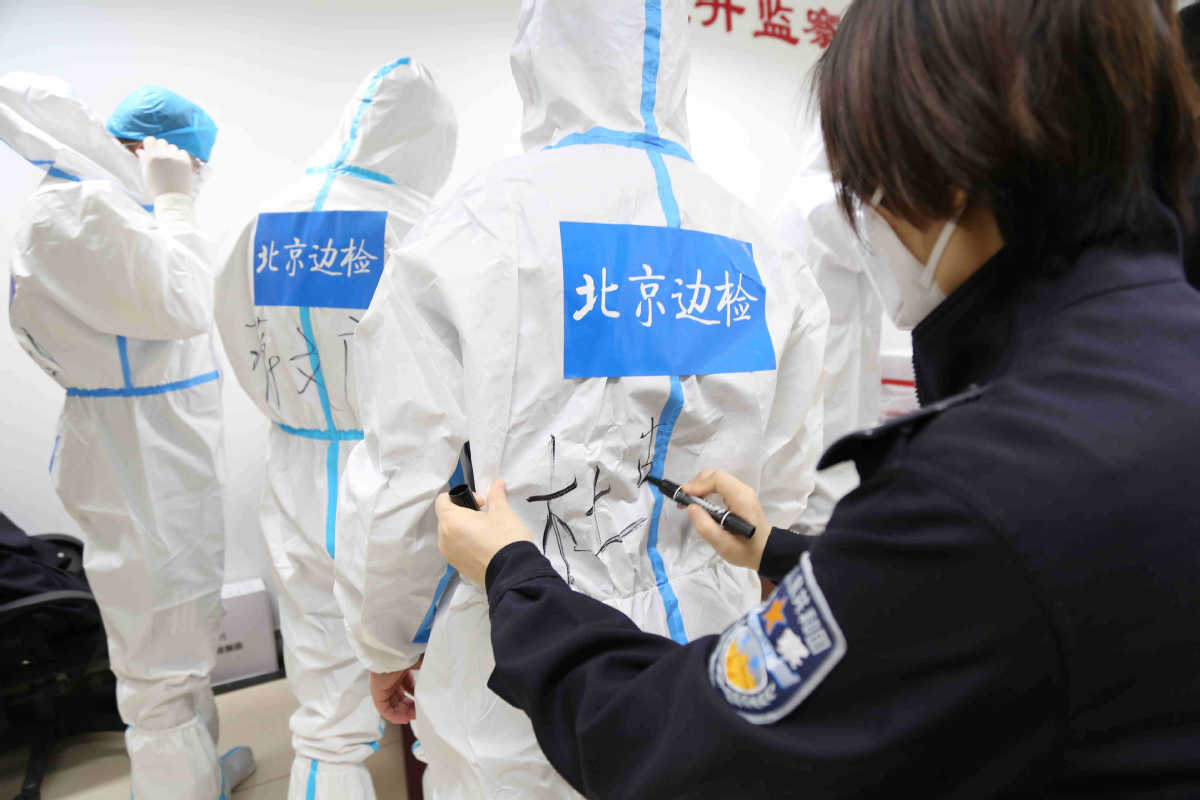 Veteran will end her career after helping to ensure border security at the 2022 Winter Olympics in Beijing. Yang Zekun reports.
After spending three hours conducting immigration inspections on a hot July day in Beijing, Li Min and her colleagues returned to the disinfection area and removed their protective gear.
They took a short break wearing their sweaty uniforms before turning their attention to other tasks.
Li is an immigration officer at the Beijing Capital International Airport. Like tens of thousands of her peers on the front line of border control during the COVID-19 epidemic, the Beijing native has stuck to her post to ensure the security of the facility, rather than applying for a transfer to another department or requesting leave.
The 59-year-old's team is responsible for handling exit and entry procedures for business passengers and chartered planes, overseeing the clearance and inspection of international cargo flights and chartered jets that have been transporting epidemic prevention materials since the outbreak started last year.
Strict containment measures to curb the entry of infected people have seen a fall in the number of inbound international passenger flights, but the number of cargo flights is much higher than before the outbreak.
Li's team used to check about 20 cargo flights a day, but now they need to handle about 60 a day, with the peak reaching 150.
There are about 50 people on the team, which has an average age of about 50. Whenever there is a task to do, seven people form an inspection group. They don protective suits, goggles, masks, face shields and two pairs of gloves, then drive across the tarmac to check each plane and its crew.
"The planes are usually kilometers apart, so we drive over 100 km in the airport every day to conduct inspections. In summer, temperatures on the tarmac often exceed 50 C. The sweat soaks our clothes and mist forms on our goggles in about 10 minutes. In winter, the temperature can fall as low as-20 C," Li said.
"We usually work for more than three hours each time, wearing the protective gear. We need to climb up and down the planes' steps to check. We don't dare drink water during the work period to avoid needing the toilet and having to take off our protective gear. That's quite challenging for us older personnel."
As they are unsure whether members of the crew or any items on board have had contact with infected people, Li and her colleagues run the risk of contracting the novel coronavirus every time they board a plane.
"We worry about getting infected, so we are very cautious during inspections, especially since the emergence of the more infectious Delta variant, but none of us complains about the conditions or wants to give up the work," she said.