Shenzhou XIII crew starts epic mission
Share - WeChat China launched the Shenzhou XIII mission to the Tiangong space station early on Saturday morning, marking the start of the country's longest spaceflight.
Carrying the Shenzhou XIII spacecraft, a 20-story-tall Long March 2F carrier rocket blasted off at 12:23 am at the Jiuquan Satellite Launch Center in northwestern China's Gobi Desert, brightening the dark sky as it roared up from a huge service tower.
The three-member crew — Major General Zhai Zhigang, Senior Colonel Wang Yaping and Senior Colonel Ye Guangfu — will enter the station's core module, named Tianhe, or Harmony of Heavens, after their spacecraft docks with the module, which is the first, and central, section of the permanent space station — Tiangong, or Heavenly Palace. They will then start a six-month journey inside the station.
The mother of a 5-year-old girl, Wang is China's second female astronaut to take part in a spaceflight. She took part in the Shenzhou X mission in June 2013. In the Shenzhou XIII flight, she will become the first Chinese woman to enter a space station and also the first Chinese woman to carry out a spacewalk.
Shenzhou XIII is the fourth spacecraft to visit the Tiangong station and the second crewed ship to transport astronauts to the orbiting outpost.
The mission is expected to become the longest crewed spaceflight by China, doubling the time spent in the Shenzhou XII mission. It will also see the first spacewalk by a Chinese woman.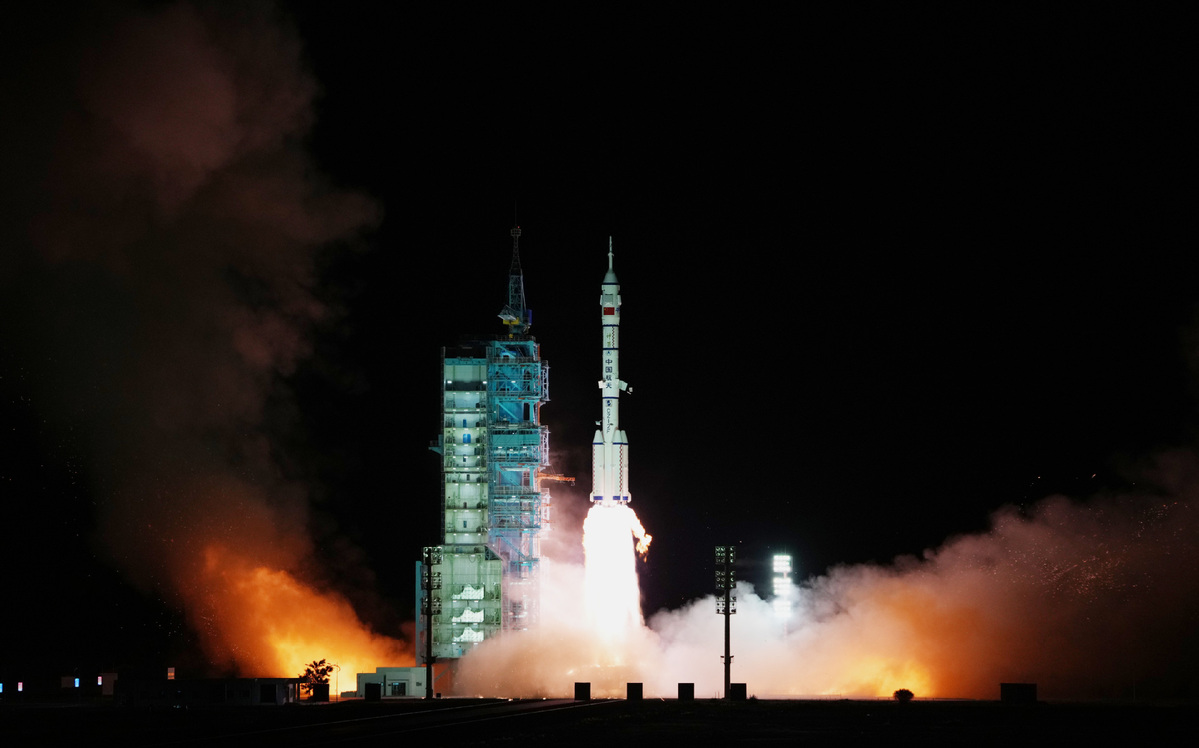 The Shenzhou XIII crew is tasked with a wide range of assignments, such as performing two to three spacewalks to install a small robotic arm onto a larger one; verifying key procedures and technologies like manual control of the robotic arms and robotic arm-assisted movement of station modules; checking the performance and capability of devices inside the station; and testing support instruments for astronauts' life and work in long-term flights, Lin Xiqiang, deputy director of the China Manned Space Agency, said at a news conference on Thursday at the Jiuquan center.
The astronauts will conduct scientific experiments and technology demonstrations in space medicine, microgravity physics and other fields. They will also deliver educational lectures that will be televised for Chinese students to watch, the official said.
The first astronauts inside Tiangong — Major General Nie Haisheng, Major General Liu Boming and Senior Colonel Tang Hongbo — finished their 92-day mission in mid-September.
Pang Zhihao, a spaceflight researcher in Beijing and a former analyst at the China Academy of Space Technology, said that the Shenzhou XIII mission will lay a solid foundation for the next steps in the Tiangong space station program.
"It will test the station's mechanism and capability of ensuring a long-term stay by a crew, including the bioregenerative life-support systems, material supply, and health management plans. It will also check whether the core module and the Shenzhou spaceship can withstand a tough environment during a long-term flight," he said.
The mission is a valuable opportunity for China's science community because it allows the astronauts to carry out large in-orbit experiments requiring a long time and manual manipulation, Pang added.
The researcher said that contrary to many people's opinion that it is inconvenient for women to take part in lengthy spaceflights, female astronauts actually have many advantages over their male counterparts in extended missions.
"Research and previous missions with female crew members have found that the many physiological indices in women such as hormonal levels and trace elements are better than those in males. They are less susceptible to negative conditions such as iron poisoning, thrombus, vasospasm and arrhythmia.
"Women are usually more sensitive, attentive and careful in many regards, and normally are better at communicating. These traits are useful assets in extended flights. The presence of a female astronaut usually brings more joy to a demanding mission," Pang said, noting he looks forward to Wang's success.