Keeping friendships alive in the time of COVID
Share - WeChat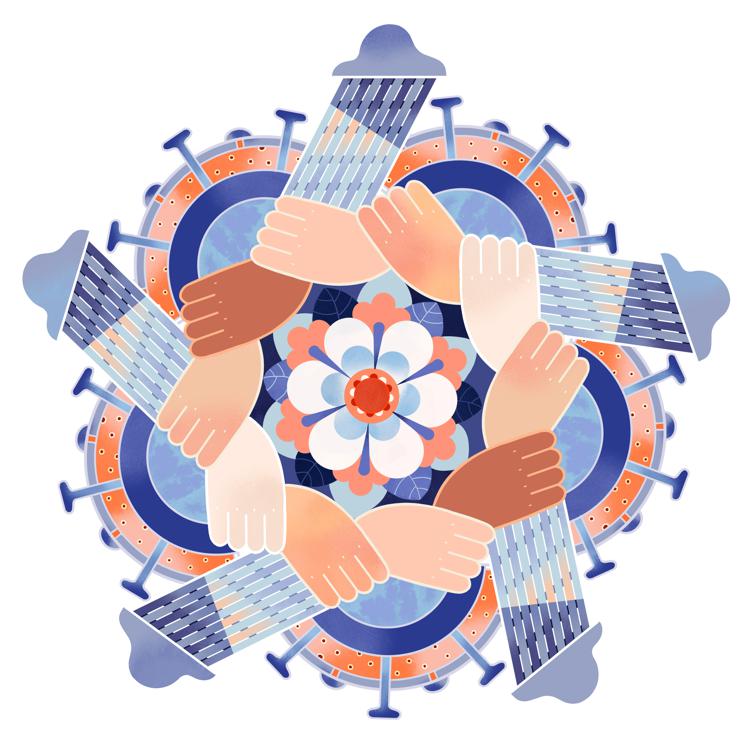 For almost two years due to COVID-19, I have been unable to meet my Chinese friends. The closure of the border and drastic prevention measures have made it almost impossible to travel. How long can this last? No one knows exactly. Patience is the order of the day, and we have no choice.
Rather than complaining, this temporary difficulty must be seen as a daunting challenge. How it can be turned into an advantage?
Friendship is a delicate matter. Often idealized, we conceive it as eternal. This is summarized in a Chinese saying: friendship is as close as one's hands and feet.
Yes, true friendship is uncompromising. But in the realities of daily life, such things are not so easy to come by.
First of all, friendship is inextricably associated with a sacred word, trust. This cannot be achieved by decree, it must be earned over time. It is said one finds who one's true friends are in times of need.
Then there is the issue of tolerance and openness towards others. We are all a product of our history, culture and traditions. Notwithstanding, we have to connect with each other without having to disown our identity. We must honestly embrace differences and diversity within a broad framework of shared universal values. In this context, the best effort must be made with a smile, a good mood, discretion and respect.
Finally comes physical distance. On the surface, it seems anecdotal. It is by far the shakiest part of all genuine friendship.
As the saying goes, out of sight, out of mind. Twenty years ago, given communication costs, it was difficult to maintain daily friendship. As tools of communication became more and more far-reaching, we find ourselves in an age of unprecedented changes. However, the COVID-19 experience clearly shows the limits of the distanced friendship. Behind the luminous screens of phones or computers, whatever the pleasure of seeing old friends, we are experiencing the paradox of the virtual world, a sense of isolation. This social loss can create an intense feeling of loneliness which leads to unhappiness or even depression. Despite technological advances, nothing can replace human direct contact. So, what can we do if we don't have the chance to meet up?
Here's my method.
First of all, I force myself to maintain regular contact with all my friends on a weekly basis. As there are many celebrations in China, I am never lacking in imagination. In our conversations, we remind each other of the good times. We talk and encourage one another while laughing at ourselves on occasion. If there is no particular event, I take an idea out of my mind. This may be a project, a private initiative or quite simply a thought. This leads to a discussion. Then I take down my friend's advice, or sometimes their criticism. Now they know my hopes. They are aware of my strengths and weaknesses. Step by step, they enter my world. They learn about my working community as well as my family. At the end, they expand their horizons through my experience. At times, it is their turn to talk. The same exercise in reverse.
On other occasions, we share culture.
This takes many forms. Sometimes, it is poetry. One day, "Climbing White Stork Tower" by Wang Zhihuan. Another day, "Drinking Alone with the Moon" by Li Bai. My Chinese friends make the effort to explain each verse with patience and care. Later, I try to memorize them. It isn't easy, but it's worth doing. Then, it is my turn. Verlaine, Rimbaud and Paul Eluard ring in my friend's ears.
We also sing, our voices together, not really in tune. We prefer Deng Lijun and Han Hong. However, we are always expanding our repertoire. We try the latest singles. We want to be part of the crowd, fully and forever young.
Finally, literature. It is hard to put myself in the shoes of Wu Cheng'en or Cao Xueqin, but worthwhile to try. Journey to the West and Dream of the Red Chamber are masterpieces not within everyone's reach.
I would like to thank all my Chinese friends for their valiant efforts to bridge these gaps. This is what I learned in those difficult days: each of us has a potential beyond our wildest dreams.
François de la Chevalerie is Member of the Foundation Charles de Gaulle.
The opinions expressed here are those of the writer and do not necessarily represent the views of China Daily and China Daily website.
If you have a specific expertise and would like to contribute to China Daily, please contact us at opinion@chinadaily.com.cn, and comment@chinadaily.com.cn
Most Viewed in 24 Hours
China Views