'Explosive creation' wins top wildlife photo prize
Share - WeChat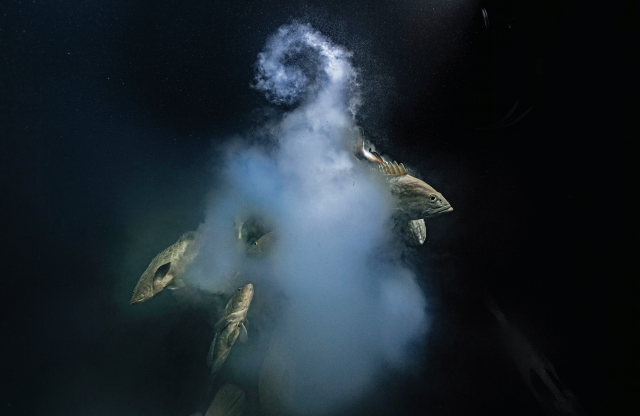 Elite wildlife photographers will sometimes go to extreme lengths for the perfect shot, and Laurent Ballesta is no exception.
The French underwater explorer spent thousands of hours diving in a shark-infested lagoon in a remote Pacific atoll in order to capture top honors at the Wildlife Photographer of the Year awards for 2021.
Announced in London this week by competition organizer the Natural History Museum and selected from 50,000 entries, Ballesta's Grand Prize winning image, titled Creation, depicts a trio of camouflage grouper fish emerging from an opaque billow of eggs and sperm.
Up to 20,000 of the fish gather to spawn under the full moon each July in the Fakarava Atoll, French Polynesia, and Ballesta and his team have documented the reproductive spectacle in each of the past five years.
The chairwoman of the competition's judging panel, writer and editor Rosamund Kidman Cox, celebrated the image for its "otherworldly beauty".
"It also captures a magical moment - a truly explosive creation of life-leaving the tail-end of the exodus of eggs hanging for a moment like a symbolic question mark," Cox said.
Ballesta said he and his team frequently encountered reef sharks during dives because they congregated in the lagoon each summer to hunt grouper fish at night.
"We spent five years in this place, 3,000 hours of diving, to get this particular moment," Ballesta told the BBC. "I'm attached to this picture because of the shape of the cloud of eggs: it looks like an upside-down question mark."
Ballesta and winners from the competition's other 19 categories will have their work displayed at the Natural History Museum later this month. The judging panel also selected a shortlist of highly commended images, several of which were captured by Chinese photographers.
Budding wildlife photographer and conservationist Celina Chien, 22, made her debut in the shortlist with an image of an orangutan at a wildlife park in Yunnan province.
"This is my first time being featured in the exhibition and my overwhelming feelings are of excitement and gratitude," Beijing-born Chien told China Daily. "I'm grateful for my photograph to be featured on a global platform to bring attention to the environmental challenges we face, to increase the representation of women of color in photography, and to potentially provoke tangible change for the world's wildlife through my work."
Cai Songda, an underwater photographer from Xiamen, Fujian province, was recognized for his thought-to-be unprecedented capture of a paper nautilus egg stuck to the back of a juvenile razor fish.
Cai, who is director of the National Oceanography Group's Conservation Group in Shanghai, has been shortlisted on three other occasions, and last year claimed top prize in the underwater category, for his stunning picture of a diamondback squid taken on a night dive off the coast of the Philippines.
This year's shortlist also included two shots of snow leopards in the wild, taken by Luo Xiaoyun, an amateur photographer from Chengdu, Sichuan province.