Pressure piles on Li after latest letdown
Share - WeChat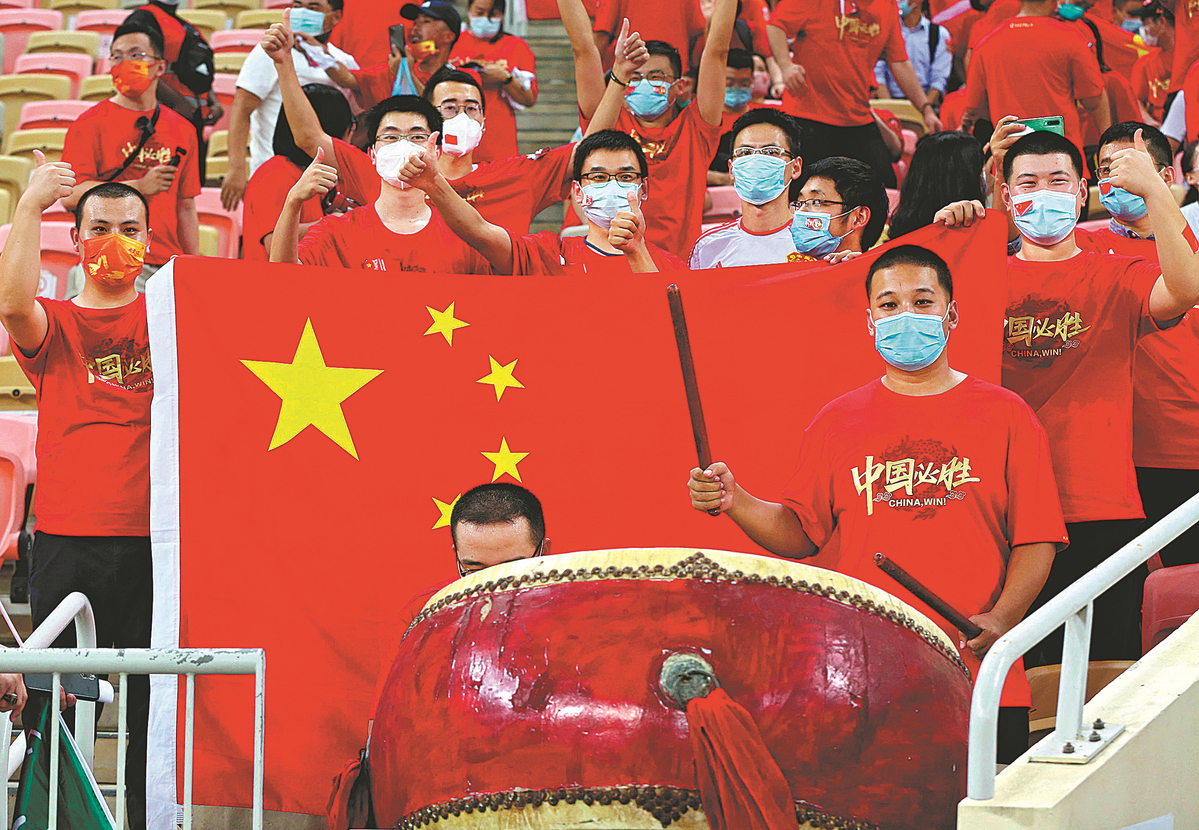 Team China now sits fifth in the six-team Group B with only three points. The top two finishers from both groups will qualify automatically for the 2022 finals in Qatar. The two third-placed teams will face each other in a two-legged playoff, with the winner of that tie entering an intercontinental playoff.
China resumes its campaign on Nov 11 against third-place Oman, which beat Vietnam 3-1 on Tuesday and last month produced a shock 1-0 victory over Japan. Five days later, China will face Australia.
Li stood by his tactical decisions in the post-match media conference, saying: "Everyone knows playing away games is very difficult. So I don't really want to talk about our tactics today.
"Our players were too cautious in the first half and I told them to relax in the second half. We never gave up and tried our best to win the match and were close to scoring a third goal.
"So I encouraged and praised our players in the dressing room. I always tell my players to treat each game as the last game of their careers.
"We need to live up to our fans' expectations, and it's a pity that we did not come back with a point.
"The final phase of qualifying is very tough for us. But for a long time, we haven't played high quality matches like this. When we return, we need to train harder and play more matches. However, overall, I'm satisfied with the players' performance."
Naturalized striker Luo Guofu was China's brightest spark on Tuesday, with video clips of his stunning second-half goal-a sublimely struck volley from just inside the area-going viral on social media.
"I'm sad about the result and for not helping our team win. But I'm happy to have scored my first goal in this shirt. We will fight to the end," Luo Guofu wrote on Weibo after re-posting a video of his strike.
Debate has raged over China's naturalization policy ever since Li Ke (aka Nico Yennaris) became the first foreign-born player to pull on the national team's red jersey in 2019.
Supporters of the strategy argue it is now commonplace in the global game and can act as a quick fix to level up Team China's strength; critics of the strategy say it harms the development of homegrown talent.
Chinese Football Association president Chen Xuyuan stressed last year that the CFA is mindful of striking the right balance between naturalized and homegrown players. "There will be naturalized players joining Team China for the World Cup qualifiers. However, they will be in the minority. The national team will not be mainly composed of naturalized players," he said.
After two months in the Middle East during which Team China played its 'home' games in the United Arab Emirates, the squad was due back home this week. It remains unclear whether China will be able to play Oman on home soil next month, with Li Tie certainly keen to avoid forfeiting home advantage again.
"It's still not 100 percent sure that we will play the remaining matches in China, which has been a big problem for us. We are like homeless kids playing in foreign countries. After training, we can only stay in our hotel rooms. It's been very tough for the players," said Li Tie.
"We hope to play more friendlies after we return home. It will be hard to arrange as the pandemic is still a major concern. We will first be quarantined for two weeks after we return. I want to thank our staff, players and support team. It's really not easy for them."