Official calls for more talks between Beijing, Washington
Share - WeChat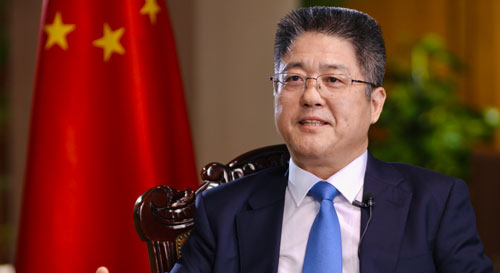 Recent interaction between China and the United States indicates progress is being made in bilateral relations, however Washington's assurance it will not indulge in a new "Cold War" must be backed with actions, according to one of China's most senior diplomats.
The high-level talks "indicate that China is always ready to act with goodwill, sincerity, and work to improve China-US relations, and that our door to dialogue is open at any time", said Vice-Foreign Minister Le Yucheng.
President Xi Jinping and US President Joe Biden have had two phone conversations this year, with the second one held a month ago. Senior diplomats from both sides also held three meetings this year in Anchorage, Alaska, in March, Tianjin in July and last week in Zurich, Switzerland.
In an interview with Chinese broadcaster CGTN on Monday, Le confirmed that the two sides "have recently established a joint working group to discuss how to address some specific issues in bilateral relations".
"And they have made some progress," Le said. "This proves that dialogue and cooperation are indispensable, and that confrontation and conflict will lead us nowhere."
On recent positive statements by the US that it has no intention of waging a new Cold War, Le said Beijing "takes seriously" the comments and "expects to see them translated into policies and actions".
Experts said the complexity of relations between the world's two largest economies meant that lasting efforts and action are needed, particularly from the US, to tone down hostility against China, keep collaboration afloat and control their differences.
Diao Daming, an associate professor of US studies at Renmin University of China, said, "It may be common to see benign competition between the two countries while they are advancing cooperation, but one thing should be made clear: cooperation is the only right choice and it should be the fundamental nature of the China-US ties."
"Despite its existence, competition should not be the only definition of bilateral ties. Competition should be benign and positive-honoring one another while improving oneself," Diao added.
Le also commented on Washington's impulse to play the "Taiwan card", warning that the one-China principle is the foundation of China-US ties, and using "the foundation as a card is as dangerous as playing with fire while holding firewood".
Su Xiaohui, deputy director of the China Institute of International Studies' Department of American Studies, said, "We should remain clear-eyed and alert, because the US' China policy is primarily two-sided."
"Anti-China forces back in the US always try to stir up the situation and create a buzz at critical moments of China-US ties, including playing the Taiwan card," she said.
Trade dialogue 'positive'
Le saw positive signs in talks between Vice-Premier Liu He and US Trade Representative Katherine Tai via video link on Saturday.
The two sides agreed that Sino-US economic and trade relations are important for both countries and the world, and China and the US should strengthen bilateral economic and trade exchanges and cooperation.
Despite US attempts to decouple with China on trade and the COVID-19 pandemic, annual bilateral trade last year saw a year-on-year jump of 8.8 percent.
In a separate speech on Oct 4, Tai made headlines when she urged both countries to "recouple" following the previous US administration's push to decouple. She also said the US continues to have concerns over China's "non-market trade practices".
Le said Beijing noticed "some positive elements" between the lines of Tai's speech while firmly rejecting her "groundless accusations". Both nations "are an indivisible community with shared interests", Le said, adding that over 90 percent of the costs caused by US tariffs imposed on Chinese imports have been borne by US companies and consumers.
Afghanistan legacy
The United States' hasty military withdrawal from Afghanistan earlier this year has also raised questions about its foreign policy direction.
In response to Washington's plan to focus on major country competition after the withdrawal, which many analysts said is aimed at China, Le said, "In 20 years from now, the US will realize that it has probably targeted a wrong enemy and made an even bigger mistake."
He cited an online comment that "an expired ticket from the Cold War era" cannot be used to "board the high-speed train of the 21st century".
As Washington is poised to host the Leaders' Summit for Democracy before the year ends, Le said monopolizing the definition of democracy to the advantage of certain countries and instigating ideological confrontation along the lines of "democracy versus authoritarianism" is the direct opposite of democracy.
"The US record of democracy is anything but glorious. The storming of the Capitol is still fresh in everybody's memory," he said, referring to supporters of former US president Donald Trump storming Washington in November to try and stop the certification of Democrat Joe Biden as the victor in the presidential election.
On the recently declared AUKUS partnership of the US, the UK and Australia, Le said it is a small bloc composed of Anglo-Saxon nations that "advocates a new Cold War", triggers the risks of nuclear proliferation, and "aims to seek maritime hegemony".
"Countries in the region and the international community all have plenty of reasons to oppose and resist it," he said.