Li: Nation ready to lift coal trade
Share - WeChat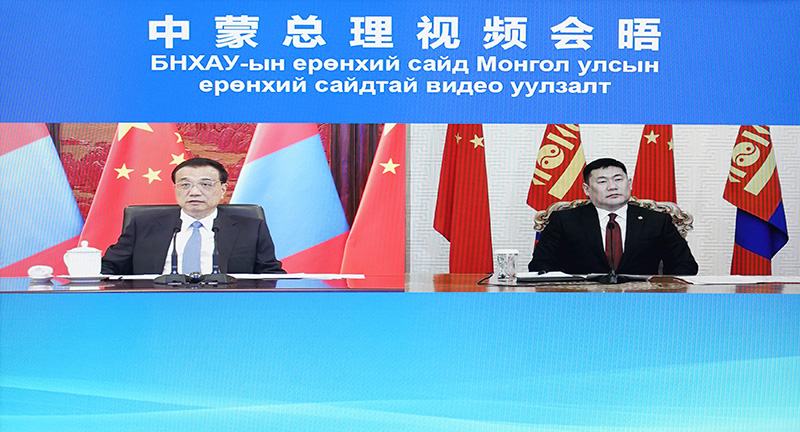 Premier discusses energy supply chains with Mongolian counterpart
China stands ready to bolster trade volume in coal with Mongolia, and the nation will support businesses from the two sides to proactively work together in stabilizing energy supply chains, Premier Li Keqiang said on Tuesday.
In a meeting via video link with his Mongolian counterpart Luvsannamsrai Oyun-Erdene, Li said China, even with its rich coal resources, still hopes to conduct diversified energy cooperation.
He highlighted the importance of stabilizing energy prices to ensure the security of supply chains.
The remarks by Li came as authorities in several provincial-level areas resorted to limiting electricity use in factories in the face of electricity shortages. Power shortages also affected domestic users, leading to blackouts for some households in Northeast China last month.
Li presided over a meeting of the National Energy Commission on Saturday, at which he stressed the necessity to raise the nation's energy supply capacity.
During the meeting-the second time the two leaders have conversed this year, Li noted that both China and Mongolia are faced with tasks in fighting the COVID-19 pandemic, developing their economies and ensuring public well-being, and stronger bilateral cooperation will benefit both sides and the region.
China stands ready to work with Mongolia to step up alignment in development strategies, expand cooperation in key areas and boost bilateral trade, he said, adding that the two sides should work to increase cargo trade volume with easier customs clearance while putting in place sound pandemic containment measures.
He also expressed hope that the two sides can work further together on the prevention and control of desertification, saying that Beijing will continue to do its best to support the Mongolian side in economic growth, improving public livelihoods and fighting the pandemic.
Oyun-Erdene expressed appreciation to China for offering vaccines to Mongolia, saying that bilateral cooperation in pandemic response has set an example for the international community.
He said Mongolia hopes to scale up bilateral cooperation in the development of mining infrastructure and desertification prevention, improve cargo passage volume through ports and bring bilateral relations to a higher level.