Tech bonding
Share - WeChat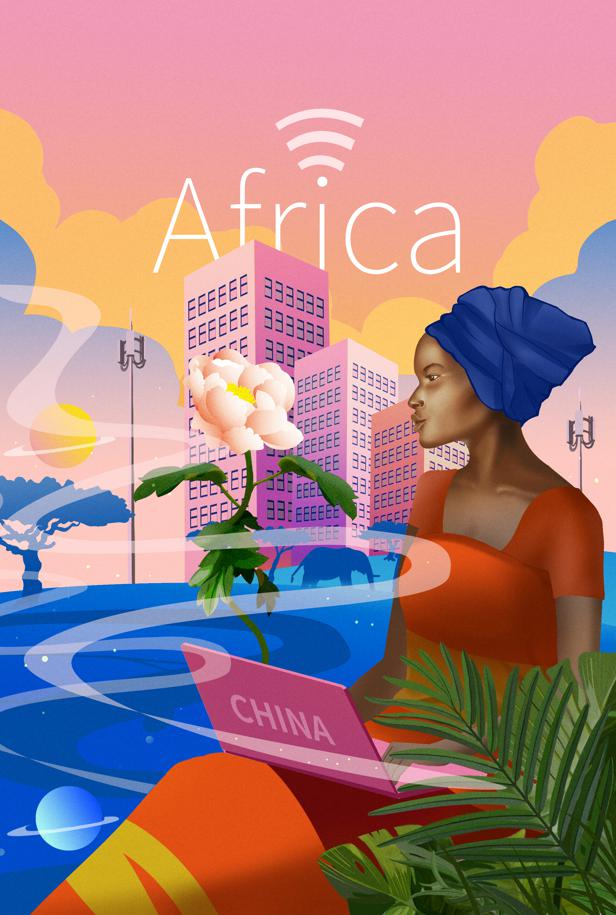 Africa and China are all set to deepen cooperation in the digital economy. The development comes at a critical juncture for Africa, which must urgently take advantage of new and emerging digital technologies in order to industrialize, pursue inclusive growth and attract foreign direct investment. The pandemic has significantly accelerated the application of artificial intelligence and the internet of things.
The Brookings Institution recently pointed out that the information and communications technology sector in Africa contributes $144 billion in economic value (8.5 percent of the GDP of sub-Saharan Africa) with increased technology transfer and job creation.
However, it also pointed out that "without attempts to move beyond existing models of innovation, entrepreneurship and digital growth on the continent, African businesses risk falling further behind".
Africa increasingly sees the digital economy as a key to its economic recovery. With the share of the continent's population under the age of 20 having expanded by more than 25 percent over the past decade, it is vital that young people are offered the tools to be successful in a digital-first economy.
But the African Development Bank has stressed that only when Africa closes the existing education gap and sets the continent up for a "digital overhaul", will it reap the benefits of new technologies. In fact, such a revamp of Africa's education system would translate into increased productivity and output for the continent as a whole.
Among the African Union Agenda 2063's laudable aspirations is to strive for "well educated citizens and a skills revolution underpinned by science and technology and innovation". Africa wants its people to be "digital citizens", with a skilled and empowered work force and the youth, in particular, enjoying the transformative benefits of employment in a new world of work. In fact, it was significant that South African President Cyril Ramaphosa, in his recent role as the chairman of the AU, consistently stressed the importance of the development of an appropriate continental strategy for Africa's digital transformation.
The new technology revolution represents, President Ramaphosa said, one of the "greatest and most fundamental tectonic shifts of our times with huge new opportunities for the enhancement of people's lives". Furthermore he said that South Africa and Africa should prepare to take a "great quantum leap" into the future to ensure that technological advances also benefit Africa and all its people. If Africa's potential workforce is effectively paired with the needed infrastructure and skills for innovation and technology use, the Industrial Revolution 4.0 presents a massive opportunity for growth.
Africa is aware that China possesses a formidable and growing digital economy, which has fueled innovation and production in the country. The Chinese government also placed a major emphasis on advancing its leading role in 5G technology and infrastructure and the construction of communication and information networks, which led to innovation and emergence of private enterprises such as Tencent (in which a South African company has a major stake), Alibaba and others. China thus very successfully combined the new emerging technologies with robust GDP growth, an approach which Africa will want to emulate.
Chinese digital economy companies are increasingly involved in Africa. Huawei has significantly strengthened its position in Africa, establishing itself across the continent since launching in Kenya in 1998. It currently operates in about 40 African countries, providing 4G networks to more than half of the continent.
Huawei and the AU have, in fact, signed a memorandum of understanding recently to consolidate their collaboration and establish the necessary arrangements to ensure effective cooperation in information and communications technology.
Huawei is already supporting Africa in its endeavors to address two critical obstacles to sustainable development, namely, infrastructure backlogs and the lack of human resource capital. It is also skilling Africa's young people. An exemplary example is the South African College Principals' Organization and Huawei have signed an MOU to roll out information and communication technology academies in all of South Africa's 50 technical and vocational education and training colleges by the end of 2021.
Against the background of China announcing its recent "China-Africa digital innovation partnership program", key elements of the proposed partnership include strengthening digital infrastructure, thereby ensuring an uninterrupted information flow in the interest of socioeconomic development; promoting the digital economy with the integrated development of digital technology and the real economy; advancing digital education to produce a talent pool for digital innovation; ensuring digital inclusiveness benefiting all African people; and improving digital governance and security.
It is anticipated that Africa and China will continue consultations with the view to formulating and implementing the partnership as a matter of urgency. Among the imminent proposals are joint fiber optic projects, the launch of the exciting Africa Products Online Promotion Season and the China-Africa Beidou Cooperation Forum involving the rollout of the Beidou Navigation Satellite System.
Africa and China are currently preparing for the next Forum on China-Africa Cooperation meeting in Senegal later this year, which comes at a critically important juncture for both China and Africa and represents the next important building block in an increasingly vital strategic partnership. Concrete proposals on enhanced digital and innovation cooperation will undoubtedly be on the agenda and an integral part of the outcome document of this important FOCAC meeting.
The author is a senior research fellow at the Institute of African Studies at Zhejiang Normal University and a former senior diplomat in the South African Department of International Relations and Cooperation.
Most Viewed in 24 Hours
China Views