Nursing development to help patients through higher education
Share - WeChat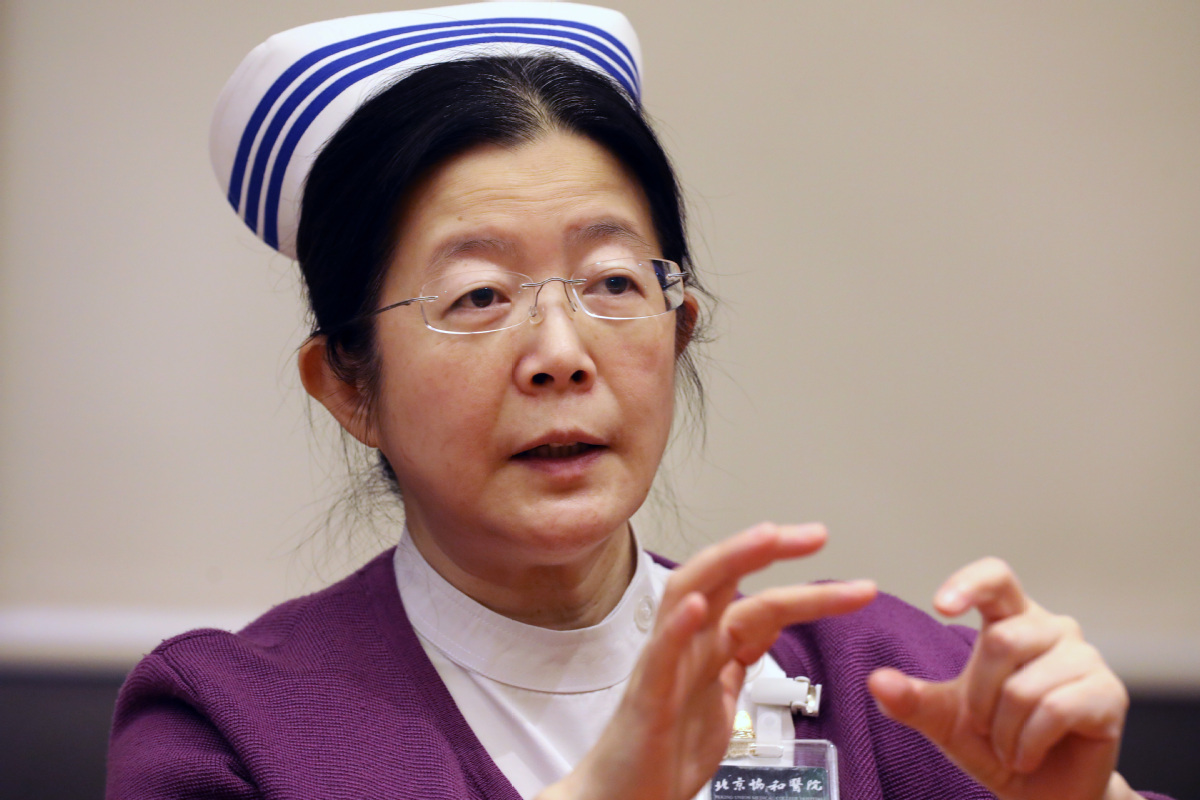 Peking Union Medical College Hospital has continued to shape the country's nursing in many ways, especially through elite education, since it founded China's first college-level nursing program a century ago.
PUMCH's nursing department director Guo Na enrolled in the medical college in 1991, studied there for five years and has worked in the hospital since graduation.
"I didn't hesitate at all to apply for the nursing degree," the 47-year-old recalls.
"Some people didn't understand why a nurse should get a college degree. I told them a well-educated nurse could better help patients. We gained a deeper understanding of patients and their needs through study."
The college enrolled 30 students in the medical school in 1991, including 15 in the nursing program, she recalls.
"Every year, our dean brought the freshmen to the home of Nie Yuchan, who served as our nursing school's president between 1940 and '53," Guo recalls.
"She was more than 80 years old when I visited. But she cleaned and tidied up her room for our visit without any help. This elegant and strong-minded woman's stories have inspired a sense of honor in my occupation."
Guo says the profession of nurse developed much later than that of physician in China.
PUMCH's nursing school enrolled its first students in 1920 with the help of the Rockefeller Foundation, China's first nursing program of higher learning.
The Rockefeller Foundation and China Medical Board aimed high from the start and aspired to build the best medical school with a teaching hospital and a nursing school that would become not only the best in China but also on par with the top European and US institutions.
"PUMCH and the nursing school have made substantial contributions to making nursing a respectable and decent profession for educated Chinese, which was a challenging undertaking at that time," Guo says.
In 2011, the State Council made nursing a first-level discipline, acknowledging its significance in healthcare.
"For instance, our hospital recently had an elderly patient who had bone and heart diseases, and a skin problem on her hip. Under such circumstances, it's crucial to decide which problem should be dealt with first. The clinical nurse specialists played important roles in making decisions with doctors since they knew a lot about the patient," she says.
"We tried two methods to address her skin issue. She's getting better now and is ready for follow-up treatments."
She says the hospital believes doctors and nurses serve equally important roles.
Guo is very busy as she works as the head of the 2,005-member nursing team, not only managing daily operations but also improving clinical nursing quality and nurses' career development.
"The hospital values talent very much," she says.
"Before the COVID-19 pandemic, we sent dozens of nurses to the United States and Europe for further studies every year. Up to a fifth of our nurses have specialty nursing qualifications and 4 percent of the total are postgraduates."
The hospital also helps cultivate nurses from other Chinese hospitals by offering annual programs under central government guidance.
"It's our duty to provide faster, warmer and more professional nursing service to more patients," Guo says.
"And I'm very proud to be a part of this."
Most Popular