BRI provides benefits for Bangladesh
Share - WeChat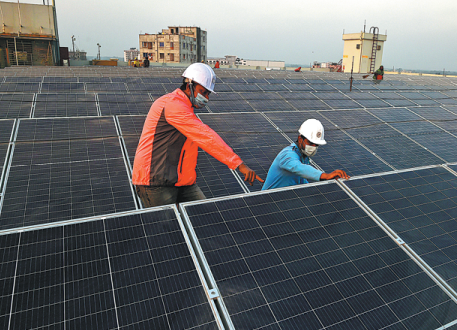 A number of infrastructure projects are being implemented in Bangladesh in collaboration with China. Several of these works are nearing completion. Analysts believe that Dhaka has adopted ambitious plans around these projects on the way up the ladder of economic development.
A number of infrastructure projects, including the $3.3 billion Padma Bridge under construction in Bangladesh, are part of China's proposed Belt and Road (BRI) Initiative. Other Chinese-funded projects in the country include the $1.9 billion Pigeon Power Plant, the $1.32 billion power grid development, and a $1 billion digitalization project.
In this regard, economists in Bangladesh said that Bangladesh is heavily dependent on the success of China's BRI-related infrastructure projects.
According to Bangladeshi media outlets, a single Padma Bridge would boost Bangladesh's GDP by more than one percent once the work is completed. It will benefit at least 30 million people in the southwest.
The bridge would not only connect 21 districts, but also help them become centers of economic growth. Some of these districts will emerge as new economic corridors, which will create a huge number of new jobs and increase incomes.
In 2015, China became Bangladesh's largest trading partner. After three years, China also occupied the seat of the top investor in the country, with Chinese investment in Bangladesh in 2019 reaching about 1.2 billion dollars.
In 2016, Bangladesh and China signed eight projects costing more than $9.45 billion financed by China. These include the Padma Bridge rail link worth $3.3 billion; the power plant in Payra worth $1.9 billion, digital connectivity worth $1 billion, and power grid network strengthening project worth $1.32 billion.
The Padma Bridge, the dream of the people of Bangladesh, is in full swing in collaboration with the Chinese contractor Major Railway Engineering Group. Many projects are being implemented across Bangladesh with the financial support of China, as has been done before, and more projects await. China-Bangladesh cooperation is now the strongest, which speaks to the true potential of BRI-cooperation.
According to the Bangladesh Investment Development Authority, BRI activities in Bangladesh began immediately after Chinese president Xi Jinping's visit. During his 22-hour state visit, several investment agreements were signed between Bangladesh and China.
Bangladesh's first toll road project was signed on Dec 6, 2018. The government of Bangladesh had signed a contract with a China-Bangladesh consortium to upgrade the 48-kilometer Dhaka Bypass Road to a dual carriageway. The objective was to improve connectivity between the north and northwest parts of Bangladesh and the Chittagong Port.
This toll road was only one of the many transportation projects in Bangladesh backed by investment from China. During 2009 to 2019, China invested an estimated $9.75 billion in various transportation projects in Bangladesh.
Work on BRI-related projects has been progressing rapidly even in the wake of the recent coronavirus pandemic, even though last year saw a slight decline in foreign investment.
Now Bangladesh is going to see the implementation of Padma Bridge, which is nearing completion. The 6.15 kilometer Padma Bridge will greatly enhance connectivity across Bangladesh and South Asia. The bridge's construction has implications beyond the Bangladeshi economy, and will further portray Beijing as setting technological and construction standards in South Asia. This not only exemplifies China's soft power, but also stands as a shining example of the mutual benefits that follow when China and Bangladesh join hands through the BRI.
The author is a researcher, analyst and columnist from Bangladesh.
The opinions expressed here are those of the writer and do not necessarily represent the views of China Daily and China Daily website.
If you have a specific expertise, or would like to share your thought about our stories, then send us your writings at opinion@chinadaily.com.cn, and comment@chinadaily.com.cn.
Most Viewed in 24 Hours
China Views