Mainland spokesman slams DPP's interpretation of 1911 Revolution
Share - WeChat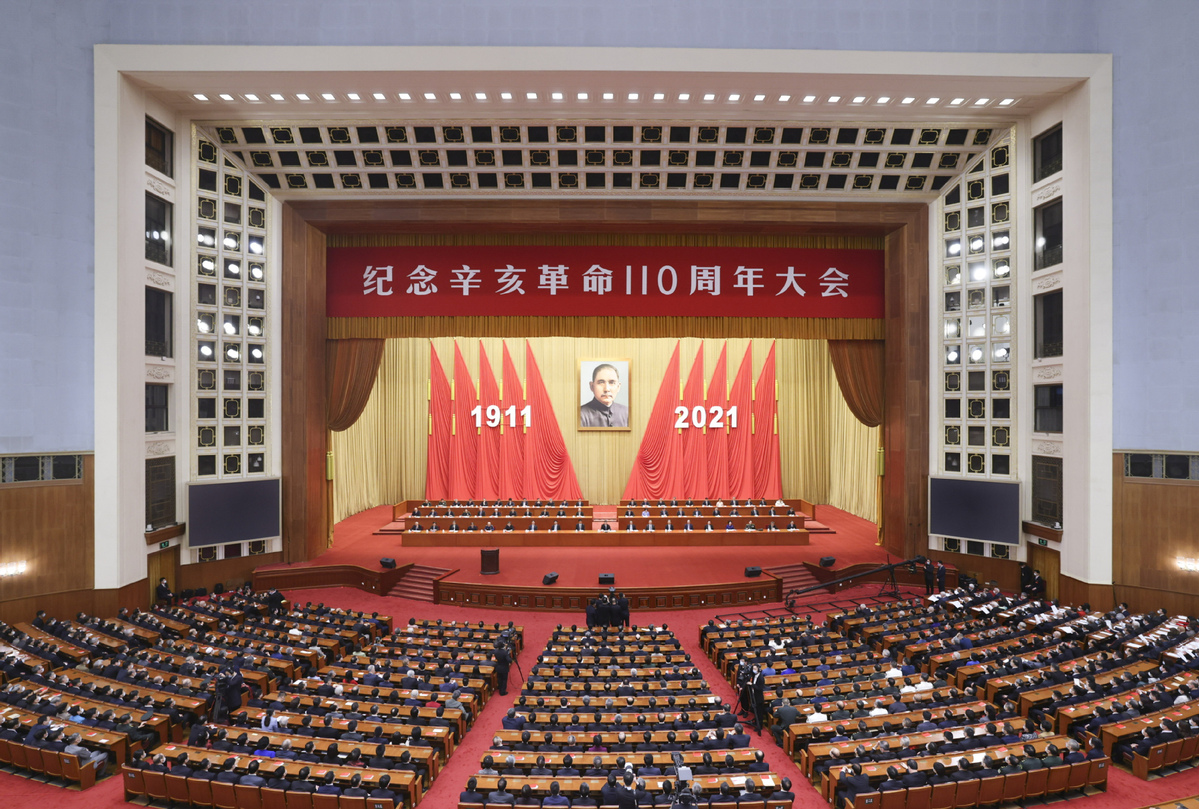 A Chinese mainland spokesman on Saturday denounced Taiwan's Democratic Progressive Party authorities for distorting an activity held by the mainland to mark the 110th anniversary of the 1911 Revolution.
A gathering was held in Beijing on Saturday to mark the 110th anniversary of the Revolution of 1911, which ended more than 2,000 years of imperial rule in China and spread the ideas of democracy and equality among the Chinese people.
Addressing the event at the Great Hall of the People, President Xi Jinping called for promoting the great spirit of revolutionary pioneers and pooling strength for national rejuvenation.
Xi, also general secretary of the Communist Party of China Central Committee and chairman of the Central Military Commission, said the Taiwan question will be resolved as national rejuvenation becomes reality.
Ma Xiaoguang, spokesman for the Taiwan Affairs Office of the State Council, criticized the DPP authorities after they defamed the mainland's Saturday activity in memory of Sun Yat-sen who led the revolution.
Ma said that realizing the reunification and the revitalization of the country had been the ardent aspirations and unfinished wishes of Sun Yat-sen and other pioneers of the 1911 Revolution.
The DPP authorities have been colluding with foreign forces to seek independence, undermining the well-being and security of Taiwan compatriots and betraying the interests of the Chinese nation, he said.
"What they have done is completely contrary to the will, integrity and spirit of Sun Yat-sen. How dare they talk about Sun and the 1911 Revolution?" Ma asked.
He said that the DPP authorities' independence stance is the source of tension and turbulence in cross-Straits relations and the threat to peace and stability in the Taiwan Straits.
"History shows that those who forget their heritage, betray their motherland, and seek to split the country will come to no good end and they will be disdained by the people and condemned by history," he added.
Ma reiterated Taiwan is a sacred and inalienable part of China. Taiwan's future lies in national reunification, and the well-being of Taiwan compatriots depends on national rejuvenation.
"It is the common will of all Chinese people to solve the Taiwan question," he added.
Ma stressed that national reunification by peaceful means best serves the interests of the Chinese nation as a whole.
It is the mainstream will of compatriots on both sides to promote peaceful development of cross-Straits relations on the basis of adhering to the 1992 Consensus and the one-China principle, he said.