After-school centers eye potential, face challenges
Share - WeChat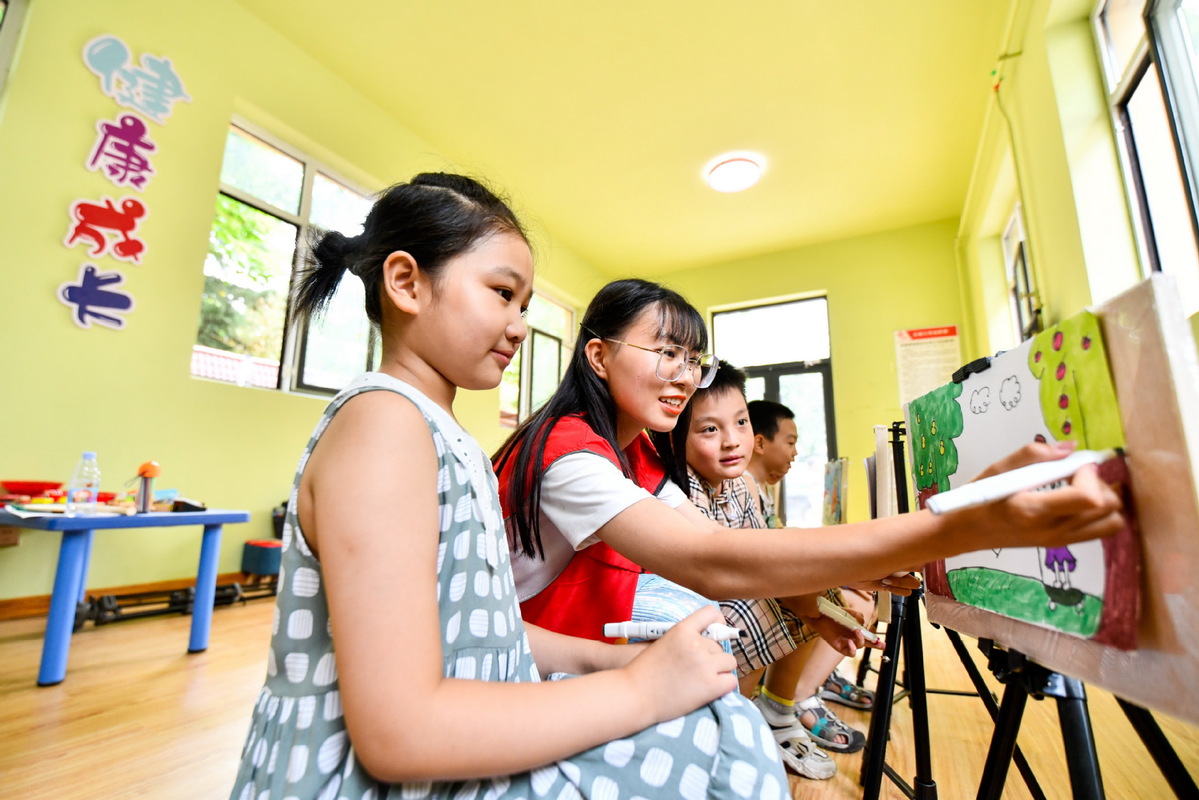 As the nationwide "double reduction" education policy-which aims to relieve students of the burden of excessive homework and reduce the need for after-school tutoring-takes effect, related industries are facing distinct marketing prospects.
While curriculum subject training institutions are struggling to transform their businesses after the government limited their operating hours and subjects they can teach, providers of sports and arts courses are welcoming an increasing number of young clients, and other industries, such as toy retailer Kidsland International Holdings Ltd, are seeing new growth opportunities.
"There will be a big market potential for the toy industry in the future," said Zhong Mei, managing director of Kidsland China. "The country encourages students to develop in all aspects instead of just school subjects. Kids will have more spare time for hobbies and other quality education when they have less homework and don't need to go to after-school classes."
"There will be a growing demand for various kinds of toys for education during activities."
Since summer, several cities, including Beijing and Shanghai, have been carrying out the double reduction regulations, which have required public schools that teach compulsory education to offer after-school courses for students. The measure aims to bring students back to campus instead of going to those training institutions after class.
The Beijing municipal government announced that primary schools should not assign written homework for students in grades one and two, and the quantity of homework for other grades should be reduced. In addition, punitive and repetitive homework assignment have been banned.
"When kids have more time after school, there will be other ways for them to receive education," Zhong said.
She added that the company has plans to cooperate with some training institutions to develop fun learning tools.
"This will provide more growth potential for the toy industry," she said. "For example, some art training schools have contacted us to create tailor-made learning materials for them."
Other courses in activities such as horseback riding, golf, badminton, skating and Chinese chess are gaining popularity as parents look to enrich their children's education beyond the classroom.
In an interview with Xinhua, Ma Liang, a professor of public management at Renmin University, said the sports training industry will see a great development opportunity thanks to the double reduction policy.
"Students will have more time for physical exercise. The money previously used for subject courses can now be spent on sports," he said.
Ye Xiaoyan, mother of a 7-year-old boy, said her son now has no homework to do after school, and the math courses he took during the weekends have stopped.
"I plan to let him learn horseback riding, which I believe will help him become more brave," she said. "It's a good thing to have less homework and fewer training courses outside of school. It's more important to have good art taste and a strong body than high scores, in my opinion."
Many districts in Beijing have released white lists of subject training institutions in past weeks, so parents who still want their children to take curriculum subject courses can send them to those places, which are now strictly supervised by the government.
Such institutions are not allowed to teach courses ahead of the schedule in public schools.
A large number of institutions that are not on the white lists are grappling with challenges, as they have to either shift from curriculum subject training to arts or sports courses, or face closing their businesses.
"Transformation is not an easy thing," said a former teacher at an English training school, who declined to be named.
"I had no courses to teach for one month. I had to leave the industry, even though the school didn't force me to."